A few weeks ago, I analyzed SeaDrill's (NYSE:SDRL) presentation at the Howard Weil 40th Energy Conference in an article published on Seeking Alpha. One of SeaDrill's peers, Ensco plc (NYSE:ESV), also gave a presentation at the same conference. SeaDrill devoted a large portion of its presentation to a discussion of the strong fundamentals of the offshore drilling industry.
Ensco took a different approach and devoted its presentation solely to a discussion of itself and its own prospects. There is still a lot of good information here and I recommend reviewing both presentations when conducting your own due diligence.
Ensco has the second largest offshore drilling fleet in the world, second only to Transocean (NYSE:RIG). The company has the largest active jack-up fleets and one of the newest deepwater and ultra-deepwater fleets in the industry. Ensco included this chart in its presentation to show the relative fleet sizes for the major companies in the industry.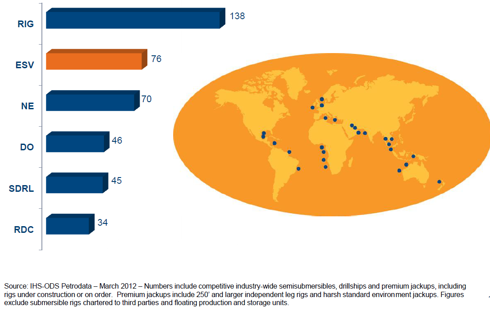 Source: Ensco plc
This chart is a little misleading, however. In the notes to the chart, Ensco stated:
Numbers include competitive industry-wide semisubmersibles, drillships, and premium jack-ups including rigs under construction or on order. Premium jackups include 250' and larger independent leg rigs and harsh standard environment jackups.
SeaDrill had a fleet of 62 rigs at the time this presentation was given. The discrepancy is caused by Ensco excluding SeaDrill's semi-tender and tender barges which make up about one third of that company's fleet. The reason for the exclusion is likely that neither Ensco nor any other company on this chart participates in the niche market for tender rigs. The tender rig market is a very profitable one though, much more so than the jackup market and that is something that should be considered.
Offshore resources are likely to become more important in the coming years. That is because this is one of the few environments where reserves are increasing.
Cumulative Global Deepwater Reserves Discovered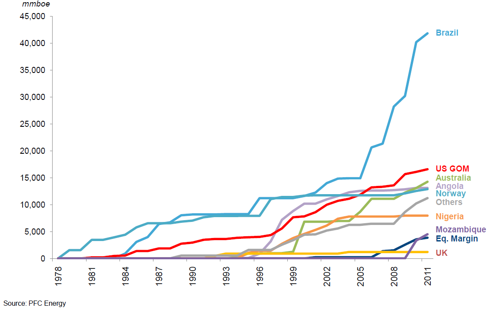 This is likely to be a very good trend for offshore drilling companies as oil and gas producers increasingly look offshore to bolster reserves and production. This could lead to increasing demand for rigs which would lead to growth among offshore drilling companies. This trend would only result in earnings growth if the supply of rigs does not grow more rapidly than demand for the rigs. That is unlikely to occur in the short- to medium-term, however.
Ensco's large presence in the jack-up market could become a driver of growth for the company. SeaDrill noted in its first quarter press release that the company is beginning to see the worldwide supply of jack-up rigs tighten relative to demand. Customers have been signing longer-term contracts for jack-up rigs than they used to and this has been going on for quite some time now. In addition to this, the company notes, dayrates for jack-up rigs have begun trending upward.
This means that the companies that manage jack-up rigs can charge higher prices for existing assets. All things being equal, this should cause profits to rise. Since the majority of Ensco's fleet consists of jack-ups, this would obviously be quite beneficial for the company.
There is another benefit that Ensco could derive from its large jack-up fleet. That is business in the Middle East and Asia Pacific regions. Ensco is quite well diversified internationally, with rigs operating in every major offshore region.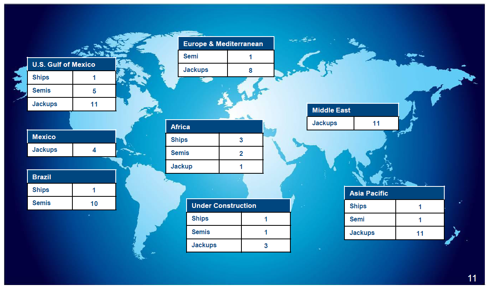 Source: Ensco plc
One thing that should be visible right away is the large number of jack-ups already in the Middle East and Asia Pacific regions. There is a reason for this. Both regions have the appropriate environment for jack-ups to operate and both regions have very large offshore reserves.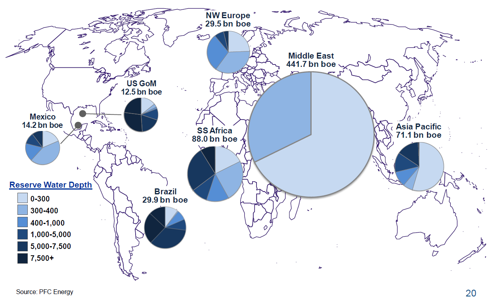 The most advanced jack-ups can operate at depths of up to 400' although there are a handful, such as Rowan's (NYSE:RDC) Rowan Viking, that have a maximum water depth of slightly more than this. As the chart shows, all of the massive offshore reserves of the Middle East are located in 400' or less of water. More than half of the large offshore reserves of the Asia Pacific region are also in 400' or less of water. Given this, customers with an interest in drilling in the area will logically attempt to use a jack-up rig if at all possible due to the lower costs of jack-ups compared to other types of rigs.
Ensco stated that it will be adding 7 ships to its fleet during the period 2012-2014. This includes the recently delivered DS-6 drillship which has been contracted out to BP at a dayrate of $522,000. Three of the remaining six rigs have also been contracted out.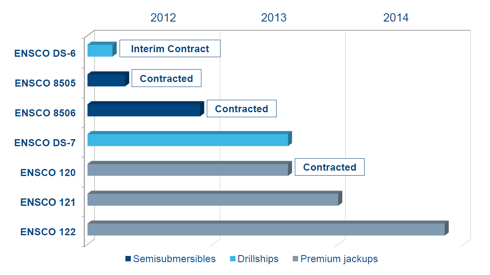 Source: Ensco plc
The majority of the revenue growth that Ensco will see from these newbuilds will come in the next few quarters. Ensco will see four rigs, two semisubmersibles and two drillships, leave the shipyard between the beginning of 2012 and the latter half of 2013. The three rigs that will leave the yard later are all jack-ups. Drillships and semisubmersibles carry much higher dayrates than jack-ups and so these units deliver much more top-line growth.
Since the time that this presentation was given, Ensco has ordered an additional ultra-deepwater drillship. This rig, the DS-8, will be delivered in the third quarter of 2014. This helps to extend Ensco's growth in ultra-deepwater beyond 2013. It also will provide an additional source of revenue growth after 2013. For reasons that were already discussed, Ensco's top-line growth from newbuilds was likely to slow after 2013 but the DS-8 should help to moderate that.
Please note that these comments apply only to growth caused solely by newbuilds. Ensco could also increase its revenues and, thus, profits by re-contracting out rigs as the current contracts end. The company will be seeing most of its deepwater fleet come off contract between now and the end of 2014. The current tight supply of rigs should allow Ensco to easily find customers to contract out these rigs to when the current contracts end. Ensco's current dayrates on its ultra-deepwater rigs are rather low so if the company can re-contract out rigs at higher rates then that could lead to significant revenue and cash flow growth.
Disclosure: I am long SDRL.