iShares S&P GSCI Commodity-Indexed Trust (GSG) debuted at number two on the ETF Momentum Tracker sector ranking last week. GSG was flanked on the table by funds investing in gold and silver and trailed closely by funds investing in the oil industry. Gold, silver and oil are among the 24 commodities in which GSG invests, and each—along with soybeans, wheat and lead—played a role in GSG's dramatic surge late in 2007. All told, the fund gained an impressive 38.29% for the year ending January 25. GSG slipped back slightly during the first few weeks of the new year, but commodities' continuing appeal during the recent shake-up in global financial markets allowed the fund to handily outperform broad market indices.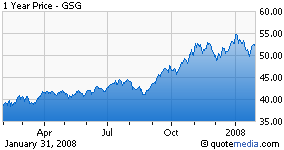 GSG is a pioneering fund with a unique strategy. There was only one other broad-based commodities ETF at the time of this fund's July 2006 inception— and that fund, PowerShares Deutsche Bank Commodity Index (DBC), had only been trading for five months. Like DBC, GSG invests in futures contracts in a diverse array of commodities, in an attempt to mirror the performance of a well-known commodities index. Both funds provide investors a way to introduce commodities into their portfolios without having to deal with the substantial expenses charged by actively managed commodities funds. Both GSG and DBC recently had expense ratios of only 0.75%.
GSG differs from its predecessor in a few important ways, however. The index GSG tracks, the S&P GSCI Commodity Index, is designed to reflect the breadth of the global commodities market just as an index like the S&P 500 reflects the breadth of the U.S. equity market. But that goal can be trickier with commodities than with equities. For example, it's easy to weight a stock index by market capitalization—but there is no equivalent characteristic to use for weighting commodities.
But the people at Goldman Sachs, who owned rights to the index until selling them to Standard & Poor's last winter, figured out a way around that problem. Each year they estimate the quantity of every major commodity that flows through the global economy and weight the index according to the overall production of each. For example, since soybeans were estimated to make up 3.68% of the global production value of commodities during the last five years, 3.68% of GSG's assets are devoted to futures in the crop.
This weighting system makes for a portfolio that is heavily tilted toward the most important commodity in our current economy: oil. Nearly 52% of GSG's assets currently are devoted to crude oil, and another 20% are invested in gasoline, blended gasoline, heating oil and natural gas. GSG's energy-dominated portfolio differs greatly from commodity ETFs such as DBC, which recently held only 33% of its assets in crude oil.
But while GSG is more concentrated in energy commodities than are other commodities ETFs, it nevertheless provides more-thorough diversification across the spectrum of the world's raw materials. iShares GSCI Commodity- Indexed Trust holds futures of two dozen commodities, compared with just seven for its PowerShares competitor.
Altogether, GSG invests in six energy-related commodities, five industrial metals, eight agricultural products, three livestock products and two precious metals.
GSG also differs from other commodities ETFs in the way it goes about investing in the commodities in its index. Rather than investing directly in the futures underlying the index, GSG invests in futures contracts called CERFs, which are essentially long-term options contracts with expiration dates roughly five years in the future that are traded on the Chicago Mercantile Exchange. One obvious advantage of this strategy is that it avoids the month-to- month rollovers required by typical futures contracts, allowing for fewer transactions and for potential tax advantages. But since this approach had never been tried before, many commentators, including Morningstar, voiced skepticism when GSG was first introduced.
With only a year and a half of history behind GSG, it may be too soon to judge whether the ETF is an effective means of investing in commodities markets— especially since the values of most key commodities soared during that period. The main appeal of this fund, particularly at a time when the economy appears on the brink of recession, is that it is almost certain to provide a hedge against inflation while performing independent of the broader stock and bond markets. And because of the breadth of its index, GSG offers exposure to certain commodities that investors would be hard-pressed to find a stake in elsewhere. Hogs, cocoa and zinc are sure to bring a dose of diversification into a conventional equity and bond-based portfolio. If those commodities and—more important— oil continue to climb in 2008, GSG could maintain its lofty debut position on the ETF Momentum Tracker sector ranking.