I've worked with companies involved with offshore exploration, production, construction, and support services, for a number of years. Often I hear about some companies through their suppliers and partners. Favorable comments, or even unfavorable complaints, can lead me towards more research. It's not inside information, but when vendors to some companies don't speak well of their clients, then I often steer away from looking into further business potential, and that can include avoiding investing in a company.
I use shiptracking software to find various offshore support vessels around the world. As offshore rigs move into place, they need a flotilla of offshore support vessels to service them, supply parts, or to set anchors. Some offshore support vessels run Remotely Operated Vehicles, or ROVs, while others do pipelaying or subsea construction. Many of these companies are either private, or foreign listed, with only a few large players, and numerous smaller players. Once we see these operating in an exploration area, then we know whether activity is increasing or decreasing.
The first part of any oil and gas field operations is a lease sale by the controlling government. After that a survey operator is brought in to search for the best places that may prove to be good drilling prospects. Next comes the floating rigs, semi-submersibles, jack-up rigs, or drillships to start drilling test wells. Those all run constantly, and usually I find support vessels showing up on location prior to the rigs being positioned into place.
Offshore construction companies can later provide a more permanent production platform, and then we may find pipelay or subsea construction companies vessels in a given development area. There may also be Floating Production Storage and Offloading, or FPSO, vessels later in that cycle, though I tend not to track those very often. We can sometimes find news releases about contracts, though private or smaller companies don't always provide much information on which companies have entered contracts with them.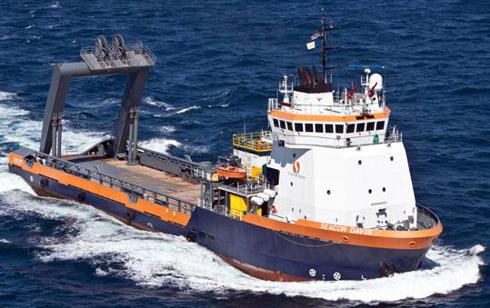 One of the areas I have been watching for a few years is West Africa, south of Nigeria. Angola and Gabon offshore operations appear to be in full swing, with many supply and support vessels appearing often in the key ports of Luanda and Port-Gentil. One offshore company that became a profitable investment, based upon my research, was Acergy, who merged with Norwegian company Subsea 7 and decided to de-list from the U.S. stock markets; though I still follow them on the Oslo Borse, and around the globe anywhere this giant offshore construction company operates.
Another was Global Industries, a small company recently bought out by French company Technip. I heard favorable comments about Global Industries, then researched the company, which led to an investment in the summer of 2010. Barely a year later, Technip bought Global Industries at a premium, and I sold my shares at a hefty profit. We may find many more mergers and buy-outs over the next few years, and I think merger activity points to a healthy and growing offshore industry.
Click to enlarge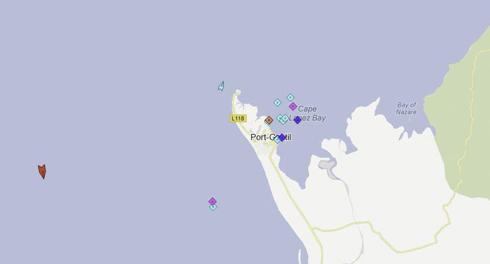 Cobalt International Energy (NYSE:CIE) is one of the smaller players in deepwater offshore oil and gas exploration and production. While its Gulf of Mexico lease purchases may be expected to produce good returns as drilling activity increases, the new development that put it on my radar was its early entry into offshore Angola. It took about three years for it to drill one of its Gulf of Mexico assets after its lease purchase, though after the Challenger Horizon accident in 2010, all drilling activity in deepwater Gulf of Mexico was delayed.
The semi-submersible rig Ocean Confidence from Diamond Offshore (NYSE:DO) has a contract with Cobalt offshore Angola through August 2012 to drill two evaluation wells. In November 2012 their rig, Ocean Confidence, will move to drill another evaluation well through February 2013, followed by a fourth evaluation well in another offshore Angola location through June 2013. There can be some lag between drilling, evaluation, and decision to move to production, so I would expect to have a better idea in the middle of next year. However, I prefer longer term investments, so I am looking at an investment entry this summer. More cautious investors are advised to wait until a move to production is announced.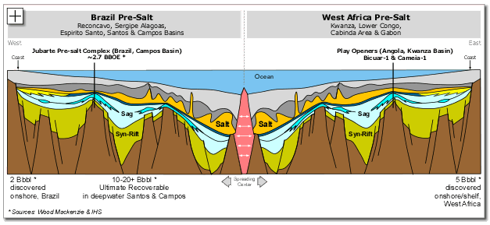 Cobalt International Energy also saw some controversy in a report in the Financial Times accusing the company of bribery. Shares fell under the prospect of an investigation potentially leading to large fines under U.S. anti-corruption laws, though the company issued a rebutal to those accusations. The Angolan company holding parts of those offshore blocks is Sonangol, which recently announced approval for drilling in those lease areas. Questions remain about Cobalt International Energy, though if its drilling efforts lead to viable production, the company can expect many years of revenues. The company also had an additional common stock offering in February this year, priced at 28.00 a share, which was expected to provide gross proceeds of about $1.5Billion.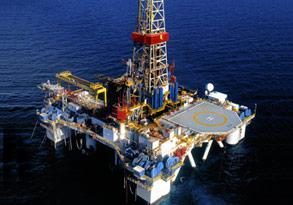 Atwood Oceanics (NYSE:ATW) is a mid sized drilling company, which I noticed recently in researching assets offshore West Africa and other global locations. It currently have six vessels under construction, including two new technology drillships, which will be a fairly large increase in its overall drilling fleet. It is above average in this industry at generating revenues from its employees, and has a fairly low P/E ratio with positive earnings.
Atwood's newbuilding efforts seem to position the company to move more towards deepwater assets, and possibly become less reliant upon jack-up rig revenues. This is the direction the industry is taking, and I expect this move to provide solid revenues as those new assets are put into use. I would consider Atwood a longer-term play through 2014, then re-evaluating its potential for continued investment. Shares have declined recently and I would hope for market weakness to put shares under $38.50 over the next couple months, though I don't expect much more downside than $36.00 without a Black Swan event or major market sell-off.
After the Challenger Horizon accident in the Gulf of Mexico in 2010, I followed the area on shiptracking software to see which companies were working the immediate area. One of the specialized rigs operating as a well intervention platform was the Q4000, owned by Cal Dive International (NYSE:DVR) and operated by Helix Energy Solutions (NYSE:HLX).
I opened an investment in Helix early 2011 and recently sold all my position at about a 49% profit. I still consider Helix to be a leading technology solution company in well intervention, and I am looking for a re-entry point this summer for a further investment. During the time I held Helix shares, I had not considered Cal Dive, due to an apparent lack of activity of the various Cal Dive vessels.
I think it may take a while for Cal Dive to turn around the company to solid profits, though much of the insider activity last year seems to have subsided. Cal Dive is much more speculative a play than Helix Energy, and its capabilities are more shallow than deepwater. Current revenues at Cal Dive are higher than its market cap, but revenues have been declining. Compare that to Helix Energy with over 17% revenue growth recently.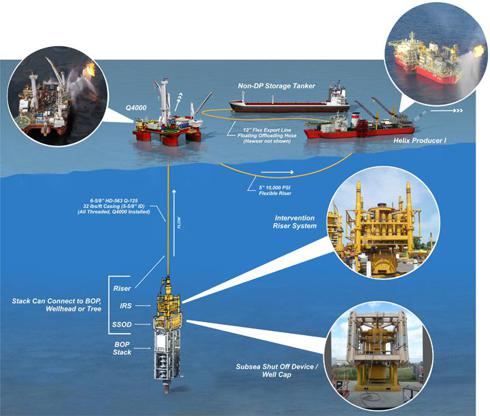 I initially became more interested in Helix Energy after it announced a spill containment system. In early 2011, the U.S. Government announced that companies wanting to drill in the Gulf of Mexico needed to have a spill containment plan in place, with ready assets, if and when needed. Helix Energy kept showing up in new permit approvals, mostly based upon their HFRS system of spill containment. It is one of the first companies with this integrated a system, so I think it should continue to lead the way in this technology. Obviously, the company does much more to generate revenues, but this does show its capability in developing new offshore technology. I'm hoping for a re-entry to Helix shares below $16.00.
A competitor to Cal Dive and Helix Energy, can be found in Hercules Offshore (NASDAQ:HERO). Revenue exceeds market cap, though revenue growth has flat-lined recently. Shiptracking information indicates several Hercules vessels in operation in West Africa, as well as in other parts of the world. A check at Rigzone shows 21 rigs drilling and over 30 rigs cold stacked.
Cold stacked rigs need some investment in order to go into operation, though with most of these being shallow operation gas drilling barges, my guess is that some of these assets may be sold rather than placed into operation. This indicates that Hercules Offshore is not using as much of its rig assets as possible to generate revenues. We might expect some further downside in shares, or even asset sales to raise operating funds.
In the event of a market downturn, I would expect shares to experience significant downside movement. There was some insider buying near 3.20 a share about 10 months ago, so I would see declines below that as an entry point, but caution prospective investors that this may be a highly speculative play on the hopes of a turn-around.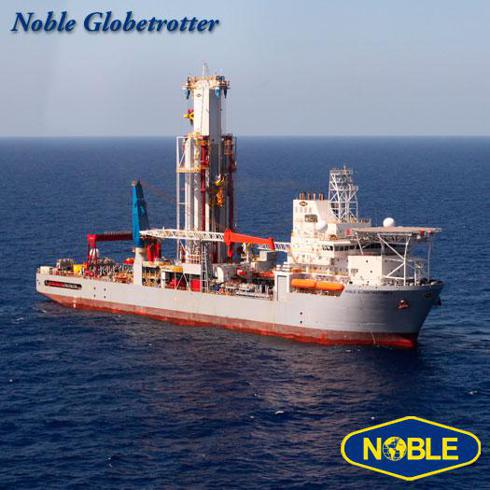 Rigzone is also a great resource to see who is on the move or in operation in offshore drilling. After following utilization and new construction reports for a few months, I noticed Noble Corporation (NYSE:NE), also listed at Rigzone.com as Noble Drilling. This is a fairly large player in the global offshore drilling segment, and is currently expanding its fleet, which should make it fairly competitive over the next several years. The picture above is one of their newest Globetrotter Class drillships, utilizing some of the latest deepwater offshore drilling technology.
Noble's website provides a great deal of information on its rig status, and it recently reported an order backlog of over $40.5Billion at a May 22nd Global Energy & Gas Conference Call. It is not as well known nor reported upon as other companies in the offshore drilling segment, so we might see some weakness in shares on any market downturn. I'm hoping for some market downturn weakness over the next two months to initiate a long-term position in Noble Corporation , and I would expect to hold shares through 2014/2015, then evaluate based upon deliveries of new drilling rigs and fleet utilization.
Seadrill (NYSE:SDRL) has been in my portfolio up until recently, though I sold to take profits, since I had bought into shares at quite a low point after the Challenger Horizon accident. It is still one of the more profitable of offshore drilling companies, and has one of the most modern fleets in this segment. There has been quite a bit written about this company lately, and many discussions here at Seeking Alpha amongst those of us who have been interested in this company for a while.
The dividend is solid, though I am expecting the recent revenue growth decline might place some pressure on future dividends, and possibly provide some near-term weakness in share prices. Seadrill compare very favorably to Diamond Offshore and Noble Drilling in fleet utilization rates, and it is still leveraging to expand towards its drilling fleet.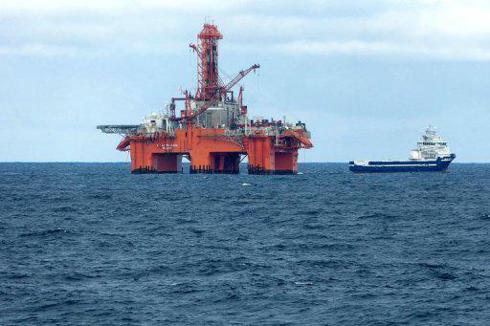 Other than offshore drilling, some of Seadrill's rigs are used for well intervention. Its West Phoenix semi-submersible was recently moved into position in the North Sea, to perform well intervention for French supermajor Total (NYSE:TOT) in its Elgin Field gas leak. Though Seadrill is connected to Norwegian John Fredriksen, the company has not been as busy with Norwegian oil and gas major Statoil (STO) as one might expect, though that seems to be changing.
Recent news indicated that the West Aquarius semi-submersible ultra deepwater harsh environment rig would be used for exploration offshore Newfoundland, Canada. There is still an option for extended usage, and so far no update on the Seadrill website, though there may be some market movement on the eventual official announcement. So far shiptracking software is not showing many platform supply vessels in that area, though checks in other parts of the world where Seadrill is drilling are quite active.
There is more than enough information about Seadrill to write an article just on this company, though I want to only briefly mention it here. I intend to re-open a long position in this company, though I am waiting for a break under $32.00 a share before figuring out an entry point. The last ex-dividend date recently passed, meaning there are a couple months to get back into the shares on market weakness prior to the next quarterly ex-dividend date.
I use shiptracking software to see where various floating assets are located, and whether or not they are idle or busy. Sometimes that involves port checks, other times finding support vessels, and a few times just an overall global view to find areas of increased activity. That research can be time consuming, and it sometimes takes months for me to get an idea of the operational levels of various companies, though most of the research leads to long-term investment decisions.
When I see significant changes in parts of the world, I note the companies involved. That leads towards more company research, often through various industry connections. Sometimes that research points out companies that are not good investments, or highly speculative, as I noted with a few in this article. Over the last three years, since the market bottom in 2009, this type of research has led me towards significant gains on my investments, and fairly solid dividends. I feel watching ship movements around the world gives me a slightly forward looking view of future trends, and so far that concept has proven to be very profitable.
Disclosure: I am long TOT.
Additional disclosure: I may initiate a long position in SDRL, ATW, NE, HLX, STO and/or CIE in June or July 2012.