While much of the financial community is focused on the crisis in the Eurozone and the possibility of a Eurozone breakup, I think it is entirely possible that the next major crisis to hit investors could actually be an Israeli and/or US attack on Iran's nuclear facilities to eliminate or set back its ability to enrich uranium to the levels needed to produce a nuclear weapon. What could be the affect on investors and global markets if this occurred?
First, it is clear that the possibility of a military conflict with Iran is very real, and indeed that the odds of such a conflict occurring are rising. Iran and the major powers - US, China, Russia, France, the UK and Germany - known as the P5+1 - recently met in Baghdad, but did not come close to an agreement.
Furthermore, there was recently an article in Reuters which noted that the Israeli elite had "locked down" in anticipation of a decision by Israeli Prime Minister Benjamin Netanyahu on whether to order the Israeli military to strike Iran's nuclear facilities. If there is one thing history in the region has demonstrated it is that if the Israelis feel threatened, they will not hesitate to act alone militarily. One just needs to look at Israel's surprise attacks on Iraq's nuclear power plant in 1981 and on Syria's nascent nuclear program in 2007 - in neither case did the Israelis inform their American allies in advance.
Iran has made very clear that if it were attacked one of its immediate responses would be to close the Straits of Hormuz. The Straits of Hormuz are a narrow channel of water located between the UAE and Iran and is the largest maritime global oil checkpoint in the world, with approximately 15.5 million barrels per day moving through the Straits. Given that approximately 84 billion barrels are produced daily - and that supplies are already tight - Iranian military action in the Straits of Hormuz would clearly cause chaos in global oil markets. Below are some images of the Straits of Hormuz and its critical importance to global oil supply: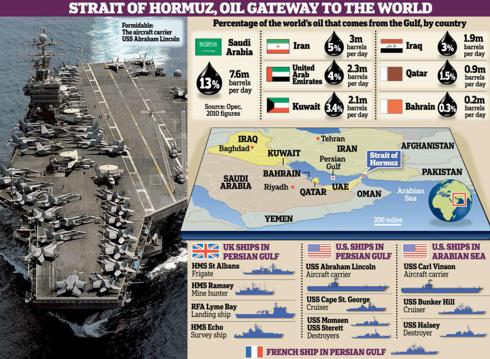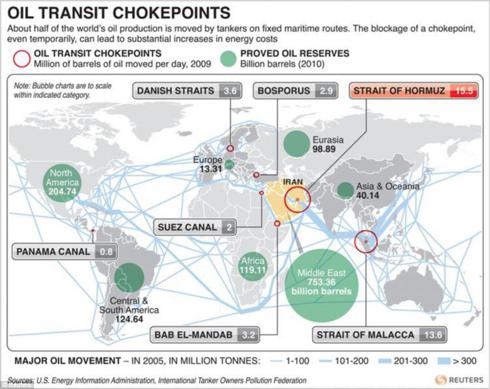 Clearly, the price of oil would soar in any military conflict with Iran. I have seen estimates of what the price of oil might reach in this scenario run anywhere from $150-$170 per barrel to as high as $240 per barrel. While I believe that as of today the risk of a preemptive Israeli attack in the next few months is substantial and rising, even towards the end of last year hedge funds were buying options on $170 prices in geopolitically driven wagers.
In terms of the effect on the economy, depending on the price of oil, gas prices that consumers pay could rise as high as $8 a gallon according to a recent USA Today story. Clearly, this would be devastating to economic growth and would quite likely stop US growth in its tracks, and would certainly cause a more severe recession in Europe.
How to protect oneself from this potential shock of a military conflict with Iran? One option would be to buy the United States Oil Fund LP (NYSEARCA:USO) or the iPath GSCI Crude Oil Total Return ETN (NYSEARCA:OIL). I actually would recommend the ETN OIL as the tax consequences from owning this will be limited, as all income and capital gains are folded into the ETN, and the owner simply pays the capitals gains tax at sale. OIL by contrast is a limited partnership, which has the added complication of a K-1.
To protect your equity investments from an almost certain sharp drop in the markets one could also buy put options on iShares S&P 500 index Fund (NYSEARCA:IVV). If your holdings in the oil and gas sector are on the light side today, you should definitely consider going long the iShares S&P Global Energy ETF (NYSEARCA:IXC). IXC largely holds the major names in the oil and gas sector, including Exxon Mobil, BP, Royal Dutch Shell and Chevron.
Disclosure: I have no positions in any stocks mentioned, but may initiate a long position in OIL over the next 72 hours.