Oil is back up, and so is the world's hottest resource currency, the Canadian dollar. So what's with the U.S.-traded Canadian energy ETF?
Some of the oil industry's biggest figures seem to have sipped from the reality fountain lately, as Shell and Total CEOs are flat-out saying easy oil is coming to an end.
Jeroen Van der Veer, chairman of Royal Dutch Shell (NYSE:RDS.A), said in a speech published last week, "We are experiencing a step-change in the growth rate of energy demand due to rising population and economic development," continuing to forecast, "after 2015, easily accessible supplies of oil and gas probably will no longer keep up with demand."
Fellow European fossil fuel titan Christophe de Margerie, head of France's Total SA, is known for his willingness to state that supply and demand will squeeze "easy oil" supplies in the coming years, but he says he's not as heterodox among his peers as you may think.
"We all think the same," he said in a recent issue of the Economist, "it's just a matter of whether we say it."
Cambridge Energy Research Associates says production is declining around the world, at a rate of 4.5% a year.
For Canada, it's no question. In my travels I've met twentysomething Canadians in Shanghai, Santiago (Chile), and Scotland. From Yellowknife, Regina and Ottawa, they've spread out all over the world with pockets full of loonies earned in northern Alberta's heavy-oil tar sands.
Six months of intense work and enough money to pay for college and a trek through Asia? That's not a bad financial scenario.
The favorable budget balance that Canada has been able to cultivate with its oil production (it is both #7 in imports and exports worldwide, though not an OPEC member) has helped the currency, even though the heavy, sour oil produced around the boomtown of Fort McMurray fetches less than West Texas Intermediate because it costs more to process.
With a stronger dollar comes more purchasing power internationally, and Toronto's Globe and Mail reports that car prices have dropped by the most in 43 years as Canadian lots struggle to keep prices on par with dealers down south. Canada has also kept the worldwide inflation scourge at bay, with the country's core (ex-fuel and volatile food items like fruit) inflation coming in at half the average for developed countries.
Hey Americans, do you remember what it's like to have extra money?
Canadian Energy ETF and the Canadian Dollar ETF
Canadian dollar vs. USD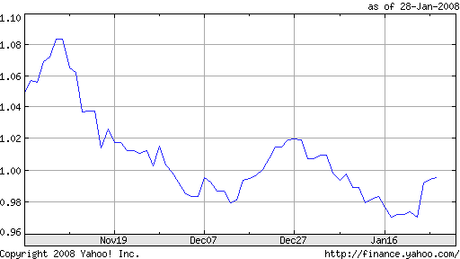 Since the currency seems to rise and fall with oil, compare the movement in the Claymore/SWM Canadian Energy Income Index ETF (AMEX:ENY) to the Dow, and then to the Canadian dollar. ENY's performance runs with the local currency much more than it does with the blue chips.
Oil, the Canadian dollar, and Canadian resource stocks seem to be locked in a feedback loop of sorts.
With 35 Canadian royalty trusts and 25 oil sands companies in its portfolio, all of which are outside the dizzying TSX Venture exchange (formerly known as the Vancouver "suicide" Exchange), ENY looks technically ready to break out, after running along lower Bollinger Bands for the middle of January.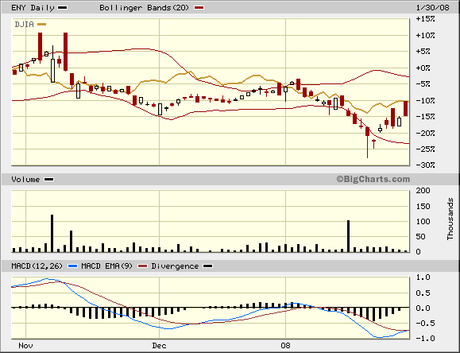 Since inception in July of 2007, ENY is down by nearly 7% over the past six months. The Canadian dollar is also down, but the question we have to ask is what's the difference?
Well, if you invest in Rydex's CurrencyShares Canadian Dollar Trust ETF (AMEX:FXC), you will deal with a lower expense ratio of .40%, compared to .65% for ENY.
What's more, the currency trust has flat-out outperformed ENY, with the former treading water as the latter drooped. We may chalk this up to greater speculative activity and deal with the volatility for the prospect of greater upward swings, but so far ENY has only briefly borne out this potential, even with oil hitting $100 a barrel.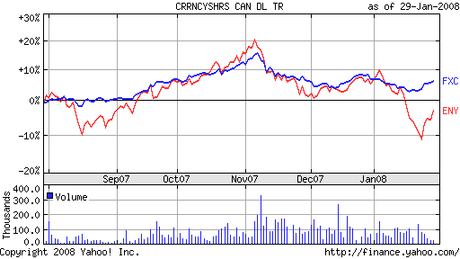 I guess this time it all comes down to a choice between energy and capital.
P.S.: My colleagues and I are hard at work finding the hottest profit opportunities as the world's oil economy turns a corner. You've read it right here - Big Oil knows the sweet stuff is running out, and the field is wide open for the next generation of hydrocarbon potential. Savvy investors will be reading more about the hottest plays on oil's new frontiers.