McKesson Corp. (NYSE:MCK) is scheduled to report Q3 earnings with a conference call scheduled for 5 pm ET.
Guidance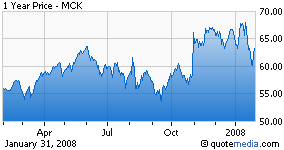 Analysts are expecting a profit of 80c on revenue of $25.29B. The consensus range for EPS is 75c to 84c, with a revenue range of $24.67B to $25.97B, according to First Call. EPS expectations for this quarter are higher than its year over year results of 79c.
The Wall Street Journal's "Heard on the Street" said that now may the time to buy the shares. The acquisition of Oncology Therapeutics Network should be positive for revenues. Oncology Therapeutics is a growing distributor of specialty drugs to cancer patients, where drug sales are expected to double to $60B over the next four years.
Analyst Views
Bear Stearns said they see "potential for significant gains within the pharmaceutical-distribution sector, once investors begin to look through the challenging gross-profit comparison of the next two quarters." In November, Baird raised their 2008 to 2009 EPS estimates, and said the stock is poised for substantial returns over the next six months.