Heineken (HINKY.PK) is a stock that appears to be very under the radar, the reasons for which I do not understand. For those unfamiliar, Heineken NV is the second or third largest brewer in the world, depending on who you talk to. They manage over 200 brands, and do a good job at it. Some of my favorites are Newcastle, Dos Equis, Amstel, Strongbow, and of course the namesake Heineken. Currently with a market cap of $28 billion dollars, this is a blue chip international company that appears headed in the right direction.
My investment thesis for Heineken is pretty simple:
1) Looking at the price movement on Heineken, it's negative on the year. The 52 week range is from 20-30, and Heineken currently sits at 24.58. The last few months I've had Heineken on my watch list, I've seen it slip from 27 to 24.58, a price that I would feel very comfortable entering at. The stock traded at an all time high of 38 pre-crash.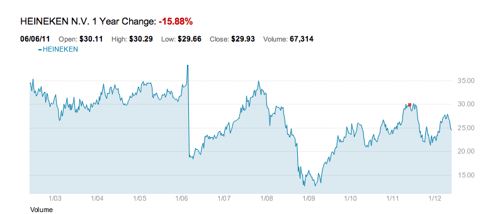 2) It appears that Heineken is a very under-followed equity, especially in the United States. Only 42 people are signed up to get info on Heineken articles! 42?! It's crazy under the radar. 338 people get BUD E-mails, and about 240 get TAP E-mails. This is in the highly intelligent Seeking Alpha community.
3) Going along with under followed, simply finding basic investing metrics for Heineken is difficult to do. Seeking Alpha, Google, Reuters, all have essentially no information on Heineken.
4) The actual numbers, if you can find them, appear to be favorable to Heineken. A P/E of 16 sounds reasonable to me for a company that makes darn good beers.
5) Heineken pays a decent dividend, which has been on the rise, the last few years. 2010 .65 Euro, 2011 .80 Euro, and 2012 1.13 Euro. The dividend policy is:
The dividend payments are related to the annual development of the net profit before exceptional items and amortisation of brands (net profit beia), which translates in a dividend pay-out of 30-35%.
Dividends are paid in the form of an interim dividend and a final dividend. The interim dividend is fixed at 40% of the total dividend of the previous year. Annual dividend proposals will remain subject to shareholder approval.
6) The London 2012 Olympics are almost here! And Heineken is an exclusive sponsor!
As part of the [sponsorship] deal, the company's flagship premium beer, Heineken will be the branded lager served at the Games and Heineken UK will have exclusive pouring rights for its portfolio of beer and cider brands at all London 2012 venues where alcohol is served.
7) Heineken is focused on expanding in emerging markets, which I think is a great strategy for the future. Heineken is already very global, but I like to see that the company knows what it is trying to do in terms of growing itself internationally.
8) Somewhat related to number 6, Heineken appears to be a company that is very smart with advertising. I despise most commercials, but I find the commercials in the US to be fun and watchable. Just like Budweiser, they take marketing very seriously and appear to be quite skilled at it.
Reasons to be cautious:
1) Again, the numbers are difficult to find for Heineken. Their Investor relations web site is excellent, but P/B and other useful stuff to know I as of yet have not been able to locate.
2) This stock appears to have been dragged down with the problems in Europe. Even though the company is global, the name Heineken sounds like it's exclusively European, which, in an irrational market, could keep the stock down for who knows how long.
3) I'm really having a tough time coming up with negatives right now. Heineken looks like a pretty fabulous company with a lot of great alcohol brands that is making money and paying out increasing dividends. I look to my readers to come up with more information about this company and other possible potential detractors.
Wrapping things up here, Heineken appears to be a nice, safe, dividend player that is currently undervalued. You're getting literally hundreds of brands, and a company that appears to have a sharp sense for marketing. Every time I watch the champions league, there's a commercial for Heineken. I'm just remembering now all of the Amstel commercials I've seen as well which feature the nice scenes of Amsterdam. I really think that this company could be a great long term investment for people, especially at today's share price. While more research is warranted, I continue to have Heineken on my watch list and am overall bullish on this stock.
Disclosure: I have no positions in any stocks mentioned, but may initiate a long position in HINKY.PK over the next 72 hours.
Additional disclosure: I don't really see myself buying any HINKY in the next 3 days, but if it were to fall below 23 I'd seriously consider it.