Auto sales in the United States are heating up. After hovering around depressed levels of 12.8 million vehicles in 2011 and 10.4 million in 2009, auto sales are now on pace to surpass the 14 million mark. Following a robust first-quarter 2012, Ford Motor Co. (NYSE:F) raised its 2012 forecast of industry sales to between 14.2 million and 14.7 million vehicles. Its earlier forecast called for light vehicle sales in a range between 13.2 million and 14.2 million. Earlier this month, General Motors Company (NYSE:GM) also boosted its 2012 light-vehicle forecast to a range between 14.0 million and 14.5 million from its earlier projection of between 13.5 million and 14.0 million vehicles. Toyota (NYSE:TM) hiked its 2012 forecast to "a little bit more than 14 million" from its previous projection of 13.6 million vehicle sales.
The robust growth in light vehicle sales bodes well for auto parts manufacturers, many of which have already seen their stock prices rise in the recent months. Here are four dividend-paying auto parts manufacturers that stand to benefit from the resurgence of light-vehicle sales in the United States.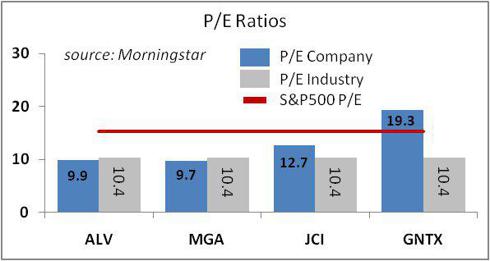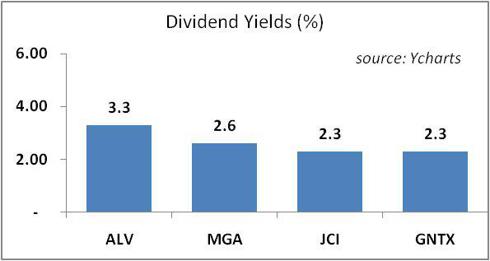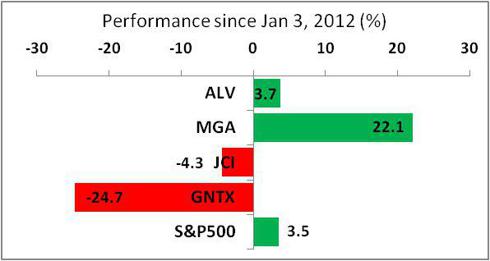 Autoliv (NYSE:ALV) is a $5.1 billion company that provides automotive safety systems, including airbags and seat belts. The company pays a dividend yield of 3.3% on a payout ratio of 31%. It has been raising dividends by 4.2% a year over the past five years. Autoliv reported strong first-quarter earnings, with sales reaching record levels at $2.2 billion. Strong growth in sales of active safety products in China and Korea helped drive sales to the record. Autoliv derives about 15% of revenue from its largest customer, GM. Other significant contributors to its revenue include Ford and Volkswagen (OTCPK:VLKPY). The company is trading at $57.2, about 8.3 times its forward earnings. Joel Greenblatt purchased a small stake in the company in the first quarter of 2012.
Magna International (NYSE:MGA) is one of the world's largest diversified auto parts suppliers, producing seating systems, chassis and powertrain systems. The company has a market capitalization of $9.7 billion. It pays a dividend yielding 2.6% on a payout ratio of 88%. The company's stock is some 22% up from the beginning of the year. This stellar performance is a result of the company's beating consensus estimates for the first quarter by 17 cents and guiding higher on the year due to stronger revenue amid a robust growth in vehicle sales in North America and, surprisingly, Western Europe. Next year, the company is expected to grow earnings per share by nearly 13%. The company's stock is currently changing hands at $41.5 a share. It has an attractive forward P/E ratio of 7.4. George Soros and Joel Greenblatt sold out their earlier stakes in the company.
Johnson Controls (NYSE:JCI) is a $21 billion auto parts manufacturer providing interior products and systems for light-vehicles and trucks. Among other things, the company produces seating systems and components, instrument panels, displays, body controllers, headliners, and door systems. The company pays a dividend yield of 2.3% on a payout ratio of 28%. It has raised dividends at an average annual rate of 10.8% a year over the past five years. In its fiscal second quarter, the company reported strong sales of automotive products, rising 7% overall and 4% excluding foreign exchange effects and acquisition-related growth. The company's automotive sales in North America were up 12% versus a 17% increase in vehicle production. The company is expected to see its earnings per share grow by 12% this year and about 19% a year over the next five years. Ken Fisher and Mario Gabelli reported small stakes in the company in the first quarter of 2012.
Gentex Corporation (NASDAQ:GNTX) is a $3.2 billion company producing various types of automotive mirrors. The company pays a dividend yield of 2% on a payout ratio of 41%. It has increased dividends by 5.5% a year over the past five years. The company reported first-quarter earnings in line with analyst estimates. However, Gentex's stock dropped precipitously after the company guided sales for the second quarter lower than analyst had expected. Moreover, the company's stock retreated after the U.S. authorities delayed issuing a rule that would require cars and light trucks to have rear-view cameras. The stock is down almost 25% from the beginning of the year. The company appears overvalued based on both its current and forward P/Es. Its shares are trading at $22.5, or at nearly 16 times its forward earnings. Mario Gabelli and First Eagle Investment Management hold minor stakes in the company.
Disclosure: I have no positions in any stocks mentioned, and no plans to initiate any positions within the next 72 hours.