Recently, DigiTimes announced that Sony (NYSE:SNE) will ship in-cell panels for Apple's (NASDAQ:AAPL) next iPhone due in October, 2012. This deal represents a major catalyst for Sony's stock, which has been trading near a 52-week low. Also, it will not be surprising if Apple, Facebook (NASDAQ:FB), or even a private equity firm, acquires Sony. In addition to a valuable partnership with Apple, having an undervalued stock, and being a potential buyout target, Sony has several businesses that are probably worth more than the current market valuation. Thus, any kind of corporate restructuring will further boost the lagging share price.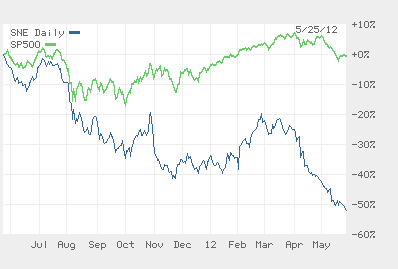 Valuation
Sony has about 1 billion shares outstanding for a market capitalization of $13.8 billion. Its enterprise value stands at $19.5 billion as the company has about $20 billion in cash on its balance sheet and $10 billion in long-term debt. The average analyst estimate is for the company to earn $0.33 during the fiscal year ending March 31, 2013. I forecast that the earnings will be closer to $0.50 per share as the company may benefit from a declining yen, a strong movie studio, and demand for laptops and ultrabooks after Microsoft's (NASDAQ:MSFT) new Windows 8 is released in October of 2012. While a solid balance sheet helps in uncertain economic times as today, Sony stock is also trading at a price-to-book value of 0.6 and a price-to-tangible-book value of 1.2. This valuation is a classic example of a value stock with the added benefit from the absence of financial distress.
Despite several headwinds, including a devastating earthquake/tsunami in Japan, a major flood in Thailand, a hacker's attack with substantial impact, and a recession in Europe, Sony had decent fiscal 2012 results. Its largest segment, consumer products and services, had sales of $39.2 billion (a decrease of 18.5% from fiscal 2011) and an operating loss of $2.9 billion (compared with $135 million of operating income in 2011), followed by professional, device and solutions segment with sales of $16.4 billion (-12.6% from 2011) and an operating loss of $253 million (compared with $346 million in operating loss in 2011). Sony's remaining four divisions (pictures, music, financial services and mobile), while smaller, recorded improvements from 2011 in terms of sales with music being the only exception. Also all of these relatively smaller businesses generated positive operating income. In total, Sony had $81.2 billion in revenue in fiscal 2012 (a 9.6% decrease from 2011) and generated an operating loss of $841 million, compared with an operating income of $2.5 billion in fiscal 2011. While sales and profitability declined in 2012, Sony had a net cash inflow from operating activities of $6.5 billion, which was 15.5% lower than in fiscal 2011. Below is a closer look at Sony's valuation on a segment-by-segment basis.
Segments
Sony's largest segment is consumer products and services and it includes televisions, home audio and video, digital imaging, game and personal and mobile products. In my opinion, it is easily comparable with Dell (DELL), which had $62 billion in revenue in its most recent fiscal year, a net profit margin of 5.6%, and a price-to-earnings ratio of 6. Assuming Sony's consumer products and services can achieve Dell's profitability margins and using Dell's price-to-earnings ratio of 6, this segment is worth $2.2 per share.
The professional, device and solutions division is somewhat comparable to Philips Electronics (NYSE:PHG). Similar to Sony, Philips was unprofitable in its most recent fiscal year during which it had revenue of $29.3 billion. Based on price-to-sales valuation, Philips' stock is trading at around 0.6 its annual sales. Thus, Sony's professional, device and solutions division is worth about $9.8 billion or $9.8 per share.
Sony's picture's business recorded a revenue of $8.2 billion in fiscal 2012 and an operating income of $426 million for an operating margin of 5.2%. This division, while much larger, can be compared with Lions Gate Entertainment (LGF). Lions Gate has a trailing twelve months operating margin of 7.4%, revenue of $1.3 billion and 143 million shares outstanding for a price-to-operating-earnings ratio of about 18. Applying this valuation to Sony, its picture business is worth about $7.6 billion or $7.60 per share. So far it appears that Sony is worth at least $19.60 per share or 50% higher than recent stock price levels. This valuation scenario excludes the music, mobile phone, and financing segments and they could take the role of a margin of safety.
A Potential Takeover
While the sum of the parts seems larger than the whole, a number of companies might be interested in buying the whole company. Apple is one example for a company that may benefit from Sony's exposure to TV and professional devices as the sale growth of Apple's iPhone/iPad/iPod product lines slows down. Apple generates about $1 billion of cash per week and clearly it can afford a company the size of Sony. In addition, a software and internet services company could also benefit from Sony's leadership position in hardware. Recently, Google (NASDAQ:GOOG) acquired a mobile phone maker, Motorola Mobility in a $12.6 billion deal and Microsoft entered into a partnership with Nokia (NYSE:NOK). I believe Facebook may be interested in friending Sony as the company recently completed its IPO and has the necessary capital. There are rumors that Facebook is building a phone. At current prices, Sony could be a better alternative for Facebook than investing in its own research and development.
Private equity firms, which are in a constant need to invest their clients' cash so they can earn management fees may also take a look at Sony. It will be difficult for a foreign private equity company to buy Sony as it is considered the pride of Japan. However, a deal in a partnership with a Japanese bank or private equity fund is a possibility.
Conclusion
What is Sony'worth? Sony can be worth between $40 and $50 per share or over 3 times its current valuation levels in a few years. According to Interbrand, Sony's brand alone is worth $9.9 billion. As with every valuation, Interbrand's study should be taken with a grain of salt. In 2008, it valued Merrill Lynch's brand at $11.4 billion, only to completely drop the brand from the list in 2009.
Note: An exchange rate of 80 yens per dollar is used in this article.