I wrote part I of 2 Pharmaceutical Companies Trading Below Net Cash on May 21st. Since writing that article I have taken a new long position in Myrexis (NASDAQ:MYRX). There has been more insider buying in Myrexis after my first article. Jason Aryeh was appointed a member of the Myrexis Board of Directors on October 19, 2011. Mr. Aryeh is the founder and managing general partner of JALAA Equities, LP, a private hedge fund focused on the biotechnology and specialty pharmaceutical sector. JALAA Equities has added 24,415 shares of Myrexis last week.
Adventrx Pharmaceuticals (ANX) is a biopharmaceutical company focused on developing proprietary product candidates. The company's lead product candidate is ANX-188, a rheologic, antithrombotic and cytoprotective agent that improves microvascular blood flow and has potential application in treating a wide range of diseases and conditions, such as complications arising from sickle cell disease. Adventrx is also developing ANX-514, a novel, detergent-free formulation of the chemotherapy drug docetaxel.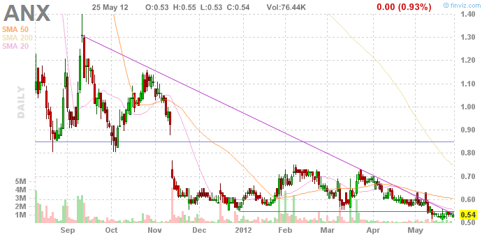 Sickle cell disease market and opportunity
More than $1.0 billion is spent annually in the U.S. to treat patients with sickle cell disease. Sickle cell disease is a genetic disorder characterized by the "sickling" of red blood cells, which normally are disc-shaped, deformable and move easily through the microvasculature carrying oxygen from the lungs to the rest of the body. Sickled, or crescent-shaped, red blood cells, on the other hand, are rigid and sticky and tend to adhere to each other and the vascular endothelium. Patients with sickle cell disease are known to experience severely painful episodes associated with the obstruction of small blood vessels by sickle-shaped red blood cells. These painful episodes are commonly known as acute crisis or vaso-occlusive crisis. Reduced blood flow to organs and bone marrow during vaso-occlusive crisis not only causes intense pain, but can result in tissue death, or necrosis. The frequency, severity and duration of these acute crises can vary considerably.
The company estimates that, in the U.S., sickle cell disease results in over 95,000 hospitalizations and, in addition, approximately 69,000 emergency department treat-and-release encounters each year. When a patient with sickle cell disease makes an institutional visit, vaso-occlusive crisis is the primary diagnosis in approximately 77% of hospital admissions and 64% of emergency room treat-and-release encounters. In addition, although the number is difficult to measure, the company estimates that the number of untreated sickle cell crisis events is substantial and in the hundreds of thousands in the U.S. each year. The company believes that, if ANX-188 is approved, as people with sickle cell disease are made aware of the new therapy, more people who suffer from acute crisis will seek treatment.
A number of other serious complications can arise from sickle cell disease, including acute chest syndrome, splenic sequestration, priapism, avascular necrosis, central nervous system abnormalities and the need for frequent blood transfusions. Acute chest syndrome is a leading cause of death in patients with sickle cell disease, and the company estimates that, in the U.S., there are nearly 10,000 episodes of acute chest syndrome associated with sickle cell disease every year. Up to half of patients diagnosed with acute chest syndrome are hospitalized initially for other reasons, most often vaso-occlusive crisis, and subsequently develop acute chest syndrome. The underlying cause of acute chest syndrome is believed to be pulmonary hypoxia and lung injury, which itself results from varied causes, including pulmonary infection, fat emboli and rib infarction, with the latter two being common complications of vaso-occlusive crisis. Acute chest syndrome typically is characterized by a pulmonary infiltrate evident on a chest radiograph in combination with clinical symptoms, such as fever, cough, chest pain, shortness of breath, wheezing, hypoxemia, increased leukocytosis or worsening anemia.
The company is not aware of any currently available therapeutic agents with demonstrated efficacy in shortening the duration or reducing the severity of an ongoing vaso-occlusive crisis or acute chest syndrome episode. Once a vaso-occlusive crisis occurs, treatment typically consists of hydration, oxygenation and analgesia, usually using narcotics. In addition, treatment for acute chest syndrome includes incentive spirometry, administration of antibiotics and bronchodilators and simple and exchange blood transfusion. By improving microvascular blood flow and reducing tissue ischemia, ANX-188 has the potential to reduce the incidence and severity and shorten the duration of vaso-occlusive crisis and/or acute chest syndrome and improve patient outcomes.
The company expects to initiate a phase 3 study on ANX-188 later this year.
I see at least three reasons to buy Adventrx currently
1. The company is trading below its net cash position
Adventrx had cash of $46 million and 47 million shares outstanding as of March 31st. This creates net cash of $0.97 per share.
2. Insiders have been buying shares lately
Director David A. Ramsay purchased 100,000 shares during month of May. Brian M. Culley purchased 34,500 shares during the month of March. Mr. Culley joined Adventrx in December 2004 and currently serves as chief executive officer, a position he has held since February 2010, and is also a member of board of directors.
3. The company has analyst price target of $1.46 per share
Edison Investment Research initiated coverage on Adventrx on May 25th 2012. At their investment report they wrote:
We value Adventrx at $80m, or $1.46 per share, based on a sum-of-the-parts DCF valuation, using a standard 12.5% discount rate. Our valuation is currently restricted to the potential use of ANX-188 in children in the U.S. market, based on market launch in 2016 and peak sales of $85m. An FDA agreement and clarity on the pivotal study design is crucial and could lead to a re-rating. Cash of $46m is sufficient for two years, assuming the trial starts by year end.
Targacept (TRGT) is a biopharmaceutical company engaged in the design, discovery and development of NNR Therapeutics, a new class of drugs for the treatment of multiple diseases and disorders of the nervous system. The company's NNR Therapeutics selectively target neuronal nicotinic receptors, or NNRs. NNRs are found on nerve cells throughout the nervous system and serve as key regulators of nervous system activity.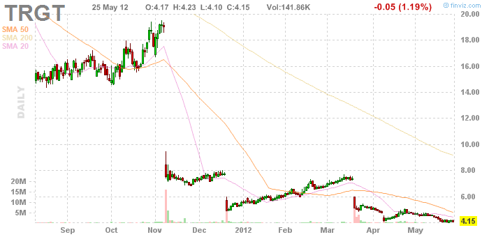 The company has a robust clinical-stage product pipeline that includes multiple mid-stage product candidates, as well as preclinical programs. Targacept's most advanced product candidates are in development for residual symptoms in schizophrenia, attention deficit/hyperactivity disorder (inattentive-predominant), Alzheimer's disease and inflammatory disorders.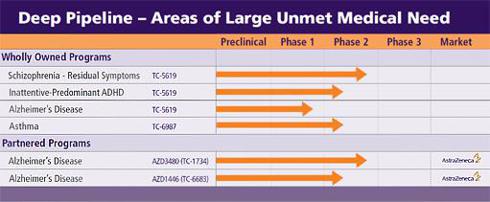 Targacept is currently conducting a Phase 2b study of TC-5619 as a treatment for negative symptoms and cognitive dysfunction in schizophrenia, a Phase 2 study of TC-5619 in adults with inattentive-predominant attention deficit/hyperactivity disorder and a Phase 2b study of AZD3480 as a treatment for mild to moderate Alzheimer's disease, as well as evaluating potential additional development of TC-6987 as a treatment for asthma. In addition, AstraZeneca (NYSE:AZN) has informed Targacept that it plans to progress the development of AZD1446 as a treatment for mild to moderate Alzheimer's disease. Targacept is also evaluating a late preclinical product candidate as a treatment for Parkinson's disease and related disorders supported by grant funding from The Michael J. Fox Foundation for Parkinson's Research.
Financials
Net operating revenues totaled $22.9 million for the first quarter of 2012, compared to $39.0 million for the first quarter of 2011. The lower net operating revenues for the 2012 period were primarily attributable to decreases of $18.4 million in recognition of deferred revenues associated with a now concluded alliance with GlaxoSmithKline (NYSE:GSK) and $2.4 million in recognition of deferred revenues from payments previously received from AstraZeneca related to the development of Targacept's product candidate TC-5619. These decreases were partially offset by an increase of $3.9 million in recognition of the $200.0 million payment previously received from AstraZeneca as a result of a change in the estimated period of Targacept's performance obligations related to its product candidate TC-5214.
Targacept expects its operating expenses for the year ending December 31, 2012, to be in the range of $65 million to $75 million and its cash, cash equivalents and investments balance to be at least $175 million at December 31, 2012. Targacept also expects its cash resources to be sufficient to meet its operating requirements through at least the end of 2015.
Targacept had cash of $224 million and 34 million shares outstanding as of March 31st. This creates net cash of $6.59 per share.
Conclusion
I have taken a long position in Adventrx last week. If I see some insider buying in Targacept I might take a long position in the company.
Disclosure: I am long ANX, MYRX.