John Paulson founded Paulson & Co. in 1994 (with $2M and 1 other employee) after a career as and M&A investor at Gruss Partners and Bear Stearns. Paulson & Co. was originally founded with that mandate but clearly evolved over the years. Most notably, in 2007 when Paulson correctly got on board the short Barrick Gold (NYSE:ABX) trade sending his flagship Paulson Advantage fund up multiples. (Depending on the fund and share class, his funds were up between 100 and 500+%).
Paulson's flagship "Paulson Advantage Fund" was down 50% in 2011 and he spent most of last year "derisking" his portfolio across the board. The only new positions in the top 25 last quarter (which account for over 80% of longs) were Delphi Auto (NYSE:DLPH) and Pharmasset (OTCPK:VRUS).
In our (free) Q1 report we see that Paulson :
trimmed his shares of Delphi 12% (as shares went from $22 to $32 this quarter)
Increased shares of Mylan (NASDAQ:MYL) 16%
Decreased shares of Anadarko (NYSE:APC) 38% (shares went from $76 in Jan to over $85 in March and are now trading at $67)
Increased shares in Baxter Intl (NYSE:BAX) 89% (as shares went from $50 to $58 over the quarter)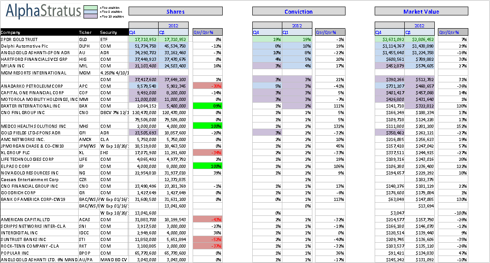 There were no new positions among the top 10 in Q1 but several "starter" positions in the portfolio:

Of the top 10 positions, nearly all of them (including GLD) have been decreased over the last four quarters, some dramatically:

Anadarko started as a $765M position in Paulson's portfolio in Q3 2010. The following quarter, Paulson nearly doubled the number of shares held and has steadily sold of the position since Q2 2011: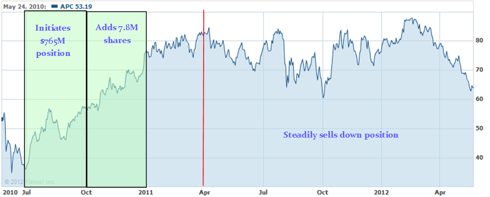 Disclosure: I have no positions in any stocks mentioned, and no plans to initiate any positions within the next 72 hours.