This article aims to study some of the redistributive effects and share imbalances occurring in the initial seasoning periods of non-underwritten corporate transactions. The bias of this review will be on the event-driven universe. Particular emphasis is given to the case of Kinder Morgan, where the post-deal seasoning process is in full course.
The phenomenon of share redistribution (commonly called shareholder rotation) in initial seasoning periods applies to a number of events, not limited to spin-offs, demutualizations, post-bankruptcies as well as certain merger situations with large share influxes involving low-float securities. Generally, these various events have in common that they do not enjoy much sponsorship or underwriting support. When newly issued shares of a bankrupt company get distributed to creditors, there is typically no investment bank lined up to pick up the pieces and provide market making support and sponsorship.
In simple terms, a non-underwritten primary issuance of shares into the market is characterized by less players populating the secondary market for these shares. As a result, a shareholder willing to sell the shares received in the primary share issuance faces a not so deep and liquid market for his shares as he has to find a willing buyer in the secondary markets. The absence of enough willing buyers at a given price in the post-deal period can lead to share imbalances.
Such non-underwritten share distributions to shareholders or creditors stand in stark contrast to the fully underwritten, investment banking sponsored flotations as for instance witnessed in the long saga of Facebook (FB), where many investment banks were involved. Reportedly, following flotation of the Facebook shares to new investors, Morgan Stanley (NYSE:MS) stepped up to the plate in a lackluster secondary market providing market making support of up to $2 billion on the first day of trading. Such market making support in the secondary markets, courtesy of the underwriter, provides some perceived stability to the trading market, although in the case of Facebook it has not as of yet mitigated volatility.
Nothing is more unnerving to investors than the prospect of undesirable and unexpected volatility in their holdings. Granted, most investors gladly accept, when the volatility works in their favor on the back of good news or in a bullish market environment. No questions asked. It is the downside possibility of the volatility equation that has investors most on edge.
A prospective look at share redistribution at Kinder Morgan
The just completed merger between Kinder Morgan (KMI) and El Paso (EP) provides a very good real-time illustration of post-deal share imbalances in the initial seasoning period following the closing of a merger. Since the share distribution of KMI shares and warrants to El Paso shareholders only started today, May 25 (at time of writing), this is merely a preview of what can happen in such early post-deal seasoning periods. There will undoubtedly be a huge influx of new shares into the KMI non-underwritten secondary markets, and this will take time to absorb as in most of these cases.
The following table provides a retrospect view of what happened during the past 4 trading sessions until merger conclusion. The volume and 1-day return stats speak for themselves with regards to the heightened volatility in the shares of EP and KMI ahead of merger closing and the significantly magnified daily trading volume. In fact, EP and KMI shares traded 9 and 22 times their daily average on the day prior to the distribution of merger consideration.
S&P 500

JPM

Alerian

El Paso
EP
Kinder Morgan
KMI
1-Day Return and Trading Volume Stats

AMJ US

EP US

Volume

KMI US

Volume

AVG Daily Volume

600 million

1.4 million

9.9 million

2.76 million

5/24/2012
0,14%
-1,85%
-2,58%
84.7
-3,17%

60.7

5/23/2012

0,17%
-0,34%
-0,10%
18.1
-1,89%
10.0
5/22/2012
0,05%
0,72%
1,51%
19.2
1,32%
7.0
5/21/2012
1,60%
2,22%
1,71%
11.5

2,65%

5.0
The staggering 10- to 20-fold increase in daily trading volume is even more astounding when considered that the distribution of KMI shares and warrants to El Paso shareholders has not even started yet. These market moves would appear to be anticipatory moves by players more or less concerned of what lies ahead.
The when-issued markets as steam vents
Given the anxiety of market participants with the future and by implication the desire of a stable market for such newly issued securities, the corporate issuers (Kinder Morgan) often create under the moderation of market makers and participating brokers certain grey markets in which the yet-to-be-issued merger or spinoff securities can be traded ahead of the deal closing, as if they had already been issued. This allows early birds to get ahead of everyone else with the trading advantages they believe to have, and provides market makers and corporate issuers a legitimate test of supply and demand.
This is the so called "when-issued" market. The when issued market attracts both buyer and sellers placing early bets on the directional movements of shares. The when-issued market is the only market where you can sell short a stock without having to locate its borrow, in other words a naked short. Since the when-issued securities only exist prospectively, everybody would be hard-pressed to deliver them before deal conclusion, if compelled.
Large deals such as Kinder Morgan or the Time Warner Inc (NYSE:TWX)/Time Warner Cable (TWC) unbundling had when-issued trading for several months before becoming effective. Smaller deals have when-issued markets far shorter in duration. Any trades that occur in these hypothetical when issued markets are subject to cancellation, in case a particular transaction contemplated never happens and is shelved. In such cases, all trades are reversed. This happens infrequently.
The issue of banking fees in non-underwritten share issuance
In the merger of El Paso with Kinder Morgan the influx of new KMI shares will be quite substantial, aside from a new class of KMI warrants hitting the markets in sizable quantities. While Kinder Morgan is a household name, the bankers in and of themselves are only bound to earn slim fees on the deal, and certainly not the fees that would be associated with a multibillion-dollar, fully underwritten IPO of KMI shares. In a typical IPO underwriting, fees could be anywhere from 3-5%. Share distributions that raise no capital are not billable on that basis. Bankers may have little incentives to provide price-support to the influx of new KMI shares as they will do so on a pro-bono basis, hoping to be considered for future KMI investment banking business.
The slim investment banking fees to be earned on this merger have been a bone of contention. Competition in the advisory business must be all the rage. Oddly enough, this is not expected to diminish the enthusiasm of large investment banks in the current market environment. In fact, Morgan Stanley, who at one point had dropped the name from research coverage, reinstated coverage on the KMI/KMP/KMR complex in March. Such sudden change in heart does not come from nothing.
Morgan Stanley was also brought in as an advisor and was allowed to earn the paltry sum of $30 million on the deal. $30 million is not a lot, in the face of a $94 billion enterprise value merger. That would equate to 0.03% of transaction value in fees to lend their name to a fairness opinion. That is good money, but not the type of money that banks like Morgan Stanley are used to work for on a big deal such as this.
This is merely an anecdotal proof of the downward spiral in banking and how investment banks are willing to work a lot harder for their money these days. Whether it means putting up $2 billion in capital to prop up a Facebook IPO or working on big ticket transactions for peanuts, its giving a pretty grim picture.
Some people may consider such observations irrelevant. I do not and for the following reasons. In assessing whether investment banks are willing to provide price support and sponsorship to a new influx of securities that hits the market, it is very much worthwhile to take into consideration the economic climate and potential motivations.
In today's market environment of free-flowing central banking dollars, I think it is a lot likelier that a share issuance such as the one happening now to EP shareholders will be accompanied by a lot more market participants than would ordinarily be the case, if the underwriters and market participants had to stomach all the consequences of their lending decisions and prop-trading exposures. It is good to realize that we are operating in changed market circumstances.
This is no assurance of brokerage support to accommodate the newly issued shares but merely a possibility. Nobody is getting paid for doing so, unless they find a way to flip the shares fast, which judging by the decline of KMI shares from $40 to $32 over the past 2 months does not seem entirely reflective of the current market environment.
KMI Share and Warrant Issuance by Numbers
Lets now turn away from the theoretical considerations of share imbalances and post issuance seasoning periods. Important as they are. The case of El Paso/ Kinder Morgan is a very simple one by its numbers as already highlighted in the daily trading volume in above table.
Massive share distributions such as the one occurring in this merger will result in some form of redistribution or rotation of shares, no matter how committed the shareholders claim to be with respect to a target or acquiring company, or to a spinco/parentco constellation.
Considering the facts of EP and KMI briefly:
KMI has 707 million shares outstanding pre-merger. The public float is minuscule at maximum 140 million shares (although Bloomberg claims that the float is only 79 million). Consider further that until recently the daily traded share volume of KMI was only 2.8 million shares per day, or 0.4% of then outstanding total shares (or 2% of maximum float).
We suspect that this trading pattern is about to change with the large influx of KMI shares. The last 4 trading days leading up to the merger is an indication. What happens in a day when 60 million sellers hit the sell button such as on May 24, 2012 is well illustrated, resulting in negative returns of $1 (3.17%) that day to KMI shareholders while the market was up 0.17%.
This is not to say that 60 million share imbalances cannot be ironed out over time. The market ahead could be volatile, though, as there might be days with selling imbalances, followed by buying imbalances. Depending on the trigger-happiness of investors who are about to receive their distributions and depending on overall market sentiment. Market makers will no doubt be responsive to these imbalances, which could usher a period of heightened volatility as willing sellers are matched with willing buyers at various times of the day. This should generally be a good time for traders to take advantage of extremes.
How big is the size of newly issued KMI share influx distributed to EP shareholders as a class? There were 775 MM EP shares outstanding. Only 7 MM accepted the all cash offer. Thus, the other 768 MM EP shareholders will get almost prorated to the maximum of cash available (say to 56% of cash consideration, which would be 14.50). the rest will be stock. Using a 0.43 ratio I estimate that around 330 MM new KMI shares will be distributed to outgoing EP holders. Additionally there will be 496 million KMI warrants, not including any EP stock options that may have given rise to additional issuance. These shares will eventually trickle into the market.
Compare that avalanche of 330 MM newly issued shares to the average daily trading volume of KMI of 2.5 MM. You can see how this could lead to a temporary stock overhang where the market maker decides to temporarily drop the price to accommodate the supply. In the 4 trading days earlier this week, 82 million shares were negotiated. A significant uptick from the more normal trading levels.
No doubt, we are currently in the phase where lots of newly issued shares will be hitting the market or market participant have positioned themselves for such eventualities. (The role and participation of KMI historic insiders in the increased trading volume of KMI deserves to be separately studied in the future, and is not part of this analysis.)
These imbalances could continue for the next few weeks, months and quarters. Each broker will handle the settlement of shares different and EP holders will get their KMI shares and warrants at different times. The people selling now are probably sophisticated investors who want to get out, ahead of what they believe to be an approaching steam train. A 60 million share trading day is most unusual. Over time, I would expect KMI to settle somewhere around 7-10 million in daily trading volume, and only after more institutions start to embrace the company.
If I had to guess on a near term trading level where eager sellers might be willing to dump shares in prolonged down days I would venture for a range of 32 to 29. There seems to be some support around these levels, also considering the fact that KMI has guided towards 2012 dividend payout of $1.40 per share. A 4.4% dividend on a C-Corp can be a guiding factor.
To test the pre-deal KMI levels of $26 would require quite some imbalances or significant changes in macro-landscape causing the bottom to drop. Under a more normal economic environment, a recovery of shares in reasonable time frame could get the shares to a $35 to 36 level. It has to be considered, though, that both EP and KMI stock have been up significantly on the basis of deal enthusiasm, and the underlying economics have yet to support the incremental value added. Because of this, profit-taking should not be ruled out in the post-deal period, by shareholder groups who have been involved in KMI and EP for years and know their quarter-to-quarter, year-to-year limitations to perform miracles.
I do not have a strategy right now to play such short term moves. Generally I would tie new purchases to the discovery of new facts, such as earnings reports, or taking advantage of extreme positions within the suggested trading band. At high trading bands I would be starting to write some calls and buy some puts.
Brokerage motivation is a swing factor. You can bet that the next $3 billion loss in an investment banking prop trading desk will lead to a revisiting whether it is worth to provide companies such as Facebook with the market making support that reportedly has been lent to it. Artificial demand for shares will not do the trick of saving a lackluster economy.
Beyond initial inevitable share imbalances, I base a long term investment in KMI on the gradual discovery of the fundamental and operational story, by a new institutional investor class that has only had limited exposure to this company over the past 5 years. In order for the stock to decisively move upwards there has to be a massive rotation of a good part of the 470 million KMI shares that constitute the future free float of this company. Once all the arbitrageurs are out of the name, it will be important to track the institutional money flows that could bring about such a turn of events.
Until this happens, I am betting on new entry opportunities on imbalances. My personal emphasis will be more on the warrant imbalances. KMI will be competing in this market with its buyback program.
Lessons from Initial Seasoning Periods in Spinoffs
Lastly, I would like to give here a small synopsis and case study view of two recent and similar situated companies engaging in large and complex share distribution transactions. Both were out of the spin-off universe. It has to be assumed that both situations were well followed by investors, and well-advised by investment banks with follow-on research coverage. Even so, the price discovery process was anything but smooth.
The companies are Sunoco (SUN)/Suncoke (SXC) and Marathon Oil (MRO)/Marathon Petroleum Corp (MPC). I selected these companies because of familiarity, recency of events and their related business nature (energy & refining).
The Case of Suncoke
SUN/SXC completed their spin-off distribution on Jan 17 2012. The accompanying chart goes with it.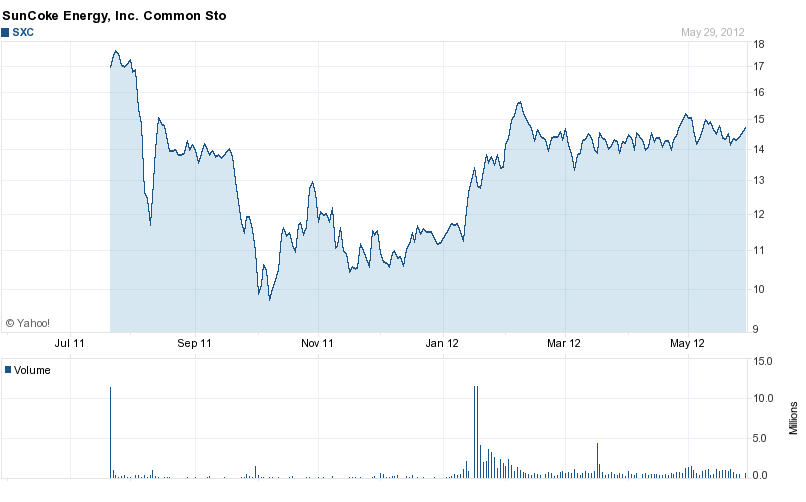 This share flotation was actually part of a two-step transaction, commonly referred as a carve-out. This corporate restructuring move had been announced in June 2010 and was eagerly followed by the institutional community. The deal had during some phases the underpinnings of an overfollowed situation. This is important to consider, because what is at one point overfollowed can get out of favor in the nick of time. One bad earnings announcement is typically all it takes in spinoffs.
Because this was a carve-out, the deal enjoyed strong brokerage underwriting sponsorship initially. We know what this brokerage sponsorship is worth, and for how long it typically lasts. A small portion of SXC was IPOed in July 2011 at the a price of $17 and in not so representative and hyper-enthusiastic first day trading volume of over 10 million shares. This was a good fund-raiser for Sunoco, which furthermore was able to dump almost $750 million in debt on this hapless spinoff.
In what should not further surprise, the company had a hard time in the first 6 months of its spinoff existence to make the heavy debt load palatable to its investors. This debt had not been historical debt but assumed debt as an exit payment to Sunoco. The releveraging of a company as in the case of SXC often leaves shareholders with this funny feeling, unless the business can make it up in other ways. This was not the case with SXC. This led to the stock at some point bottoming below $10.
The resemblance to KMI is that we do not know yet the fully consolidated impact of assumed debt on the consolidated balance sheet of KMI and how it is operationally supported from year to year or quarter to quarter, other than the parties seek $400 MM in merger synergies (revised up by $50 million today). We know that there is a ratings watch negative on EP bonds. At the first sign of trouble, KMI shareholders could bail. As has been past practice in newly floated securities.
KMI has been publicly traded for 15 months and just underwent a major transformational transaction doubling at a minimum its pipeline miles. Troubles leading to re-rating in stock can come in a number of disguises. So far, I have not seen credible consolidated operational analytics on enlarged KMI. I take the word of the folks of S&P, though, that they have to take their time in evaluating this consolidation move. I think many important decision makers will take their time, as time can make the difference between a 17 dollar entry point or a 10 dollar as in the case of SXC.
As someone who has systematically studied spinoff seasoning periods, I hope for the best with the existing allocations I have, but prepare for the worst with the cash that I get out of the transaction. It's a split brain decision. Heads I win, tails I still have money to quadruple down. Given the managed economy in which we live, as opposed to a free market not everything affecting a company is foreseeable to any sufficient degree. I'll be spending a lot more time in the future with an adequate treatment understanding the regulatory section affecting these companies and how this evolves. I do not see anyone in the industry discussing these questions. Illustrative in this context is how the MLP ETFs discuss their risk factors in the context of their industry. In other words I know the upside, but what are the risks. There could be lots of hidden, on the horizon risks that haven't even materialized but might be on some Congressman's agenda.
The saga of SXC continued in Jan 2012 when the remaining shares owned by SUN were distributed pro-rata to SUN shareholders. This part of the corporate history of SXC is most comparable to what is going on at KMI currently. SXC had 70 million shares outstanding. of which only less than 10 million were part of the public float. The distribution of 60 million shares caused massive spikes in trading volume. With two days of 10 million trading volume each. Compare that to the 60 million trading volume in KMI on May 24. This gave the shorts in SXC also an opportunity to close out their positions. KMI shorts will have the opportunity likewise to come clean on their 40 million or so short position.
In the case of SXC, the 1 month run following spinoff was pretty good from 11 bucks to 15.65. Abnormally good for a company still coping with heavy debt loads and almost unchanged fundamentals (coking coal prices have strengthened nicely since the IPO and carve-out distribution at SXC). What is perhaps most relevant to long term holders is the trading band that developed after that in the range of 13-15 dollars and SXC has pretty much stabilized around there.
The value now is not tied to miracles but to deleveraging, price of coking coal, overall economy et al. The same can be said at KMI. It will find its balanced trading level (If I had to guess somewhere below 40 but higher than 26). A decisive move above 40 will depend on Mr Kinder and his team executing, which is part of the reasons that I considered this a viable long term investment as part of a very balanced asset allocation.
The example of SXC proves the point of multiple entry points, spaced out temporally. If you were an institution desirous of exposure to coking coal through this newly floated entity, nothing was really lost spacing out purchases over 3, 4 quarters. Even if you are emphatically in love with the company. As Lenin would have said, trust is good, control better. As outsiders in a deal-oriented security where the deal rationales are generally pumped out through superficially convincing power point analytics, this is especially worth taking to heart.
Case Study: Marathon Oil/Marathon Petroleum Corp
The last case is less clear as to the driving forces of the story: MRO / MPC. This was a straight 100% spinoff completed on June 30, 2011. This was a high profile company and much accompanied on Wall Street with lots of distributed shares looking for firm ownership. MRO lost a good amount of its value over problems in Libya where they have exposure. MPC, the more stable US refining and retail gasoline spin-off on the other hand shows the typical listless trading with big difference between high and lows in the first 2-4 months of trading.
The 1-year stock chart with volume follows here: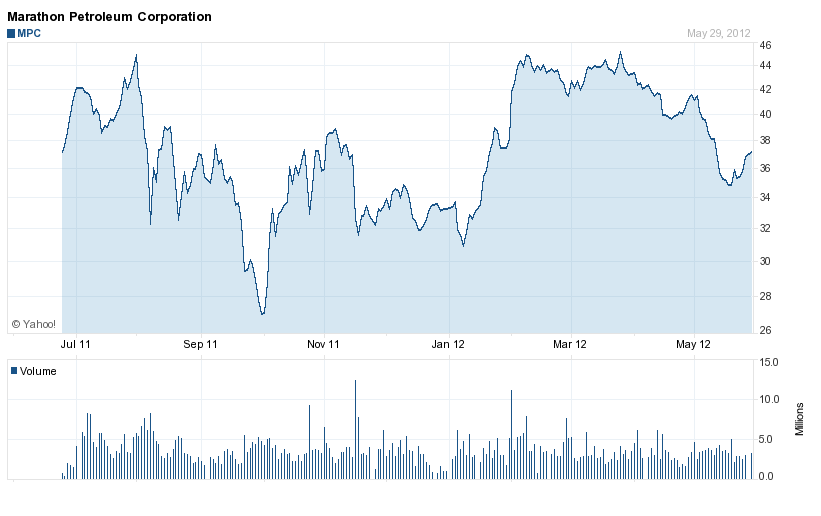 The distribution of MPC shares was sizable, given that this was then roughly a $10 billion share float. The shareholders seemed reasonably committed to the spinoff, and given that they were energy oriented shareholders to begin with, there were no massive spikes in traded share volumes on any particular day. In fact, we observe gradual increase of share volume in initial days topping at 10 million per day in the initial weeks. This was enough to carry the shares from $38 to 43 in the initial price-finding exercises. After that, you had a number of weeks characterized by massive hiccups in trading prices, but not accompanied by notable abnormal trading volumes.
You have to assume that this was part of the normal price finding mechanism in the market in the initial seasoning period of the securities. Sometimes there was an oversupply of buyers, sometimes oversupply of sellers. Presumably, everyone knew what the MPC story was all about: Refining and retail gasoline. Adding value through timely, prescient fundamental analytics would have been difficult with a $10 billion float. The zigzagging in the shares is reflective of this state of all things being known, other than the correct valuation. This listless trading brought the stock down to $27. Only after that more attractive post-event price-botttom had been reached and issues like Libya and refinery overcapacity put behind, did a more enthusiastic and committed shareholder crowd take charge.
The stock is still trading in a generous band of 32-45, although one that is characterized by higher highs. If my technical readings of this situation are correct, this looks to me like a spinoff that is worth revisiting, after the stock now appears to have found a steadier price and trading market. The cash position looks especially strong. Worthwhile considering is also the friendly bid that competitor SUN (the parentco of Suncoke) received from ETP. Both SXC and MPC could be interesting spinoff stories, roughly 1 year after having been floated. One name is leveraged, the other not. The risk of share price movements from uncommitted share-overhang would seem greatly diminished, although the macro-picture remains unchanged.
Conclusion:
These two spinoff companies as case studies for studying initial seasoning periods in transactions with large share influx suggest that the band between high and lows can be quite wide in the initial 12 months of post-deal trading. No firm directional trajectory should be expected based on past evidence of how such well covered leveraged or unleveraged situations typically play out. When the operational characteristics of a newly floated security (that can be the result of a merger concentration) are not well known, small adverse events and circumstances can lead to relatively high changes in the price of the stock.
I use the analogy of spinoffs here because when 330 MM newly issued shares of KMI hit an existing float of 140 MM KMI shares it is almost like a spinoff. The shareholders of EP may legitimately lack familiarity with the business of KMI and may decide to sell in a knee-jerk reaction to unforeseen events. The same could happen to the 140 MM shares held by KMI loyalists who are unfamiliar with the EP business just acquired.
Not excluded from this picture should be the possibilities of KMI historic insiders and controllers lightening up their stakes which would add to trading volumes and increase the float. There is a total of 1050 MM shares outstanding. Thus, looking myopically at the past KMI float and distributions of KMI shares to EP holders is only one part of the story. The insider factor should therefore not be ignored as a swing factor on volume and price. We will cover this particular aspect in the future.
With this background, I leave it up to you where to establish an adequate trading floor for eventual engagement in KMI or KMI warrants. Bracing for volatility in price would be adequate.
Disclosure: I am long KMI.