Readers may interpret the title of this article as negative, but they could be wrong. Why? Because some investors think the best entry point is when a stock is going down. On the other hand, with volatile biotech stocks, the question one needs to ask is: How far will this stock go down? (After all, why buy a stock unless it hits a confirmed bottom?)
In this article I present a variety of biotechs that may be worth putting on your radar screen as potential buys, or are stocks you'd be better off staying away from -- that's your decision. As always, the risk of biotech investing rests on the investor's shoulders.
The fun side to this article is that I am going to provide minimal commentary. Instead, I am going to offer a look at each stock's chart. As they say, a picture is worth a thousand words!
Here are the current dogs of biotech-land:
1. iBio (NYSEMKT:IBIO)
From a chartist's perspective, iBio is on the way to $1.10-$1.15 a share. I don't like the fact that this stock fell below $1 a share for Q1 2012, suggesting it has a significant bottom should it break $1.10 resistance.
Click to enlarge all images.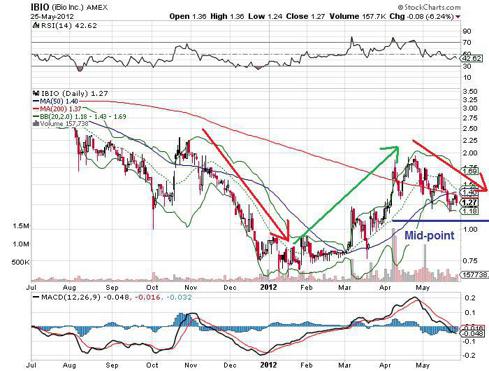 2. Acadia (NASDAQ:ACAD)
Here's a stock that exemplifies why you don't buy on a bullish rally, and you wait for its decline. This is exactly what I warned investors of on April 4, 2012.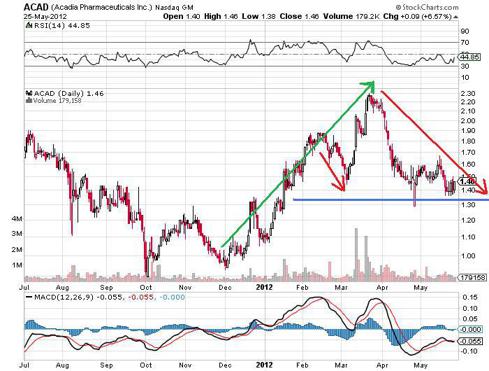 Of course, one commenter from that article (named "User 132765") chided me, stating:
If you actually 'study' technical measures, you should have noted in your commentary that the stock is still trading above its 20-, 50- and 200-day moving averages, meaning the uptrend is still alive and well.
I dare say that we now know who was correct -- and it wasn't "User 132765." Moreover, this is exactly what happens when exuberance for a bullish stock run draws the naive investor in -- he or she is left a bag-holder.
3. Alimera (NASDAQ:ALIM)
In another article I wrote I issued a big warning about this stock, and did I ever get a negative reaction from a commenter named "idahitdat," who said:
James, your so-called analysis, weaving ominous conclusions based almost entirely on a disinterested and superficial glance at charts, displays an appalling neglect of material fact and important news that have affected the charts. I know you are more insightful than that, so I must conclude this is manipulation for selfish and convoluted reasons.
Of course, since April 4, 2012, you can see where the stock has continued to head. It looks like my warning was merited.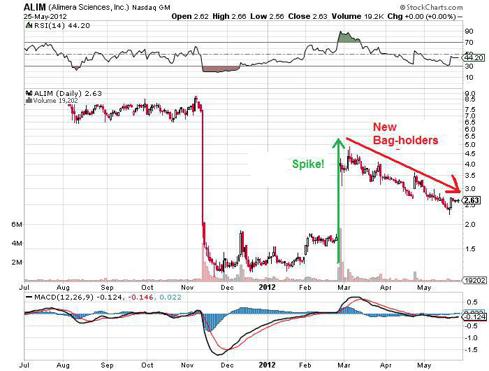 4. Acura (NASDAQ:ACUR)
On April 4, 2012, I advised investors to "wait" with regard to Acura. As it turned out, a much lower entry point later presented itself.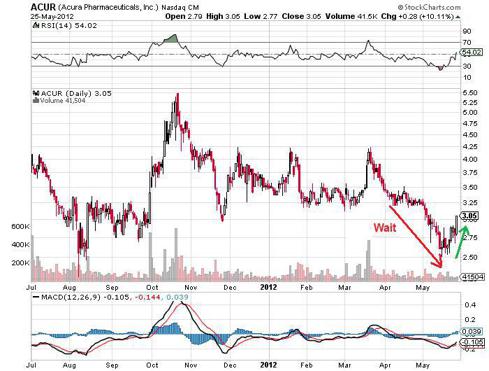 For Acura investors, a strong buy signal was confirmed last Friday, unless of course it was nothing more than a market head fake. The chart, however, looks promising -- i.e., bullish.
Conclusion
Everyone loves a great stock, but even the Apples (NASDAQ:AAPL) of the world retrace.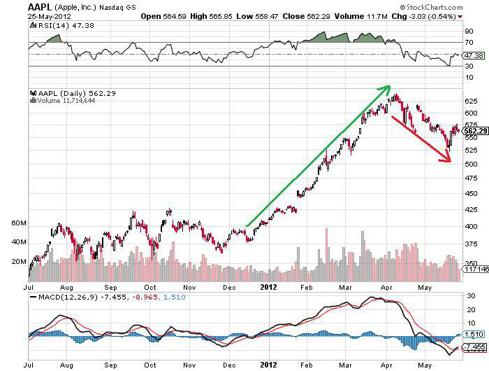 I find that many investors think their favorite biotech will never retrace, but that simply isn't true. If Apple can retrace, so can Acura, Alimera, iBio, and Acadia. And so can your favorite biotech stock you are currently married to.
The interesting thing is that stocks in the "biotech Doghouse" can also become your next opportunity if you learn to be patient before buying back in. With regard to the names noted above, I think Acura is an excellent example of a stock retracing and then regaining significant legs.
Finally, regarding low-priced highly volatile biotechs, there are some who think that reading the charts is a waste of time. I completely disagree. In my opinion, the advantage of reading the charts is that no one is telling you what to think.
Just remember: Today's biotech dog may be tomorrow's champion breed.
Disclosure: I have no positions in any stocks mentioned, and no plans to initiate any positions within the next 72 hours.
Disclaimer: Investors buy and/or sell at their own risk.