Options are a great tool to manage risk and make returns.
This year, the European crisis has investors jittery, which means markets will remain choppy. Selling puts gives you a way to collect premium or buy the stock at a lower price. I love selling puts in some of my favorite names when I'm concerned about market volatility. Earlier this year I wrote an article on American International Group (NYSE:AIG) entitled, "American International Group: Huge Upside ... Once The Government Leaves". I was positive on the stock long-term, but remained worried the stock wouldn't be able to rally as the government keeps selling stock every 2 months. So selling puts in AIG seems like a smart idea.
There are multiple reasons to like AIG at these levels:
AIG trades at 0.5x book value
The company is expected to earn $3.64 in 2012, and trades with a forward PE of 8
The average price target by analysts of $37.50/share
The U.S. government, which owns 61% of AIG, is exiting its holdings quickly; they've completed two secondary offerings on March 8th, 2012 and May 6th, 2012
AIG bought back $2B of stock on both offerings, and I expect will continue to buy back stock.
Option Strategy: Sell the August 28 puts in AIG and collect $1.93.
Scenario A: AIG shares remain above $28.00 on expiration, collect the $1.93 premium. You will make a 6.7% return in 80 days and 30% annualized return from AIG.
Scenario B) AIG shares drop below $28.00 on expiration. You are "put" the stock at $28 minus the $1.93 premium. Effectively you are long the stock at $26.07/share, 10.1% below the current share price.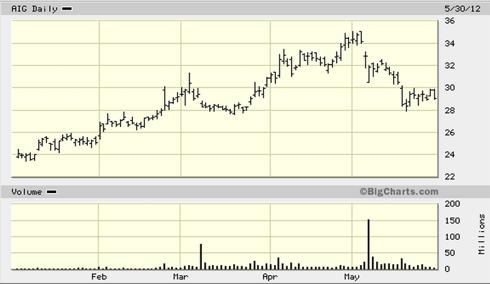 Disclosure: I have no positions in any stocks mentioned, and no plans to initiate any positions within the next 72 hours.