Another REIT is tapping the preferred market today, locking in attractive rates for perpetual financing. The offering and the REIT, Monmouth REIT (NYSE:MNR), will give investors another triple net lease REIT preferred option, which can contribute both to the diversification of the portfolio and the yield of the portfolio. You can take a look at the prospectus here.
Summary
I view the preferred as cheap relative to existing triple net preferreds (realizing the non-rated nature of MNR), as I expect the issue to trade 15-20bps in back of the Series A, cuffing the coupon around 7.65%-7.70%. The deal contains standard language and has no "warts" from a foundation document sense. I view the company as somewhat overly concentrated, but this is mitigated by the high quality of the tenant, FedEx (NYSE:FDX), and the company's relationship with the tenant. The company is conservatively levered at about 45% of book capitalization and 4.8 times EBITDA. Occupancy is high for an industrial-focused REIT at 95%, and lease terms are about average for the sector at just north of five years.
Bottom line: The REIT is well-placed in its space, even with an outsized exposure to FDX.
Offering Details
| | |
| --- | --- |
| Issuer | Monmouth Real Estate Investment Corporation |
| Deal Size | 2,000,000 shares ($50MM) |
| Structure | Cumulative Redeemable Preferred Stock |
| Series | Series B |
| Payment Dates | Quarterly - March, June, Sept and Dec 15th |
| Redemption Date | June 2017 |
| Conversion Rights | Upon a change of control and delisting |
| Voting Rights | None until/unless six quarterly payments are missed |
| Use of Proceeds | Monmouth intends to use the net proceeds from this offering to purchase properties in the ordinary course of business and for general corporate purposes. |
| | |
There is nothing out of the ordinary in this offering. The terms are fairly standard, with the inclusion of a change of control conversion right and voting rights after six missed payments (consecutive or not).
Value Vs. Peers
To determine an offering price which represents value to an investor, we have to see where triple net REIT preferreds trade. For this the peer group is Realty Income (NYSE:O) and National Retail Properties (NYSE:NNN).
| | | | | |
| --- | --- | --- | --- | --- |
| Issuer | Ticker | Price | Yield | Call Dt |
| Monmouth | MNR-A | $25.48 | 7.48% | 7/15/2012 |
| National Retail | NNN-D | $25.33 | 6.542% | 2/23/2017 |
| Realty Income | O-F | $26.36 | 6.37% | 2/15/2017 |
| Realty Income | O-E | $25.45 | 6.57% | 7/15/2012 |
The Company
Monmouth Real Estate Investment Corporation, which was organized in 1968, is a publicly owned real estate investment trust specializing in net-leased industrial properties subject to long-term leases primarily to investment grade tenants. MREIC's current tenants include Anda Pharmaceuticals, Anheuser-Busch, Best Buy, Caterpillar Logistics Systems, Coca-Cola, FedEx, Keebler/Kelloggs, Mead Paper, Sherwin-Williams, and Siemens.
As of March 31, 2012, Monmouth's property portfolio consisted of 70 rental properties, which included 69 industrial properties and one shopping center, located in 25 states and totaled approximately 8.3 million square feet. All of these properties are wholly owned, with the exception of two properties in New Jersey, in which a majority interest is owned. A concentration of the company's properties are leased to FDX, or one of its subsidiaries, and as of March 31, 2012, approximately 3.5 million square feet, or approximately 42% of the company's property, was leased to FDX or one of its subsidiaries.
The concentration of the portfolio in FDX has to be known and considered when investing in any securities of this REIT. This is a significant concentration with a highly rated entity.
A snapshot of their current portfolio attributes:
Click to enlarge all images.


Monmouth has been written about by Seeking Alpha contributor Brad Thomas here, and its latest supplement can be found here.
For those curious about its equity, here is a snapshot (courtesy of QuoteMedia):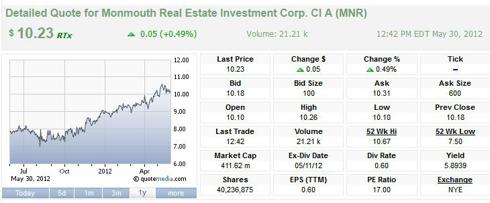 Disclosure: I have no positions in any stocks mentioned, and no plans to initiate any positions within the next 72 hours.
Disclaimer: This article is for informational purposes only, it is not a recommendation to buy or sell any security and is strictly the opinion of Rubicon Associates LLC. Every investor is strongly encouraged to do their own research prior to investing.