NetApp (NASDAQ:NTAP) engages in providing hardware, software, and services for corporate network data management and storage. NTAP and EMC (EMC) are the only two network data storage pure-plays positioning to ride the trend of enhanced data management investments by corporate customers to meet exploding data demand.
Shares of NTAP recently touched a 52-week low at $28, primarily driven by the global economic weakness and its lackluster guidance for Q1 FY2013. Management attributed the lowered revenue and EPS guidance to increasingly uncertain macroeconomic environment, and did not provide the full-year guidance due to lack of clarity about the global economy. Some analysts think this is management's excuse to hide the truth that NTAP is facing stiff competition from peers such as EMC. A number of analysts were not convinced and thus lowered the stock ratings and target prices.
Following the earnings call on May 23, the shares plummeted around 26% from about $38 to near $28. In my opinion, the selloff is overdone and creates a buying opportunity at very attractive valuation level given the firm's solid fundamentals, healthy balance sheet, and strong free cash flow generating ability. In this article, I will run you through my valuation methodologies for NTAP to support my view.
Relative Valuation
It appears that EMC is the only true publicly comparable company for NTAP. I have summarized their historical revenue and EPS growth rates as well as Street's consensus estimates for both revenue and EPS growth in the next 2 fiscal years. The comparisons are shown below:
Click to enlarge.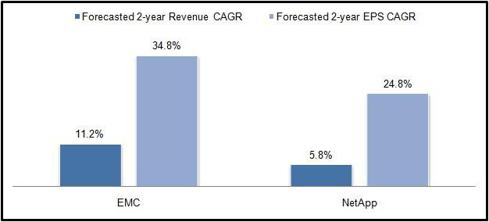 Although NTAP has experienced higher 4-year revenue and EPS compounded annual growth rates (CAGR) over the past 5 fiscal years, analysts estimate that EMC will likely go into a better growth prospect in the next 2 fiscal years. It is noted that NTAP's revenue growth is expected to slow substantially.
Then let's look at the comparisons of various margins and ROE below: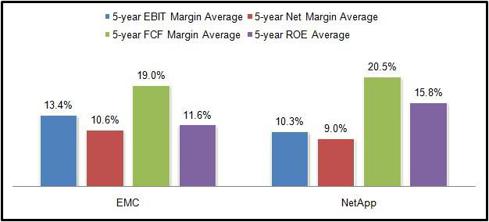 Although NTAP is less profitable in terms of operating and net margins, it delivered higher historical ROE. NTAP's free cash flow margin is slightly higher.
Overall, NTAP underperforms EMC in terms of growth prospect and profitability, but demonstrate stronger ROE and FCF margin. Given EMC's dominant position in the data storage and management sector, NTAP should be traded at a slight discount to its peer. A reasonable discount should be no more than 10-15%.
I then performed a DCF valuation for EMC just to gauge whether it is trading at fair value. The key assumptions and results are shown below: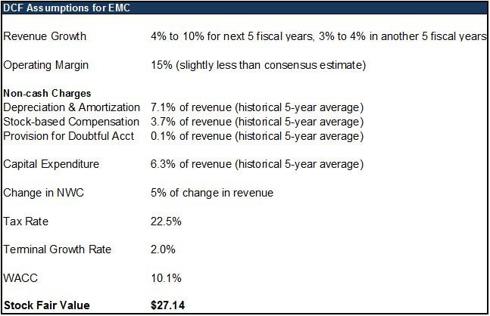 The assumptions incorporate consensus estimates and yield a stock value of around $27, which is about 12% above its current price around $24. Now I can safely assume that EMC's current valuation is close to fair value and represents a good benchmark for NTAP's valuation.
Then I performed the following relative valuation for NTAP: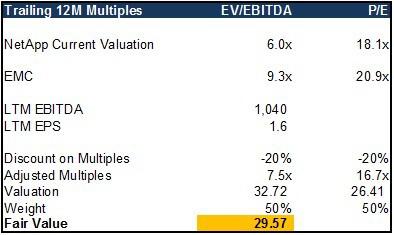 The fair stock value is calculated by weighting 2 different trailing-price-multiple methodologies. To reflect NTAP's performance and market position relative to the group, I assigned a very conservative 20% discount on 2 price multiples. By multiplying the most recent financial metrics by their respective adjusted multiples, I arrived at 2 different valuations, which are equally weighted. Finally, the model yields a stock value of about $30, just a about 3.4% upside from the current price level. Apparently, the current stock price has factored in the about 20% price-multiple discount to EMC, which I consider unreasonably high.
Absolute Valuation
My DCF assumptions and results are shown below: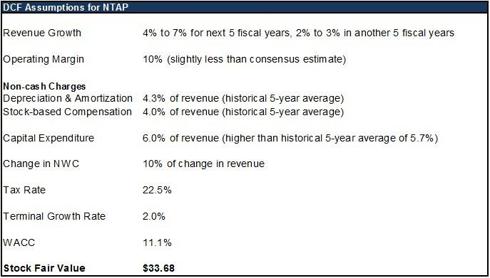 The model has very conservative revenue growth and EBIT margin assumptions, and yields a stock value of about $34, representing a about 18% upside.
Based on the above very conservative valuations, the fair value should be at around about $32, and I see limited downside risk given the additional facts below:
NTAP is sitting on about $2.7B net cash, which is equivalent to about $11.4 per share versus current price of

about $28;

NTAP's competitive R&D has driven the firm to stay in the forefront of the data storage technology curve, and the competence is expected to be maintained given the firm's healthy balance sheet and ample financial resource;
High switching cost will allow the firm to continue deriving revenue from its existing customer base; and
The firm's size (current EV of

about $6.3B), liquidity position, profitability, free cash generating ability, and industry growth prospect will likely attract buyout from financial or strategic sponsors.
For all those reasons, investors should consider building up position for this value play or potential M&A play.
Sources: Charts and exhibits are created by the author. Financial data is sourced from company 10-Q, 10-K, press release, Yahoo Finance, YCharts, Wall Street Journal, Thomson One and Morningstar.
Disclosure: I am long NTAP.