Lately, the equities markets have been making huge swings. A few years ago, I likened a similar event to Oprah jumping on a trampoline – massive moves up and down. The description has never been more apt.
Many stocks are taking a beating because of news that would have barely attracted a headline just six months ago. Smith & Wesson (Nasdaq:SWHC) is one of those companies.
The gun manufacturer's share price is down more than 75% from its 52-week high of $22.80 reached in August. The shakedown has been one of the market's greatest overreactions.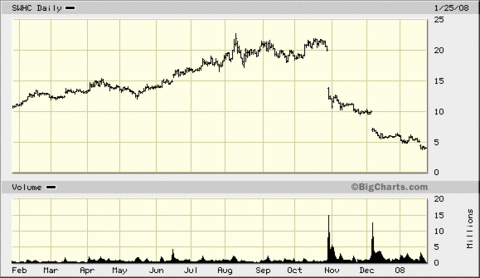 The latest overly dramatic moment came on January 22 when the company announced it will temporarily sideline its practice of giving financial guidance until business conditions become less "unsettled." Shares plunged by more than 20% on the news.
It was exactly this kind of reaction from the Street that caused company officials to halt the guidance practice. Each time Smith & Wesson discussed its outlook, its share price was slashed, whether it was warranted or not. The drama queens were controlling the company's destiny. Not any more. Executives are rightly remaining tight-lipped until conditions rebound.
It's a smart move. As I write, shares of the gun maker are trading for $4.17. Many analysts boast twelve-month forecasts that put share price back above $20 thanks to a strengthening market.
A big, profitable mistake
Granted, Smith & Wesson's business has slowed. That slowdown is what kicked off this bearish plunge. But the market's overreaction was way out of line. Each time the company revised its forecast, share price plunged lower and lower, no matter the news.
It has been one drop after the next, even though Smith & Wesson continues to sell and expand its products. Not only is the military pending contracts that could total $600 million (last year's total revenues were just $283 million), but also an upcoming Supreme Court decision could jumpstart gun buyers. The entire industry will soar.
In just a few months, the nation's top court will decide the fate of the Second Amendment. A favorable, pro-gun decision would be a great boost for the nation's gun manufacturers. As one of the largest suppliers of handguns, Smith & Wesson would relish the news.
The decision will likely come in June of this year. In the months leading up to that date, I expect the firm to make a steady rise back towards the $20 mark. It will not take long for the profits to start pilling up. At $4 and some change, I think shares of Smith and Wesson are dirt-cheap.
When everybody else is talking about the dreaded "R" word, you have to take advantage of the opportunities laid in front of you. The equities market is a dramatic beast, prone to huge overreactions.
My recommendation is to buy shares of Smith & Wesson (SWHC:NASDAQ) at or below $6.00 and hold them for at least one year. A rebounding economy, a Supreme Court decision, and the market's tendency to fix its mistakes, makes this a great opportunity to lock in some profits in a year that will undoubtedly be synonymous with recession.
Disclosure: Author has no position in stocks mentioned