As a manager of a global macro fund at present, the swings and volatility seen in global markets lately have wreaked havoc on all asset classes. A common theme that has developed in most assets over the past month is that they have caught a bid in a particular direction, and rarely broken trend. This article will focus specifically on US equity and the factors driving it.
Click to enlarge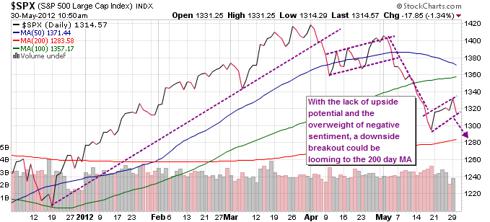 Over the last two months, the SPX has broken its strong uptrend from the year's start, and subsequently fallen with an interspersed consolidation every now and then. At present the market looks to be in one of its consolidation patterns, but odds point to a move lower.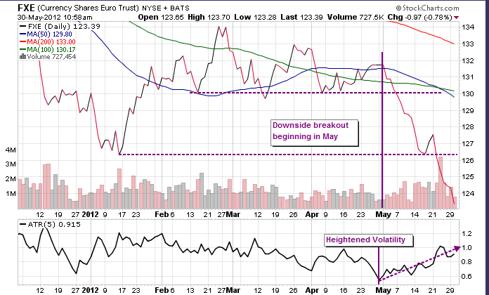 The euro is the overriding headline that most traders can't ignore. Since early May it has had a downside breakout through two strong levels of support. This, alongside the heightened volatility, is a testament to the strength of the move. The preparation for a Greek departure, atop the emergence of trouble in Spain, makes the idea of contagion seem very real today.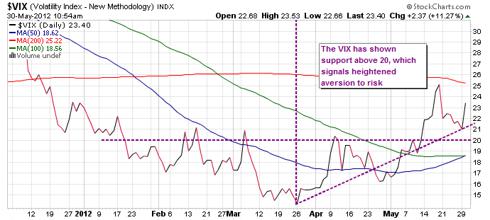 The VIX, which measures the market's sentiment toward risk, points to continued support above 20. There has been the emergence of a steady uptrend in the indicator since mid March, which has been heavily influenced by the macro picture, and is root to the recently seen market swings. As long as VIX is elevated, the trading environment looks to be choppy and unpredictable.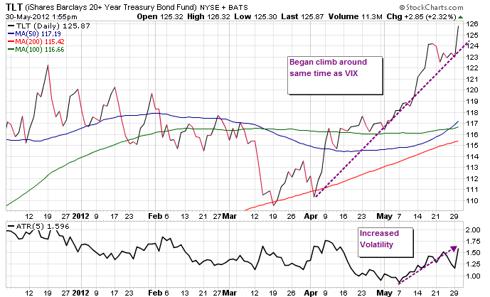 Lastly, the flight from risk assets, which includes European sovereigns, has led to an exponential move in U.S. 10-years. The move is unprecedented, and is heavily correlated to what has been seen in volatility and the VIX. As long as uncertainty looms and the markets are looking to Europe for answers, riskless assets such as these will continue to catch bids.
Below is a list of daily correlations of the assets listed above from the trailing 30 days.

Disclosure: I am short SPY.