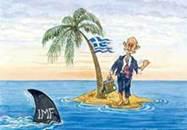 Euro sharks smell blood
Whether Greece exits the Euro a year from now or in a marathon 46 hour session this weekend between the close of trading on the New York Stock Exchange and the open in Wellington New Zealand on Monday morning is irrelevant. It's going to happen. The sooner someone puts them out of their misery already the better. Then we can finally get on with the rest of the destruction of Europe.
Clearly the massive debt load of Europe is a powder keg with the fuse lit. Don't get too confident about us on this side of the pond either. We are in the same boat, just luckily not as bad. As my friend, world renowned economist Dr. Lacy Hunt likes to say:
"In a beauty pageant of ugly girls, the least ugly wins".
Well that's us and explains why the US dollar continues to be so strong … for now! Watch for Dr. Hunt appearing on Smart Money with Keith Springer this Saturday June 2nd and be sure to listen in. You will not want to miss this show!
The silent 800lb gorilla in the room no one wants to discuss is our very own debt and entitlements problem. As I mention in "Facing Goliath: How to Triumph in the Dangerous Market Ahead:"
"The basic fundamentals have not changed. We still have a financial system dominated by large banks with impaired balance sheets … a continued housing problem with a never-ending supply of foreclosures … and the largest generation in history - the baby boomers - who need desperately to downsize their lives and save for retirement".
Until the government or the Federal Reserve stops increasing debt as an answer to too much debt, the bubble blows larger until the inevitable.
Although the current correction may have been satisfied with a nearly 10% drop from the highs, and we get a relief rally here, the market may have already peaked. However, it could be argued the majority of NYSE stocks are already in bear markets. When the DJIA rose to a new bull market high on May 1st, 30% of NYSE-listed stocks were already down 20% or more and 18.7% were down 30% or more. These are already greater losses than were present at the major market tops in 2007 and 1987.
Investor Strategy
As I have said, a QE3 will push stocks to new highs and all will be forgiven, for a few months anyway, and push stocks higher in a hurry. For that, buy commodity companies such as Goldcorp. (NYSE:GG), Barrick Gold Corp (NYSE:ABX), SPDR Gold Shares (NYSEARCA:GLD), Power Shares Double Gold (NYSEARCA:DGP), Market Vectors Gold Miners ETF (NYSEARCA:GDX), Newmont Mining Corp. (NYSE:NEM), , Freeport-McMoRan Copper & Gold Inc. (NYSE:FCX), PowerShares DB Gold Double Long ETN for the not so faint of heart, plus Silver Wheaton Corp. (SLW) and ProShares Ultra Silver (NYSEARCA:AGQ) and Fortuna Silver Mines (NYSE:FSM).
Investors can buy growth opportunities, which will also do well, such as the SPDR S & P 500 (NYSEARCA:SPY), SPDR Select Sector Fund - Financial (NYSEARCA:XLF), iShares MSCI Emerging Index Fund (NYSEARCA:EEM), Emerging Markets Consumer ETF (NYSEARCA:ECON), Brazil (NYSEARCA:EWZ), PowerShares QQQ Trust, Series 1 (NASDAQ:QQQ), iShares Russell 2000 (NYSEARCA:IWM) and iShares FTSE China 25 Index Fund (NYSEARCA:FXI). For the very nimble investor trader types, stay with the movers of Apple (NASDAQ:AAPL), which will benefit from new products coming out in a few months as well other leading companies that will continue to rise the innovation wave like Google (NASDAQ:GOOG), Intel Corporation (NASDAQ:INTC), Qualcomm (NASDAQ:QCOM), Microsoft (NASDAQ:MSFT), Cisco Systems (NASDAQ:CSCO), Dell (NASDAQ:DELL), Caterpillar (NYSE:CAT), General Electric (NYSE:GE) and Yahoo (YHOO), Red Hat Inc. (NYSE:RHT), Schlumberger (NYSE:SLB), VMware Inc. (NYSE:VMW).
Safer oriented investors should focus on dividend stocks like MLP's such Terra Nitrogen (NYSE:TNH), Legacy Reserves (NASDAQ:LGCY), Vanguard Natural Resources (NYSE:VNR) and BrietBurn Energy (BBEP) and healthcare REIT's related to the aging baby boomers such as Healthcare Properties (NYSE:HCP), Senior Housing (NYSE:SNH) and IShares Healthcare (NYSEARCA:IYH),
However if we do not get additional stimulus we are likely in a topping pattern. Naturally we can't just "hope" as 'hope" is not an investment strategy and you can't just "sit in cash" at 2/10's of 1%, so the key is to be "Tactical" and avoid buy-and-hold (buy-and-hope) at all costs.
Disclosure: I have no positions in any stocks mentioned, and no plans to initiate any positions within the next 72 hours.