Airlines around the world are saddled with obsolete, fuel-hogging aircraft, an increasingly untenable burden because of the high cost of oil. New aircraft on the market are not only more fuel efficient, but their lightweight composite structures also lower maintenance costs.
According to the International Air Transport Association (IATA), global airlines will invest $3.5 trillion to buy 27,800 new airplanes over the next two decades. Although the world economy remains shaky, booming passenger traffic in emerging markets is boosting demand for new airplanes, especially smaller jet aircraft: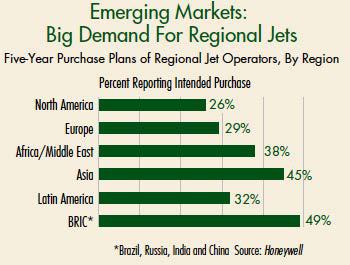 The two main classes of small aircraft are regional jets, defined as having a capacity of 30-120 seats, and business jets ("bizjets"), defined as anything smaller. Manufacturers of smaller, fuel-efficient aircraft will tap into huge, long-term demand, as increasingly affluent consumers in emerging markets join the middle class and become airline passengers.
The aviation standard for measuring commercial air travel volume is revenue passenger miles (RPM). An RPM represents one paying passenger traveling one mile. According to the US Federal Aviation Administration, RPMs will nearly double over the next two decades, from 815 billion in 2011 to 1.57 trillion in 2032, with an average increase of 3.2 percent per year.
One-third of the demand for new aircraft over the next 20 years will come from Asia, which now accounts for 28 percent of global air passengers. Much of this demand will be for regional aircraft, a niche largely ignored by the two largest aircraft manufacturers: Boeing (NYSE:BA) and Airbus, a subsidiary of the European Aeronautic Defence and Space Company, or EADS (EADS).
Emerging nations also need to build international and intercity transportation hubs. China alone has 40 new airports on the drawing boards. The major beneficiaries of this infrastructure spending will be low-cost air carriers, which are buying smaller planes with an eye on controlling fuel consumption.
The best way to play this long-term aerospace cycle is to invest in the makers of the planes, rather than the airlines themselves. Below, I look at one particularly innovative manufacturing company that is challenging the Boeing-Airbus manufacturing duopoly.
The company is going head-to-head against larger counterparts by filling niches that the behemoths have largely abandoned. The company is also leveraging lower-cost labor and supply chains in developing countries.
Embraer (NYSE:ERJ), based in Brazil, manufactures aircraft that are sleek, "green" and easier to maintain than Boeing and Airbus models. Moreover, its home country of Brazil is one of the fastest growing aviation hubs in the world and provides steady local demand for its aircraft.
Founded in 1969, Embraer is a relative newcomer to the aerospace sector but it has made enormous inroads. The company now is the world's third-largest commercial aircraft maker and dominates the market for regional jets. The company's commercial aviation segment, which produces regional jets, accounted for 65.7 percent of revenue; business jets contributed 13.1 percent; defense 20.1 percent; and others 1.1 percent.
Embraer's future prospects look secure: The company reported an order backlog for fiscal 2012 of nearly $15 billion, equivalent to three years of projected annual revenue. The company is especially sanguine about its prospects in the Middle East, where it expects to sell $14 billion worth of aircraft from now to 2030.
Despite these long-term advantages, shares of Embraer trade at a relative bargain, after first-quarter 2012 earnings reported on April 26 missed analyst projections.
Embraer reported that first-quarter profit dropped to $62.7 million from $105.1 million a year earlier, falling short of the consensus estimate of $79 million. However, this disappointment largely resulted from a heavier tax burden and rising labor costs in its home country, two temporary factors that Embraer already has rectified this year through negotiations with the Brazilian government.
As part of Brazil's newly enacted business stimulus package, Embraer will see its payroll tax burden reduced to zero starting in the second half of 2012, giving it a gain of about $97 million in profit this year and improving its net margin by 1.7 percentage points.
Meanwhile, the company's underlying business remains strong. Throughout the first quarter of 2012, Embraer delivered 34 commercial jets, compared to 28 during the same period in 2011. Increased aircraft deliveries, coupled with revenues from aviation services and the company's growing defense segment, boosted first-quarter revenues to $1.15 million, up 9.5 percent year over year.
The company continues to dominate orders for regional jets, particularly in fast-growing emerging markets, positioning it to gain the most from an accelerating recovery in these countries. Embraer this year opened a new office in Dubai and is expanding customer support throughout the Pacific Rim nations and the Middle East.
China is among the biggest emerging markets for regional jet makers. Embraer estimates that China-based airlines will order 975 jets in the regional jet category from now until 2030. Embraer already commands a 70 percent market share for regional jets in the Middle Kingdom.
Embraer's price-to-earnings (P/E) ratio of 54.4 makes the stock a solid value investment, considering the company's growth prospects and the average aerospace industry P/E of 85.5.
Disclosure: I have no positions in any stocks mentioned, and no plans to initiate any positions within the next 72 hours.