We own BlackRock (NYSE:BLK) and have owned it since 2004, six months before it announced its first major acquisition. We were pleased that BlackRock not only beat consensus EPS expectations by $.12 on an adjusted basis, but that its GAAP Reported earnings beat the consensus adjusted EPS expectations by $.10 and that the difference between GAAP EPS and Adjusted EPS has narrowed to $.02. We think BlackRock is ridiculously undervalued at 12.90X 2012 consensus estimates and here is our analysis of BlackRock.
BlackRock grew its Q1 2012 EPS by 8.65% versus Q1 2011. We were disappointed that revenue declined by 1.4% and profits only increased by 0.7%, however we were pleased that BlackRock had increased its dividend by 9%. The EPS growth was due to a lower average share count during the quarter due to BlackRock repurchasing Bank of America Corporation's (NYSE:BAC) remaining ownership interest of 13,562,878 Series B Convertible Preferred Shares for $2.545 billion, or $187.65 per share on June 1, 2011. Bank of America inherited Merrill Lynch's 49.5% stake in Blackrock when it acquired Merrill in 2009. Merrill Lynch contributed its asset management to BlackRock in 2006 in exchange for 49.5% of the combined company.
We are pleased that BlackRock was able to not only repurchase a portion of Barclays PLC's (NYSE:BCS) equity ownership in BlackRock , but that BLK executed it at a lower price than what it paid Bank of America in 2011. Barclays PLC obtained its 19.6% ownership position of BlackRock stock in 2009 when BlackRock announced a $13.5B cash and stock offer for the entire Barclays Global Investors division. Barclays sold its BlackRock stock in order to increase Tier One Capital by 5 basis points and move toward meeting BASEL III requirements.
We're disappointed that BlackRock only repurchased 6.38M shares from Barclays . The $1B spent represented about 3.6% of BlackRock's market cap. We felt that BlackRock could have and should have repurchased more stock. We felt that BlackRock is underleveraged, as debt not only represents only 16% of capital, but BlackRock could pay off 92.5% of its debt simply by using its available cash and investment securities holdings. We feel that BlackRock could and should take advantage of the low cost of debt financing to replace a portion of its equity with debt. We felt that a high quality, cash-flow generating business like BlackRock could have easily repurchased all 35.18M shares held by Barclays.
(Click to enlarge)

Sources: BlackRock Q1 2012 and Saibus Research forecasts. Amounts in Millions, except percentages and per share data
PNC Financial Services (NYSE:PNC) still holds a 21% interest in BlackRock. PNC reentered the asset management business by acquiring National City and rebranding Allegiant Asset Management as PNC Capital Advisors. Even though PNC now has its own asset management business, not only does PNC still hold a $6.4B stake in BLK, but PNC reports it as a separate business segment. PNC also has its CEO James Rohr, its former CEO Tom O'Brien and its Senior Vice Chairman William Demchak serving on PNC's board. PNC Financial was one of the strongest performing banks since 2004 and bailed out National City and BankAtlantic (NYSE:BBX) during the crisis, however BLK outperformed PNC during this time period. BLK also paid 67% more dividends per share than its former parent PNC.
In the linked quarter, BLK grew assets under management by 4.88%. Gains in AUM were due to market appreciation and were partially offset by $14.9B in withdrawals from money market products, $36B from an institutional fixed income index mandate that the client decided to bring in-house and $22.86B in Liquidation Advisory assets for the U.S. Treasury. The Treasury only has $97.65B remaining for this mandate and it represents less than 3% of BLK's AUM. Excluding these withdrawals, BLK would have generated an organic quarterly AUM growth rate of ~0.7%, including over $17.3B in new ETF Fund Flows. While we were displeased to see a $36B fixed income index mandate taken in house by a government client, we noticed that the revenues associated with this engagement were $4 million, or 1.1bp.
BlackRock also reported strong operating margins of 38.6%, as the company held the line on expenses and benefited from no closed end funds launched in the quarter in order to offset flat revenue growth. BlackRock's effective tax rate declined by 50bp due to state tax rate reductions. We agree with management that those trends will continue because we expect the Republicans to maintain and expand their electoral majorities in local, state and federal offices. BlackRock saw its greatest revenue growth from multi-asset class asset allocation products (up 11%) and iShares ETFs (up 7%). Operating expenses also benefited from reduced occupancy costs.
BlackRock also acquired Claymore's Canadian ETF business and rebranded those products under the iShares brand. BlackRock also launched a New Marketing Campaign called Investing For A New World. Already we like it much better than the New Normal message from PIMCO and Obama supporter Mohamed El-Erian. We believe that it offers a more practical and investable approach than PIMCO's New Normal. BlackRock is working to expand its brand, especially because its branded mutual funds only account for about 3% of AUM and we believe that BlackRock can improve that.
BlackRock saw its greatest AUM growth in the quarter come from Equity iShares (up 14%), Institutional Equity Indexes (12%), Fixed Income iShares (9%), Multi-Asset Class Asset Allocation Products (9%) and Currency and Commodities (8%)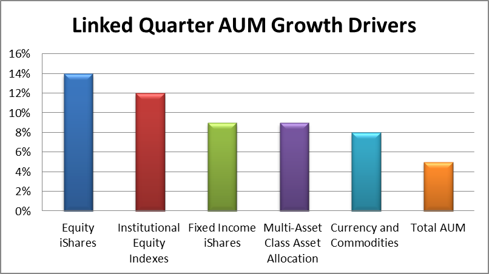 Source: BlackRock's Q1 Earnings Release
Finally, BlackRock announced it is launching a new bond trading platform later this year to let it and its Aladdin clients bypass Wall Street banks and trade directly with one another. Under the plan, the platform would seek to match buyers and sellers of the same securities, in a process known as "crossing trades." BlackRock Solutions would charge a small fee for the service that would be much lower than Wall Street's trading commissions. We have long agreed with Larry Fink, BlackRock's CEO that the bond trading markets are unnecessarily opaque and noted the high spread or price gap that Wall Street banks collect for bond trades, especially because bonds are ostensibly lower volatility, lower potential return and greater likelihood of a certain investment return on bonds, particularly if held to maturity.
In conclusion, we are maintaining our holding in BlackRock. We also believe that the recent bout of capital markets volatility coupled with company specific volatility due to Barclay's selling its shares have resulted in the company's share price being a screaming buy. We're looking at adding to our holdings as we cannot comprehend why BlackRock should be trading at the same forward PE Multiple as the S&P 500 (NYSEARCA:SPY). We love investing in asset managers due to the following factors you can't find in an index fund:
Wide Economic Moat
Barriers to Entry
Strong Economies of Scale and Positive Operating Leverage
Sticky Client Base
High Profit Margins
Low Capital Requirements
For all these reasons, we are recommending BlackRock, the Asset Management Industry's King of the Mountain, to the following investors:
Growth investors looking for a company that can still grow EPS by 7-13% annually
Income oriented investors who would benefit not only from BlackRock's relatively high current yield of 3.5% but also BlackRock's consistent record of strong dividend growth.
Value investors who would be attracted to a high-quality industry leading company that is trading at less than 13X 2012 EPS even when taking into account EPS Growth and Dividend Growth.
Source: BlackRock's Dividend History Page
Disclosure: I am long BLK, BAC.
Additional disclosure: Saibus Research has not received compensation directly or indirectly for expressing the recommendation in this report. Under no circumstances must this report be considered an offer to buy, sell, subscribe for or trade securities or other instruments.