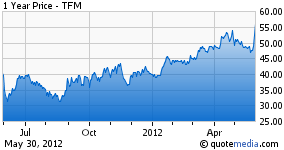 On Wednesday, The Fresh Markets (NASDAQ:TFM) reported first quarter 2012 earnings that blew past analyst expectations. The specialty food retailer that operates 116 stores in the United States is on track for record growth, while delivering strong margins and earnings to investors. President and CEO Craig Carlock states in the earnings release:
Comparable store sales grew a robust 8.2% in the first quarter, continuing the strong performance we saw in the second half of last year.
Opened three new stores, we grew our merchandise margin, and we increased our operating margin to 9.6%.
Net income by 43% from our fiscal 2011 first quarter net income, and as we look at the remainder of fiscal 2012 we continue to be enthusiastic about our business and our growth prospects.
For the grocery business, this is incredible growth and TFM operating margin of 9.6% is unparalleled. Whole Foods Markets (WFM) reported its second-quarter results earlier this year and they were also impressive. They delivered:
(Click to enlarge)

(WFM Second-Quarter Report)
These results are impressive and outpace TFM in comparable store sales growth, but TFM is leading in many of the more important financial indicators like profit margin, return on equity and valuation.
WFM has made it clear that it would like to reach 1,000 stores (from its current size of roughly 325 stores) and build as many as 70 stores in FY12. This is impressive, but TFM growth potential is also incredible as the company only operates in 21 states. The concept store that TFM has perfected is profitable, in demand, and scalable. This model sits beside WFM, but given the company's financials and key metrics, TFM is priced and performing better than WFM.
Forward Price/Earnings:
PEG Ratio:
Profit Margin:
Return on Assets:
Return on Equity:
Quarterly Revenue Growth:
As evidenced by the figures above, TFM is leading in PEG ratio (valuation), profit margin, return of assets/equity, along with quarterly revenue growth. This provides evidence for the notion that although WFM is larger and has at this time more potential for growth in store count, TFM has an advantage in percentage of store growth due to the company's small footprint and strong business model.
Another metric investors should keep an eye on is the short percent float. Because TFM is much higher and the company is performing well, this means that those who are "short" the stock will need to cover and this has the potential to boost the share price significantly.
Short Interest:
TFM FY12 outlook is as follows:
Open 14 to 16 new stores, with a nearly even split of stores opening in the first and second half of the year
Relocate one store and remodel two stores
Spend approximately $95 million to $105 million in capital expenditures, primarily related to real estate investments
Increase comparable store sales 4.5% to 6.5%
Increase operating margin, as a percentage of sales, by 20 to 40 basis points primarily through gross margin expansion as the company makes operating expense investments related to its growth plans, especially its west coast expansion
Generate diluted earnings per share of $1.28 to $1.34 assuming an anticipated effective tax rate of 37.5% for fiscal 2012 compared to an effective rate of 36.6% in fiscal 2011
These are impressive metrics and this provides further evidence that TFM is preparing for rapid expansion on the heals of its accomplishment of creating a profitable and scalable retail outlet. The profit margin, return on assets/equity, PEG ratio and quarterly revenue growth speak for themselves.
(Click to enlarge)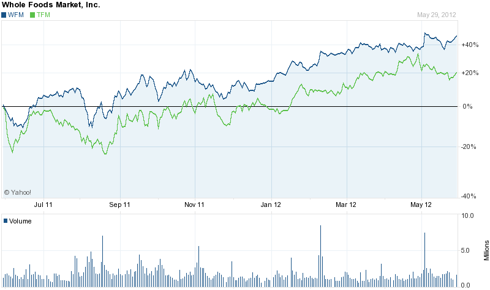 (Yahoo Finance)
(All financial metrics referenced above are obtained from Yahoo Finance, CNBC Analytics, S&P Capital IQ and Thomas Reuters.)
Disclosure: I have no positions in any stocks mentioned, and no plans to initiate any positions within the next 72 hours.