Often the stock market, in its devilish way, seems to know just how to tempt unsuspecting investors into an investment at the worst time. We are on the lookout for how the "tempter" will try to trick us this year.
Dividend stocks tempt us for a number of reasons: interest rates are exceptionally low, 10-year Treasury bonds are under 1.75%, and the return on our money market funds is downright embarrassing. So, dividend-paying equities look attractive as we try to find respectable yields. Many of the blue-chip dividend payers can also borrow at cheaper rates than their dividend yield, so this looks like the type of risky asset that the Fed wants to push us into.
In addition, the blue chips that tend to pay dividends look like safer bets in a potentially volatile year than their small-cap cousins. Dividend shares and funds like the iShares Dow Jones Select Dividend Index fund (NYSEARCA:DVY) have outperformed the S&P 500 ETFs (NYSEARCA:SPY) over the past year and over the most recent pullback as well (see chart below). For all these reasons, money has been flowing into dividend-oriented funds, even with money pouring out of general equity funds, according to an article by Jason Zweig of the Wall Street Journal with data from EPFR Global.
Click to enlarge image.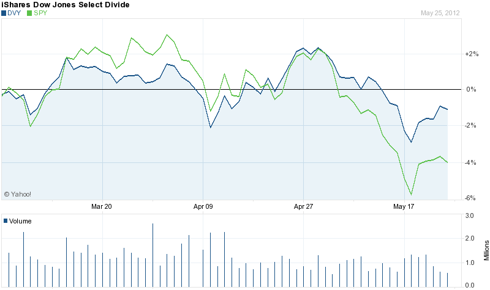 Source: Yahoo Finance.
The strategy of buying and holding a stable of blue-chip dividend stocks has been a proven successful strategy over the long haul, but this may not be the year to load up on a new portfolio. People often tend to think of themselves as long-term buy-and-hold investors, but in reality suffer from antsy stock syndrome, creating high turnover rates. If you know in your heart that you are not really the buy-and-hold type, even if you would like to be, this election year may not be the best time to maximize your exposure to dividend stocks.
If not extended, the Bush tax cuts -- including those on dividends and capital gains -- will expire on Dec. 31 with obvious negative consequences for all investors, but especially for dividend investors. Capital gains taxes could rise to 20%, while taxes on qualified dividends could jump to 39.6% for the highest tax bracket. Clearly, this will be a hot political topic as we approach the election. But that does not mean the incumbents will get anything done before November. Both sides will craft bills, deliver emotional speeches, and decry the inhumanity and senselessness of the opposition. But, as Jennifer Steinhauer of the New York Times reported last week, we are not likely to reach the messy political compromises until the lame duck session, if they are reached at all. At a minimum, that is a likely to create some anxiety (read volatility) for dividend investors.
While there is no escape from death or taxes, we can minimize the pain. First, if you have a tax advantaged account like an IRA, consider keeping your long-term dividend stocks in the tax advantaged account and your non-dividend growth stocks in ordinary accounts where your tax rates will still be bounded by the old 20% cap. Second, dividend investors often neglect non-dividend paying stocks because they want an income stream. Consider owning more growth stocks and making regular sales (at capital gains tax rates) instead of receiving dividends. If the companies are equally well-managed, this should be a comparable strategy. In fact, it may be better because, all else being equal, you avoid the double taxation of dividends (where the company pays taxes on profits that it pays as a dividend to you) and avoid the problem of dividend tax rates and the possible sell-off or volatility that may create at the end of the year. The caveat is that dividend payers know they have to be prudent with their cash and ROI to make payments, so some studies show that dividend payers tend to be better managed. If we can pick the well-managed non-dividend stocks, the investment of that cash back into the company should produce better results.
Dividend stocks are often a sound investment, but long-term investors can afford to wait for the right time to enter the market. Right now dividends look like the flavor of the year, but that may be just the temptation we want to avoid.
Disclosure: I have no positions in any stocks mentioned, and no plans to initiate any positions within the next 72 hours.