| | | | |
| --- | --- | --- | --- |
| Company | Price | Div. Yield | Forward P/E |
| Kroger (NYSE:KR) | $22.35 | 2.1% | 9.7x |
| Roundy's (NYSE:RNDY) | $10.51 | 8.6% | 8.0x |
| Safeway (NYSE:SWY) | $19.17 | 3.6% | 9.6x |
| SUPERVALU (NYSE:SVU) | $4.58 | 7.4% | 3.7x |
| Whole Foods (WFM) | $89.51 | 0.6% | 36.3x |
Roundy's, a Midwest supermarket chain of 159 stores, went public this year with a quiet debut. its IPO began trading at $8.50/share on February 8th, 2012. Despite the grocery business seeming unsexy, RNDY is generating some excitement. The company is paying a hefty 8.5% dividend yield, which is safe and sustainable.
A dividend is safe as long as a company doesn't have debt coming due in the next two years, and the company is generating enough earnings to cover the dividend. RNDY paid off its old senior credit facility and reissued a new one upon completion of its IPO in February. This pushes off debt maturities to Feb. 2017 and beyond. With no short-term financing worries and a stable business, RNDY can sustain its current 8.5% dividend yield and even grow it in the future. On the other hand, SUPERVALU appears to be in a weakened state. Its 7.3% dividend yield looks far from safe, as the company has more than $5.8B in debt (6x current market cap). SVU could be a turnaround candidate in the future, but I prefer to stay away from it now.
Elsewhere, Whole Foods Market is a fantastic company. They continue to report solid growth and have huge consumer loyalty for stores and brand. The problem I have with investing in WFM is how expensive the stock has become. At more than 36x 2012 expected earnings, WFM is priced for perfection. WFM must maintain growth or else shares will plunge back to earth. I'd rather be invested in a company like RNDY, which is trading at 8x earnings, showing little growth from year to year, and is paying an outsized dividend. If RNDY misses earnings by a penny or two, shares will have solid support from their dividend yield. On the other hand, if WFM misses an earnings report the stock could trade down more than 15-20%.
Kroger's and Safeway are both well-run companies that are just ... boring. Neither company is showing either solid earnings growth or an outsized dividend. They are large supermarkets that continue to take market share from weaker rivals.
RNDY hasn't shown incredible growth, just incredible consistency. Despite the financial crisis, RNDY reported revenues increased 1.8% and decreased 3.1% in 2008 and 2009, respectively. Profits jumped 58% in 2008 and decreased 4.5% in 2009. These results are very impressive considering the U.S. economy had its worst downturn since the Great Depression. I like to use the recent financial crisis as a litmus test to see how volatile a company's earnings and revenues are. RNDY was able to pass with flying colors.
I believe shares of RNDY are undervalued with their current 8.5% dividend yield. The company should see its stock rise until the yield is closer to 7%, which would be $13/share. At $13/share RNDY would trade at a reasonable 10x 2012 EPS. Shares of RNDY seem ready to eat the competition.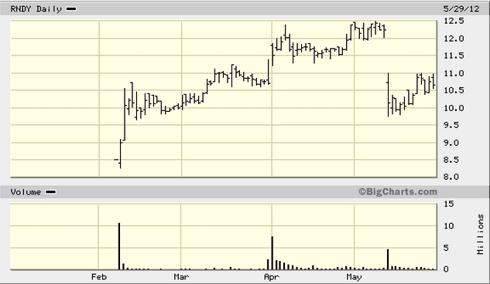 Disclosure: I have no positions in any stocks mentioned, and no plans to initiate any positions within the next 72 hours.