Since the beginning of 2011, Supervalu's (NYSE:SVU) stock has declined about 50%, underperforming the S&P 500 and the stocks of the other major publicly traded food retailers in the U.S. (see graph below). However, I think 2012 will be the turning point for SuperValu and estimate that the shares will outperform competitors Kroger (NYSE:KR), Safeway (NYSE:SWY), and Whole Foods Market (WFM) during the next 18 months.
The reasons for this optimism are that Supervalu realized significant cost savings and had other restructurings in 2011, which, I believe, will start factoring in earnings and the share price during the second half of 2012 and into 2013. Also, I believe that Supervalu, with its focus on low-priced products, will be able to attract more customers and to gain most of its lost market share.
The current economic environment is causing the majority of the U.S. consumers to become more price conscious and value oriented. I think this will be a longer-term trend, which will benefit Supervalu. In addition, the company's stock offers an attractive entry point based on earning estimates and it has the largest dividend yields among its competitors of 7.3%.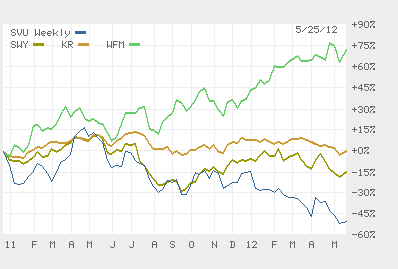 Valuation
Supervalu has 212 million shares outstanding for a market capitalization of about $1 billion and an enterprise value of about $7 billion. The enterprise value is much higher than the market capitalization because the company has nearly $6 billion of long-term debt left over from the 2006 acquisition of Albertsons.
Supervalu's stock currently pays a quarterly dividend of $0.0875 per share for an annualized yield of 7.3%. I believe this dividend is sustainable, as Supervalu generated $1.1 billion of cash inflow from operations in its latest fiscal year ended February 25, 2012. This dividend yield compares favorably to its major competitors Safeway with a 3.6% dividend yield, Kroger with 2.1%, and Whole Foods Market with 0.6%.
It appears that the dividend yield is inversely related to the company's operating margins. Supervalu's operating margin in its latest fiscal year was a negative 1.4% compared to 2.5%, 1.4% and 5.9% for Safeway, Kroger, and Whole Foods Market, respectively. However, while still negative, Supervalu's operating margin improved from the prior year's negative 2.6%.
In addition, included in operating expenses is non-cash goodwill impairment to the amount of $1.4 billion and $1.8 billion for fiscal 2012 and 2011, respectively. Looking at its gross margin, Supervalu has a gross margin of 22.2% which is comparable to that of Safeway (26.9%) and Kroger (20.9%), but still way behind Whole Foods Market (35%). Also, the company estimates to earn $1.25 per share, which gives a forward price to earnings ratio of 3.8. This compares favorably to the forward price to earnings ratio of Safeway, Kroger, and Whole Foods of about 9, 9, and 33, respectively.
Restructuring
I estimate that there will be significant improvement in both sales and operating margins, as the company underwent a restructuring, which in addition to significant cost savings includes an "8 plays to win" plan. Further, Supervalu is participating in the partnership for Healthier America (PHA) announced by the First Lady, Michelle Obama, which aims to provide more nutritional grocery products to inner-city markets.
It's interesting to note that of the major grocery retailers, only Wal-Mart (NYSE:WMT), which is recently expanding into groceries, participates in the PHA. Given, that the company has already implemented most of the 8 plays to win plan, I strongly believe that these are not just marketing slogans the company is using, but initiatives aimed at improving the company.
One of the key areas in which SV is investing is IT. In a recent interview with CW, CIO Wayne Shurtz discussed how the company is using technology to improve quality, communications, and promotions. Some of the innovations Shurtz has implemented include deployment of enterprise social network Yammer, which improves communication within an enterprise, as well as with business partners.
In order to deliver more effective promotions, Supervalu is using a promotional analysis tool, which allows managers to select better promotions, a sticker tool that helps manage fresh produce, and many other innovations, which Shurtz is implementing company-wide.
Competition
The food retail business is an extremely competitive business. In addition to the four companies discussed above, SuperValu faces competition from Target (NYSE:TGT) and Wal-Mart, which are increasing efforts to sell food as their sales are being eroded from competition by online stores such as Amazon (NASDAQ:AMZN) and eBay (NASDAQ:EBAY).
This is obvious when looking at the steady increase of sales of food and pet supplies at Target. During its latest calendar and fiscal year 2011, Target's food and pet supplies accounted for 19% of sales compared to 17% and 16% in 2010 and 2009, respectively.
Wal-Mart, whose same store sales have been decreasing or remained flat at best during the past few years, is also in the middle of expanding its grocery offerings. I think that traditional retailers such as Wal-Mart and Target are not able to compete effectively with the established grocers and eventually they will separate the grocery business from the other merchandise.
In addition to Target and Wal-Mart, Supervalu faces competition from privately held Trader Joe's, owned by the German Aldi, the Dutch grocery store Stop & Shop, and a number of smaller competitors. I believe, Supervalu has an advantage on the one hand because of its distribution capabilities as the company operates its own distribution network and does not depend on third party distribution networks. In fact, about 22% or over $8 billion of Supervalu revenue is derived from its independent distribution business - which most of its competition does not have and which also carries a larger margin than the groceries retail business.
On the other hand, Supervalu clearly has an advantage from economies of scale, as in terms of retail food sales it is behind only Safeway and Kroger. However, its footprint in the United States is better than that of Kroger, which is predominantly in the rural Midwest, and Safeway, which is mostly in the West. Of the non-publicly traded grocers, only Trader Joe's is located throughout the country. Finally, the warehouse club chains such as Costco (NASDAQ:COST), Wal-Mart owned Sam's Club, and the recently gone private BJ's club also present significant competition. However, the warehouse clubs sell food in large quantities and require an annual membership fee, which I think will be less appealing in the current economic environment.
Conclusion
While trading near a 52-week low, Supervalu's shares offer a generous dividend yield and a potential for capital appreciation. In my opinion, the chances of capital appreciation becoming a reality are real as the company is restructuring successfully and is also focusing on offering good quality at low prices. The United States, similar to many developed countries, is going through a period of slow growth and a somewhat stagnant economy. Even the current presidential race will be focused on employment and the economy. Supervalu offers a good defensive investment in such uncertain economic times.
Disclosure: I have no positions in any stocks mentioned, and no plans to initiate any positions within the next 72 hours.