Chinese entertainment company Taomee (NYSE:TAOM) reported earnings Wednesday night. Shares are down over 44% since the company went public back in June of 2011 at a share price of $9.00. The company now has a market capitalization of $183 million.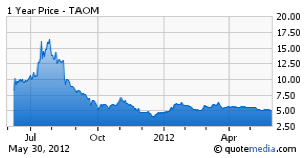 Revenue for the first quarter was $10.4 million, a decline from last year's first quarter reported revenue of $12.4 million. The company's gross margin decreased to 79.6%, primarily due to an increase in offline revenue. The gross margin in the previous year's first quarter was 84.2%. Net income decreased to $1.5 million. Earnings per share on a GAAP basis were $0.04. This compares to $0.29 in last year's first quarter. The $0.04 matched the expected number seen by analysts on Yahoo Finance.
Some highlights for Taomee's first quarter include:
· Company's virtual communities hit 42 million active accounts, which is a new quarterly high.
· Increased the number of broadcasted television series.
· Launched an online video portal for children (v.61.com) in cooperation with iQiyi.com and Youku.com.
· Started broadcasting season 2 of "Mole's World" based on the company's online game in March.
· Released three games: "Mole Kart", "Mole Baby", and "Taomee Mum". The games are all available for Apple's iOS (NASDAQ:AAPL). The games have been downloaded over four million times.
· Released 6 e-books based on "Mole's World". All of the books appeared on the top downloads list within their premiere week.
· Launched designs for mobile phones and tablets based on the company's popular "Mole's World" and "Seer" games.
The company has ownership of 61.com, which is the largest children's online entertainment website in China. The company's number of active accounts closed at 42.3 million at the end of the quarter. In last year's first quarter, this amount was 27.3 million. Paying accounts was reported as 1.9 million, which was a decline from last year's 2.7 million. The decline was due to Taomee's focus on increasing users and a shift away from monetization of accounts.
For the first quarter the revenue was split by segment as:
· Online Revenue = $9.3 million
· Offline Revenue = $1.1 million
An increase in the offline revenue, versus $0.6 million last year, was led by licensing among books and merchandise. The company has been active in licensing characters from its Mole's World games.
Analysts (on Yahoo Finance) are calling for Taomee to report earnings of $0.26 for the current fiscal 2012 year. The following year, analysts see Taomee earnings $0.34 per share. The company closed with a cash position of $121.1 million (as of 03/31/12). The company's cash position makes up two thirds of their total market capitalization.
Shares traded at $5.01 at the time of writing. I think there is value in the shares of this Chinese company. In the past fifty two weeks, shares have traded in a wide range of $3.95 to $17.90. Shares are not traded too frequently, with an average volume of 27,684 shares daily. The company is actively licensing its brands and its recent partnership in the video category could lead to increased revenue in the near term. I think the shares are too cheap with the company's current cash position. I have a target of $10 by June 2013.
Disclosure: I have no positions in any stocks mentioned, and no plans to initiate any positions within the next 72 hours.