Morgan Stanley & Co. (NYSE:MS) was downgraded by rival broker Goldman Sachs (NYSE:GS) on Friday on expectations that the stock will continue to face challenges in the near-term as the market "continues to digest the excesses of a cheap credit environment."
Analyst William Tanona moved his rating on Morgan to "neutral," and removed it from Goldman's Americas Buy list, but left his estimates and $50 six-month price target unchanged. The stock closed at $49.34 on Thursday.
In a note to clients he said:
We believe the combination of less capital markets activity, additional mark downs, and our more pessimistic outlook on commercial real estate will hinder near term results.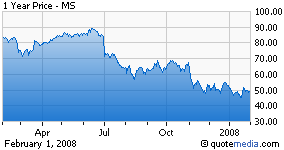 While he acknowledged that Morgan may be in a better position than many of its peers, the analyst's near-term concerns – such as the potential downgrade of financial guarantors or further declines in commercial real estate – trump that confidence.
He noted:
The firm clearly stumbled late last year, but it moved quickly to fix the problem. That said, the credit markets remain firmly challenged, and we do not see any relief over the next couple of quarters.