The Lancet is one of the more credible resources in the field of medicine and biotechnology with its three journals: infectious disease, neurology, and oncology. Writings from it tend to be well informed, well researched, well prepared, and highly objective for its readership. I recently received a study from The Lancet entitled, "Pixantrone dimaleate versus other chemotherapeutic agents as a single-agent salvage treatment in patients with relapsed or refractory aggressive non-Hodgkin lymphoma: a Phase 3, multicentre, open-label, randomized trial" and found the study to meet all the criteria that I have come to expect from The Lancet.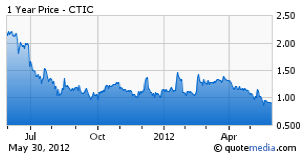 This particular study caught my attention due to my interest in Cell Therapeutics (NASDAQ:CTIC) and its lead candidate pixantrone, or Pixuvri. Over the years I have monitored the company closely and awaited the day when it would finally gain the approval that I feel it deserves. The goal of the study was to assess the efficiency and safety of pixantrone versus the investigator's choice of a single-agent therapy in heavily pretreated patients with relapsed or refractory aggressive non-Hodgkin lymphoma. Pixantrone has been very controversial, however, it has shown in trials an obvious benefit over the standard-of-care treatments, but is yet to be awarded an FDA approval, most recently due to a failure to enroll the required number of patients.
Pixantrone did recently receive conditional marketing authorization from the European Commission for the treatment of adult patients with multiply relapsed or refractory aggressive non-Hodgkin B-cell lymphomas. Due to recent developments surrounding the company, I think this particular study could answer some of the questions of investors, and give more insight into its chances of approval once the company resubmits its application to the FDA.
The method of the study reads as following:
In this phase 3, multicentre, open-label, randomized trial at 66 hospitals in Europe, India, Russia, South America, the UK, and the USA, patients with histologically confirmed aggressive non-Hodgkin lymphoma who had relapsed after two or more previous chemotherapy regimens were randomly assigned (1:1) by an interactive voice response system to treatment with pixantrone dimaleate (85 mg/m² intravenously on days 1, 8, and 15 of a 28-day cycle, for up to six cycles) or to a comparator (vinorelbine, oxaliplatin, ifosfamide, etoposide, mitoxantrone, or gemcitabine) given at prespecified standard doses and schedules. Patients were stratified by region, International Prognostic Index score, and previous stem-cell transplantation. Patients and investigators were not masked to treatment assignment; however, an independent assessment panel was masked. The primary endpoint was the proportion of patients with a complete or unconfirmed complete response in the intention-to-treat (ITT) population at the end of treatment. Primary analyses of efficacy were based on the independent assessment panel's data review. The study is registered at ClinicalTrials.gov, number NCT00088530.
In short, the study was designed to be random and to determine the efficiency of pixantrone compared to the unknown single-agent therapy. The population included 70 patients randomly assigned to the pixantrone group and 70 to the comparator, with five patients dropping out prior to receiving their study drug. The findings of the study are as followed:
14 patients (20·0% [95% CI 11·4-31·3]) who received pixantrone achieved a complete or unconfirmed complete response at end of treatment compared with 4 patients (5·7% [1·6-14·0]) in the comparator group (p=0·021). The most common grade 3 or 4 adverse events in patients given pixantrone were uncomplicated, non-cumulative neutropenia (28 [41·2%] of 68 patients vs 13 [19·4%] of 67 patients in the comparator group), leucopenia (16 [23·5%] vs 5 [7·5%]), and thrombocytopenia (8 [11·8%] vs 7 [10·4%]).
The first line is the most important of the findings: 14 of the pixantrone group achieved a complete or unconfirmed complete response compared to just 4 in the comparator group. This illustrates a clear benefit in the pixantrone group's 14 over the comparator group's 4. This study was a randomized trial of pixantrone versus a control agent, which I find to be significant data. It was also noted that 50% of Redundant patients had received rituximab before enrollment, which supports the finding that pixantrone could be used as an alternative treatment option. These particular patients had been heavily pretreated, with some on fourth-line treatments. Consequently, expected survival for patients would typically be months or possibly weeks, a difficult to treat patient set.
Conclusion:
The results from this study, although encouraging, were not necessarily surprising. We have known for years that pixantrone presents a clinical advantage, but is yet to be approved in the U.S. As a result, the question of why the drug has been rejected must be asked. In the study, the unexpected difficulty in recruitment was mentioned and referenced to physician preference as a reason why the study experienced enrollment issues, a logical explanation. All things considered, pixantrone most likely would have been awarded an approval if the required 320 patients had enrolled in its Phase 3 trial.
However, the trial enrolled only 140 patients, less than half the targeted enrollment. The good news is that pixantrone has now received conditional marketing approval in Europe and will be able to create revenue, but more importantly, accumulate additional data from the use of pixantrone in patients with multiply relapsed or refractory aggressive non-Hodgkin B-cell lymphomas. One fact seems undeniable: pixantrone has an obvious benefit over standard care, and this particular study validates this fact and could possibly put even more pressure on the FDA to approve this treatment so that it can save lives.
I highly encourage everyone to read through the study, as this is just a summary. The full report will provide additional data on trial design, safety and efficacy. When viewing the safety and efficacy data for the patient set, take care to consider the prognosis for the patients versus the data as presented. In other words, a cost/benefit analysis must be done by the FDA and, ultimately, physicians, patients, and family members for those needing a ray of hope. Pixantrone, in my opinion, may be the hope so desperately needed by these patients.
Disclosure: I have no positions in any stocks mentioned, but may initiate a long position in CTIC over the next 72 hours.
Additional disclosure: The material in this article is for informational purposes only and is not intended to make any investment decisions.