The economy of the European Union is teetering on the edge of a financial abyss. The national economies of Italy, Spain, Portugal, and the Netherlands have already entered recession, as the region's national governments implement draconian austerity measures and domestic demand falters.
In addition, Greece is struggling to stay in the Eurozone - which is a few steps away from an imminent collapse in the current form. This ominous environment has depressed demand for a wide variety of products and the outlook remains gloomy.
The declining demand threatens to cut into sales of many major companies exporting to Europe or operating facilities on the European continent. Based on the available information from the half of S&P500 constituents that report their sales by geographical regions, slightly more than 13% of S&P500 companies' revenue comes from Europe.
This bodes poorly for a number of U.S.-based dividend payers which derive large portions of their sales from Europe. Especially affected will be companies operating in the cyclical sectors such as materials, automotive, consumer durables and services, and capital goods sectors. Here are six dividend-paying companies with large revenue exposures to Europe that stand to lose in case the Europe's economy descends into a prolonged slump.
Click to enlarge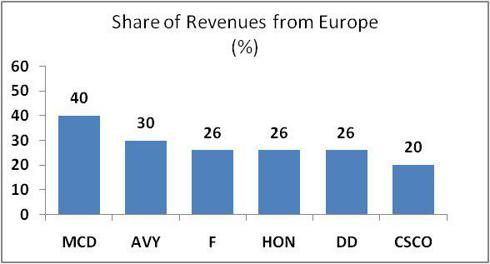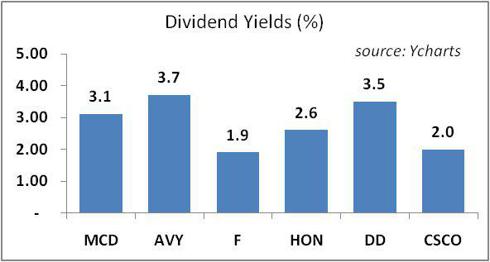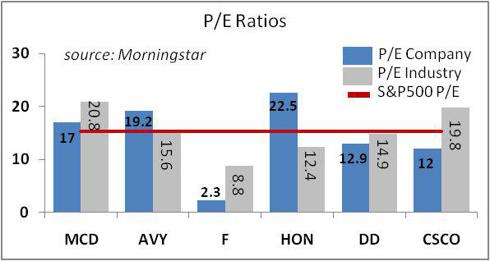 McDonald's Corporation (NYSE:MCD) is a $93 billion company and the world's largest chain of hamburger fast food restaurants. It is also the world's second biggest restaurant chain in terms of units. The company has a high exposure to European sales, as 40% of its revenue is tied to Europe. Within Europe, UK, Germany, and France account for half of that share.
The company's stock is currently trading at $91 a share, or 14.5 times its forward earnings. The company pays a dividend yield of 3.10% on a payout ratio of 49%. Its peers Yum! Brands (NYSE:YUM) and Darden Restaurants (NYSE:DRI) pay yields of 1.60% and 3.20%, respectively. Hedge fund managers Bill Nygen and David Winters are investors in the company.
Avery Dennison (NYSE:AVY) is a $3.1 billion company engaged in the manufacturing of pressure-sensitive materials, retail branding products, and a variety of office and consumer products. The world's largest label maker derives 30% of its sales from Europe. The company owns a large number of subsidiaries operating in Europe; exports from U.S. to Europe are an insignificant contribution to the European sales.
The company's stock is currently trading at $29.45 a share, or 14.2 times its forward earnings, which is on par with its industry, according to the CNBC data. Avery Dennison's stock is yielding 3.70% on a payout ratio of 57%. Competitors Bemis Company (NYSE:BMS) and 3M Company (NYSE:MMM) are yielding 3.30% and 2.80%, respectively. Fund manager Ray Dalio purchased a small stake in the company in the first quarter of 2012.
Ford Motor Co. (NYSE:F) is a $40.3 billion multinational automaker with 26% exposure to Europe in terms of revenues. Out of that share, more than half attributes to sales in the currently more stable UK and Germany. The company recognizes the challenges in Europe and says that it "expects weak conditions in Europe, with some markets doing better than others, while fiscal austerity programs are implemented."
The company appears to be favorably priced in terms of its forward valuation. The automaker pays a dividend yield of 1.90% whereas the company's rival General Motors Co. (NYSE:GM) does not pay any dividends, while Toyota Motor Corporation (NYSE:TM) pays a yield of 1.20%. Billionaires David Tepper and Leon Cooperman bought new stakes in the company in the first quarter of 2012 (see David Tepper's portfolio).
Honeywell International (NYSE:HON) is a $44 billion company that produces aerospace, specialty materials, automation and control, building controls, and transportation systems products. The company's revenue exposure to Europe is 26%. The company's CEO recently said that "Europe continues to be weak," and "there is a good chance that in Europe we wind up with something like a Japanese decade." He was referring to the period of sub-par economic growth in Japan following the bursting of the country's real estate bubble in the early 1990s.
The company seems to be fairly priced on a forward earnings basis. Honeywell's stock is yielding 2.60% on a payout ratio of 51%. Its rivals Johnson Controls (NYSE:JCI) and United Technologies (NYSE:UTX) are paying dividend yields of 2.40% and 2.60%, respectively. Fund managers Mario Gabelli and Ken Fisher are fans of the stock.
DuPont (DD) is a $45.3 billion diversified chemicals and technology company selling a wide range of electronic and communication technologies, performance materials, coatings, safety products, and agricultural products. The company derives about 26% of its revenues from Europe, Middle East and Africa (EMEA) regions, with the lion's share of the EMEA sales coming from Europe.
DuPont pays a dividend yielding 3.50% on a payout ratio of 44%. Its peers Eastman Chemical (NYSE:EMN) and Dow Chemical Company (DOW) have dividend yields of 2.20% and 4.10%, respectively. The stock is popular with billionaire Ken Fisher.
Cisco Systems (NASDAQ:CSCO) is an $88 billion network equipment giant providing network routers, switches and related products and services. The company gets 20% of its revenue from Europe. The company recently posted earnings that beat analyst estimates by a penny; however, the company gave weak guidance saying that the business sector was still reluctant to increase spending on Internet gear.
Cisco noted a particular weakness in Europe that was expected to persist. The tech bellwether's stock is yielding 2.0% on a low dividend yield of 19%. The company's competitor Intel (NASDAQ:INTC) pays a yield of 3.30%, while peer Juniper Networks (NYSE:JNPR) does not pay any dividends. Guru managers Andreas Halvorsen and Daniel Loeb are bullish about the stock.
Disclosure: I have no positions in any stocks mentioned, and no plans to initiate any positions within the next 72 hours.