Baker Hughes' (BHI) fourth quarter 2007 earnings are likely to prompt some to ask whether the company is losing some of its star power as a provider of oilfield products and services. While Baker has admittedly had a little steeper hill to climb in terms of building out its international infrastructure and broadening its technology base than its larger peers, the company continues to struggle to find its rhythm. Unfortunately, EnergyPoint's latest independent customer satisfaction research does not show much that would suggest to us that the company's trajectory with customers is materially different than that of its financial results.
Baker Hughes saw its overall customer satisfaction ranking -- as measured in EnergyPoint's oilfield products survey -- fall from the second quartile in 2005 to the third quartile in 2007. The largest declines in satisfaction, outside of the category of pricing and contract terms, were in areas related to the firm's size, scope and global capabilities (seemingly confirming management's contention that in these areas the company is playing catch-up as a result of past underinvestment).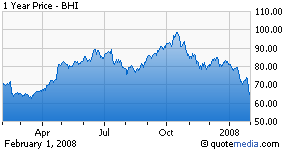 Ratings for Hughes Christensen drill bits, while respectable, showed some minor declines in satisfaction as well. Slightly offsetting the lower ratings in these and other areas, the company's fluids and chemicals rated materially higher than two years ago.
Clearly, one quarter's earnings and a single survey's ratings do not tell anyone all they would want to know about the future direction of the company. However, there is no question that we are less clear as to how Baker Hughes is differentiating itself in the marketplace than we were when we first started collecting market-based ratings data on the company back in 2004. While progress can and does require letting go of the past, we harbor some suspicions that what made Baker Hughes particularly attractive to so many in the oilfield business for so many years might be falling victim to reorganization, compliance requirements, and over-adherence to decentralization as an operating tenet.
Disclosure: None