On Wednesday the stock in BPZ (BZP) was sharply lower on news that a Peruvian Navy tanker used to transport its crude oil caught fire and sank. Fifteen sailors were injured, some critically. The ship contained 1,300 barrels of crude oil, most of which burned before the ship sank but there are some oil spill issues. Production and testing operations at BPZ's single production platform in the Corvina field were suspended pending an investigation and inspection of the other Navy tanker used to transport crude.
This was a serious accident and deserves the serious attention it is getting. For investors, the longer-term question is whether the market overreacted to the event.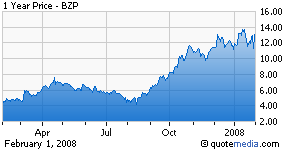 From a liability perspective, it's likely that BPZ's exposure is relatively limited. The tanker was owned and operated by the Peruvian Navy. This suggests that the Navy bears a very considerable share of the responsibility for the safe operation of its ship.
From an environmental perspective, the loss of 1,300 barrels in open ocean, with most of the crude burning off rather than spilling into the water, suggests a relatively small potential for damage.
From an income perspective, the immediate loss of 1,300 barrels and the shut-in of 4,200 barrels/day until the situation is completely resolved is insignificant. BPZ has been producing above their publicly released guidance (4,000 b/d by January 31) and should be able to easily meet their forecasted higher production levels (6,000 b/d by April 1, 8,000 b/d by July 1) when the floating production, storage, and offloading (FPSO) vessel is operational in little more than a month. Even with a complete shutdown until the FPSO is operational, the maximum possible shortfall is only a few percent of projected annual production.
From an exploration and production perspective, nothing affected the existing Corvina platform, wellbores, drilling equipment, or any other infrastructure items. Once crude offloading and transport resume, all E&P activities at Corvina will resume at normal levels. This includes completion of testing operations on the likely highly successful 18xd well and spudding on the 20xd well.
Overall, the investment thesis for BPZ is intact. The market response to the accident was an overreaction, which is in the process of being reversed as this is being written (Thursday).
There is one other piece of news that got lost in the tanker issues. In a story reported by the Peruvian press but not linked to any of the major U.S. search engines, the head of State-owned PeruPetro said that BPZ is nearing completion of negotiations to bring in Shell Oil as a partner on its oil & gas development in Peru.
The story does not disclose any details of the partnership, except to highlight Shell's original involvement in what is now the world-class Camisea natural gas field and LNG complex. BPZ has not commented publicly on the possible Shell participation but BPZ does have the rights to the Mancora gas play, which has the potential to be a large, LNG-class field like Camisea and would require major international oil company participation and financing. As a result, a BPZ-Shell partnership at Mancora certainly has a plausible basis.
As a final note, BPZ's current valuation is entirely based on Corvina oil. It includes nothing for Corvina gas or Mancora gas, nothing for Albacora oil (the next low-risk field to be tested after the initial Corvina campaign is completed), Delfin, Mero, Piedra Redonda, or a host of other highly prospective, low-risk, resource-rich oil & gas plays. Long-term investors should take note of these opportunities and use the current overreaction as a buying opportunity.