The SPDR S&P Homebuilders ETF (NYSEARCA:XHB) has remained amazingly resilient during the stock market's latest rendition of the "sell-in-May" swoon. XHB is only down 3.4% this month while the S&P 500 has dropped 6.1% in one of the index's worst performances in May since 1950. XHB is also still hovering just below 4-year highs as it tries to hang onto its third "recovery run" since the recession ended.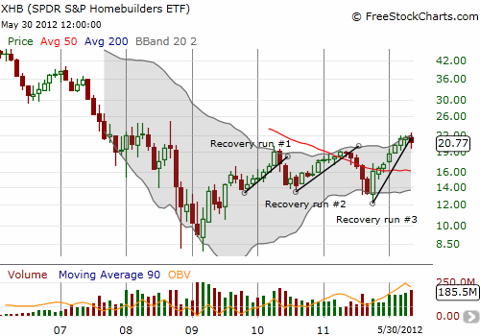 The Homebuilders ETF remains strong this year
Source: FreeStockCharts.com
I believe this trading action is consistent with my on-going thesis that the housing industry as a whole will finally reach a bottom in 2013. Unfortunately, instead of keeping things simple and buying this index, I decided to go for what I determined was an undervalued stock in KB Home (NYSE:KBH). KBH had a surprisingly strong performance to start the year: it almost doubled in just 2 1/2 months. It has since lost all those gains and continues to fall further behind XHB in relative performance.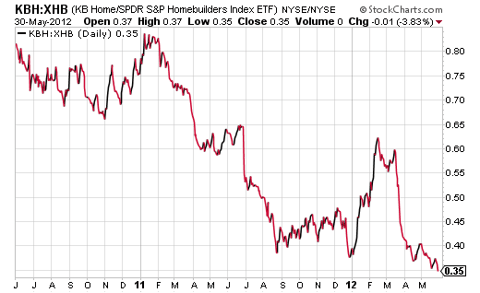 KBH is falling further behind XHB
Source: Stockcharts.com
I still think this is now a great spot to start building a position in KBH, but going forward I will be buying the dips in XHB, rather than expanding my latest position in KBH.
Be careful out there!
Disclosure: I am long KBH.