As markets continue to show higher levels of volatility, and trading volumes pick up on exchanges, some of the beneficiaries are beginning to report solid earnings. OptionsXpress (NASDAQ:OXPS) is one such company which released figures for the fourth quarter this past week. Revenue came in at $68.8m up 39% from year ago levels and that translated to earnings of 0.44 per share - a healthy 42% above last year. More importantly, the company added 14,600 net new accounts and ended with $5.8b in customer assets (up 24% year over year). All this in the context of one of the most difficult trading quarters we have seen in the last five years.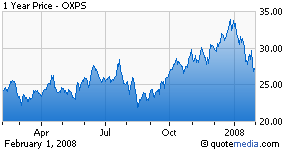 OptionsXpress is fundamentally turning up after hitting a serious pothole in 2006. The company had been finding it difficult to land new accounts and was quickly losing ground to the likes of E-Trade Financial (NASDAQ:ETFC) and Ameritrade (NASDAQ:AMTD). It took time and effort, but the roles have finally reversed with OXPS now taking market share. The reversal is due both to a significant increase in marketing spending as well as improvements in the product offerings clients can now take advantage of. OXPS has been very creative in how it acquires new customers. Upon launching an initiative to pair new traders with a personal coach, the company was surprised to find how much demand there was for this service. The result of this and other creative educational ideas has allowed the company to grow while still spending less per new account than their competitors. Finally, the improvement in the platform customers use has won the company free publicity from online surveys that OXPS has scored well in.
Skeptics will likely point to higher transaction levels for the quarter as being a one time event. While I believe volatility is cyclical and will likely carry on into at least the first half of 2008, the true measures to gauge success should not be transaction volume or even revenue for this one quarter. Concentrating on number of accounts and the asset level of clients is much more indicative of the growing strength of the company. As the company grows these levels at healthy rates, it should be able to model long-term profitability more accurately as the assets will continue to generate revenue in all market environments.
Another point of contention is the interest income which may be more difficult to grow in the coming months. When OXPS internalized its clearing function, it allowed the company to have more exposure to interest income on client balances. The recent fed cuts, however, have the effect of narrowing the spread earned on these balances which will cut into income to some degree. The decline should only be modest and the macro effect of the fed cuts could draw more prospective clients to begin trading their own accounts, but it is still an issue to keep an eye on.
Finally, the company will be challenged by the new penny option pilot program. This program allows certain option contracts to trade in $.01 increments instead of the historical $.05 increments. This has resulted in a lower level of revenue from "payment for order flow" and as more contracts fall under this category the magnitude will grow. OXPS has begun to explore creative ways of recapturing some of that lost revenue and its client account growth should more than make up for this challenge.
The stock has been rangebound for the better part of the last two years and has recently pulled back to an area of support. Since earnings have been growing during that time, the potential value in the shares has grown. The stock may be experiencing pressure due to weaker reports out of competitors but I would expect positive movement from here due to the growth in book value and earnings projections. The company has no debt, ample cash, and has instituted a dividend policy which should provide support to the stock price.