After a large acquisition last year that doubled its size to 29 power plants, Barron's says independent electricity producer Dynegy (NYSE:DYN) is ready for a surge in its share prices. Dynegy estimates power supply in the Northeast and California will cause reserve margins to drop below the critical 15% threshold this year, with the Midwest following suit in 2010-11, which would drive electricity prices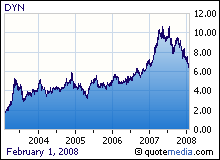 higher. Shares are down from a recent $10.95 to $7.13 on concerns demand for power may wane in a recessionary economy -- a scenario Barron's notes has rarely played out in previous downturns.
Raw earnings will be impacted by various one-time charges, but at the low range of its estimates, DYN's enterprise value (market value - net debt) is 10x Ebitda [earnings before interest, taxes, depreciation and amortization], and it sports an attractive cash-flow yield of 4.2%. Estimates of the replacement value of Dynegy's plants range from $15 to $24 a share. Assuming the stock is worth 80% of the low-end, shares could easily hit $12 if the electricity market tightens as expected. If increased demand fails to materialize, shares could be dead money for a while.