Gold bears are claiming a victory, as evidenced by articles such as this one, showing a 20% decline in the price of gold. One hears claims that the gold market has gone nowhere in the last year.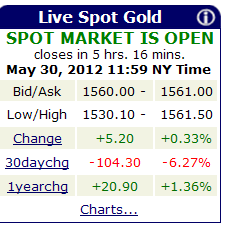 Source: Kitco
Indeed this appears true. An hour before I made the table above, it read -10% rather than up 1.3% over a year. 'Where is the move up in gold with this huge crisis in Europe?', ask the gold bears, and then proclaim that 'a market not able to move up with all this bad news is not bullish; you should sell out or get short!'
So what is going on with the gold market? Why has it not gone up in the last year? Such questions ask and therefore answer the questions from a U.S. dollar perspective. Hence, overlooked is the issue of what academics have defined, in their vernacular, as "home country bias".
One can go to the London Bullion Market and find gold priced in euros. The data shows gold in euros at a PM fix price of € 1,067.38 ($1,325.92) on May 31, 2011 (or in the European way € 1.067,38 - they reverse commas and decimal points compared to Americans). A year later the price of gold in euro's is € 1,239.44 (€ 1.239,44) ($1,539.65). This is a return of just over 16% for European investors.
It appears gold has been acting as a stabilizing force for European portfolios over the last year. Instead of a 20% "Bear Market" in gold, there has been less than a 10% correction in the price of gold, in euros, from its high in February 2012.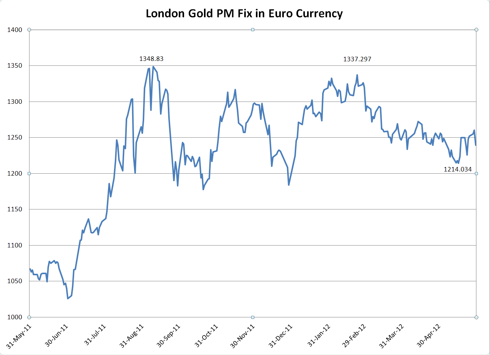 One can see a more sideways movement in the price of gold, since last fall. The gold chart since 2009 also does not currently show an impending down move in the price of gold.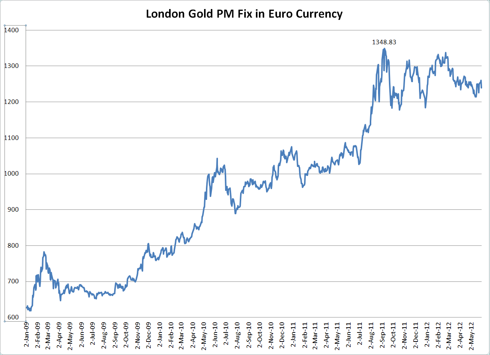 This research has taught me that I should not fixate on using only one currency to make trading/investing decisions. Assets which are traded internationally should also be looked at from the perspective of another currency. Gold bears might be able to claim a victory when priced in U.S. dollars, however, it is premature to claim a global victory.
My hypothesis is that investors, institutions, and hedge funds having been selling gold since last fall to rebalance portfolios and provide a cash margin to cover losses for other positions taken in the European financial markets. Despite these actions, gold has performed for the portfolios of European investors over the last year during this crisis. Investors, strategists, and asset allocators should be on the lookout and not fall into the trap of having a home country bias outlook.
Disclosure: I have no positions in any stocks mentioned, and no plans to initiate any positions within the next 72 hours.
Additional disclosure: I am long gold and gold stocks