Financial stocks took a beating over the last year, as the causes of the eventual recession—the subprime crisis, the credit crunch, mortgage defaults and billions of dollars of balance-sheet hits—swirled around the sector, pulling the financial stocks of the S&P 500 to a 30.6% average loss in 2007.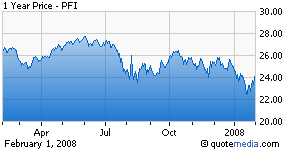 By comparison, PowerShares Dynamic Financials (NASDAQ:PFI) survived its first calendar year well, with a 2.63% dip that beat Morningstar's Specialty Financial ETF category by more than 7 percentage points, ranking among the top fifth of financial ETFs.
This may indicate that the PowerShares "Intellidex" system—which, as our regular readers know, seeks to identify stocks with the best potential to beat sector benchmarks based on quantitative factors such as earnings growth, risk factors and various valuation— is working.
That may be the case, but the real question surrounding financial stocks and PFI remains unanswered: At some point, they'll likely bottom out, become bargains and bounce back. But when? No one knows, of course, though there is any number of predictions, including some bullish ones by value investors.
"Fear dominates the pricing of housing stocks, of mortgage-related securities, of financials," Legg Mason Value Trust manager Bill Miller recently wrote in a letter to shareholders. "The greatest gains over the next five years will be made in those securities people are panicked about today."
Recently, financial stocks have shown some positive results. Over the week ended Jan. 28, financials was the top-performing sector of 12 tracked by Morningstar, with a 6.55% gain. And while the sector averaged a 4.6% loss over the previous month, all 12 sectors had negative returns over that time; financials' performance was second-best.
PFI, which fell 22.1% from its June 1 high to a 52-week low on Jan. 18, gained 9.5% from Jan. 18- 29, and 5% over the week ended Jan. 29.
While not a threat to break into our PowerShares Momentum Tracker Portfolio, PFI has been slowly moving up the Sector Momentum Table, from 32nd in late November to 24th last week. Its 6.99% yearto- date return (through Jan. 29) was seventh-best among the 42 funds we track, with PowerShares Dynamic Banking, Insurance and FTSE RAFI Financials among the top four.
The Federal Reserve cut its overnight rate by three-quarters of a point on Jan. 22 in a surprise inter-meeting move and was expected to announce another cut on Jan. 30. On Jan. 29, the Fed auctioned $30 billion in funds to commercial banks, providing cash strapped banks with extra reserves for the fourth time since December. These moves, aimed at keeping banks lending and preventing the credit crunch from pushing the economy into recession, stopped a broad market slide and pushed financials into the minds of some investors, leading to a little bump for PFI.
The ETF invests in the stocks of banks (diversified and regional), investment banks, brokers, consumer finance companies and insurance companies (both life and property and casualty), with a recent emphasis on insurance stocks, which made up seven of the top 10 holdings.
All those industries felt the impact of the subprime mortgage crisis, which resulted in billions of dollars of write-downs. Anything related to housing took a beating.
The Intellidex model pushed PFI toward insurers, who suffered less. The S&P Property & Casualty Insurance Index declined 15.8% in 2007, as soft-but-stabilizing premium growth and improved underwriting margins helped many firms stay above water. Meanwhile, the S&P Reinsurance Index advanced 2.3% in 2007.
Still, even if the PowerShares model provides the best angle on the financial sector, the contrarians and bargain-hunters who might be attracted to this fund won't reap real rewards until the sector rebounds.
There's an argument to be made that with valuations at record lows, the remaining fallout of the credit crunch has been priced into the stocks, leaving attractive dividend yields and a sector ready to capitalize on the Fed's anti-recession efforts during a softer landing than many expected.
Bears disagree, and they also have a case, built on concerns that there's much more pain to come from the subprime crisis, the credit crunch and a deep economic slowdown.
Value investors might find that a stake here will eventually pay handsome rewards. But that may take some time, so any prospective investor should be prepared to hold on for the long haul. One need look no further than other recent value plays, such as telecom and tech stocks, both of which took a beating early this century and needed several years to pull out of their funks.
Our PowerShares Momentum Tracker will continue to monitor the sector's performance and will alert subscribers when relative strength indicators suggest a sustainable recovery.