General Electric's (NYSE:GE) CEO Jeff Immelt has himself now committed to using the entire forthcoming $4.5 billion special dividend from GE Capital (to the parent company) to repurchase GE common stock. When the much anticipated news about the suspended GE Capital dividend was announced mid-May, the press release tipped off GE's plans, stating the company planned to "accelerate" its share buyback program.
General Electric's shareholders should question the merit of the buyback over distributing the proceeds to shareholders as a special dividend. The market has already offered its feedback and it is underwhelmed: even a $20 stock price is proving elusive. Worse, let's see how futile the buyback is likely to prove.
Click to enlarge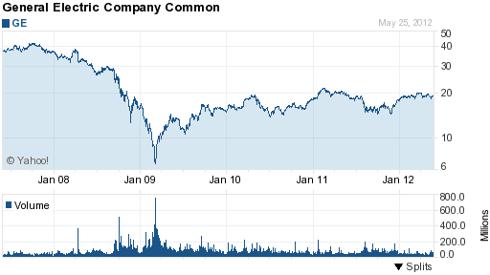 With approximately 10.6 billion shares outstanding, $4.5 billion (working on the assumption this is a net figure) could either be distributed as a $0.42/share special dividend to shareholders , or it could be used to repurchase around 237 million shares (using a recent $19/share price), which equates to 2.25% of shares outstanding.
For the latter option, Citigroup analysts have apparently calculated it will add "roughly three cents per share to GE's 2013 earnings" (per CNBC coverage mentioning Citi report, see first hyperlink above). How convenient for Citi that the amount repurchased is expected to translate to nearly identically higher EPS.
There's a problem, however, because the direct and full accretion to earnings is wishful analysis. GE's buyback track record is atrocious. Investors and especially readers of my analysis over the past couple of years know well that GE has historically bought back at high prices and reissued equity at much lower prices.
What's more is that it has also had to spend a fortune to repurchase a correspondingly inadequate number of shares. Last September, I showed GE's buyback profligacy: it spent just over $2.7B since reinstating its buyback program after the 2008-09 financial crisis to reduce share count by 90 million, equating to a buyback price of $30/share, which was double its stock price at that time. Using GE's 10-K we can see that:
GE spent $3.782 billion total in 2010 and 2011 to repurchase 222.5 million shares, however, share count only decreased by 85.77 million shares, equating to over $44/share paid for each repurchased share! The raw deal has not been improving since in Q1 this year, share count actually increased by 14 million, despite $127M spent to repurchase 3.334 million shares.
Are the board and senior executives at GE hoodwinking investors? What about Citi's sloppy analysis? Where is the buy-side? Unless I'm missing something, why do so few see the dog-and-pony buyback show as just that. How does GE keep getting away with the same trick? Actually, "the market" seems to know the buybacks are ineffective strictly from the fact that GE's stock price is stuck. The $4.5 billion figure and another $7.9 billion that is remaining in its existing buyback seem to mean little to the market. I think the reaction would have been far more positive and lasting had GE announced a special dividend to shareholders.
This past proxy season I came close to having a dividend-related shareholders proposal appear on GE's proxy. Initially, the SEC ruled in my favor (against GE's "no-action" request), in support of my requesting GE's board to reconsider its dividend policy to include considering paying a special dividend. The SEC even commented:
The Commission has found that dividend matters do not involve "ordinary" business matters because such matters are extremely important to most security holders and involve significant economic and policy considerations. [NB: emphasis added]
However, similar to its first no-action request, GE would go on to appeal using the same bogus logic and arguments. GE pressured the SEC for a decision and ultimately was allowed to not publish my proposal in its proxy statement. GE didn't want its shareholders to see my findings about its buyback program. And, of course, it didn't want to give shareholders a vote on the company's dividend, which was once said to be "sacred", but had been slashed more than two-thirds. While GE's dividend has been on the increase after the worst of the crisis passed, the latest increases have been token and are a slap in the face when simultaneously a significant amount of capital is being deployed in such a dubious way with more to come.
Therefore, it makes sense the market distrusts management. It's reasonable to question whether the board is properly rewarding shareholders value creation or if it's more concerned about self-preservation and wealth accumulation for itself and senior executives. Companies argue buybacks and dividends are matters of "ordinary business." I beg to differ.
Shareholders' patience has been most extraordinary. Ask yourself if you'd like a special dividend of $0.42/share later this year. Or would you prefer a wishful $0.02/share more EPS in 2013 if you're lucky, and with probably no tangible bump in EPS at all given GE's inability to meaningfully reduce its share count. Even factoring in a generous full two cents and using a multiplier of 15 to reflect GE's P/E ratio, we would still come up short of a special dividend. That would be the same as waiting 15 years for what one could instead collect in a lump-sum.
Disclosure: I am long GE.