As part of my overall investment strategy, I've started saving my nickels.
No, I'm not referring to saving extra money to put into the stock market. I'm talking about saving real, actual nickels.
You see, for a good part of the last three years, a U.S. nickel was worth more than 5 cents based on its metallic content, which is 75% copper and 25% nickel.
When commodity prices were rising, that 1.25 grams of nickel and 3.75 grams of copper in each nickel added up to 6 or even 7 cents.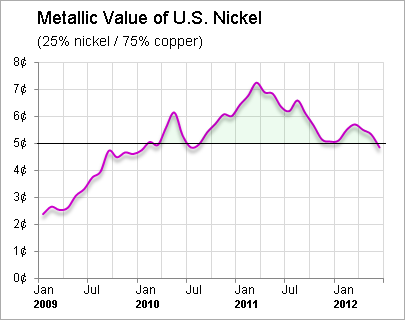 However, I'm a bit disappointed now because the nickel has slipped below its "par value" of 5 cents.
And if the values of two commodity ETNs are any clue, these metals are headed south. These charts show the iPath Copper Total Return fund (JJC) and the iPath Nickel Total Return Fund (NYSEARCA:JJN).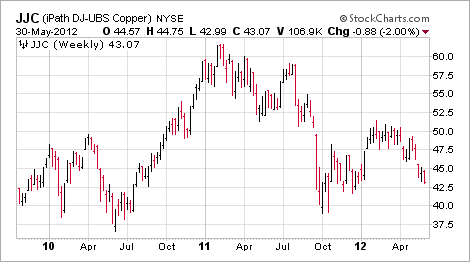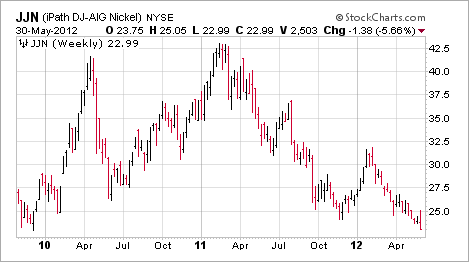 But these are futures based ETNs, subject to contango and backwardation. According to MetalMiner, JPMorgan (NYSE:JPM) wants to start a physical copper trust with actual copper in storage.
Why bother? We have nickels - and remember, they're 75% copper. The great thing about saving nickels is that they're worth at least 5 cents. No need to worry about whether your ETF really holds the copper they say they do. No need to deal with futures contangos.
I figure you could stash maybe 4000 rolls of nickels -- or $8,000 worth -- in a file cabinet in your basement. If copper and nickel start rising again to the levels they were in early 2011, you'd have about $11,000 worth of these metals. Not a bad return.
That's the theoretical value, of course. The metals are alloyed so they'd need be refined to get pure nickel or pure copper. But still I believe that commodity prices will rise over time and that in the next few years the US Mint will be forced to stop using copper and nickel.
Oh, one more benefit to investing in nickels. Capital gains taxes are easy to calculate. After all, a nickel can't possibly cost you more than a nickel -- at least right now anyway.
I'm only halfway serious. It's not like I'm going to the bank and buying rolls of nickels. But when I take the change out of my pockets , yeah, the nickels go into a separate jar. It's hardly going to fill a file cabinet yet, but it's a start.
Disclosure: I have no positions in any stocks mentioned, and no plans to initiate any positions within the next 72 hours.