One week after investors put in a record number of orders for the $9.8 billion bond deal brought by United Technologies (NYSE:UTX), investors soaked up $6 billion of bonds issued by Kraft Foods Groups. Despite the volatility in global equity markets and the impressive rally in Treasury bonds, investors demanded over $20 billion of the new securities, affirming the market's demand for high quality bond issuance even on a day when all other corporate bond issuance was delayed by market uncertainty. The issuance was broken into four parts with $1 billion 3-year bonds launching at 135 basis points over the matched Treasury, $1 billion 5-year bonds issued at a spread of 160 basis points, and $2 billion 10 and 30 year tranches carrying spreads of 200 basis points and 235 basis points respectively.
Kraft (KFT) originally announced on August 4th, 2011 that the company would split into two separate and independent public companies: the Global Snacks Business and the North American Grocery Business with the latter issuing bonds yesterday to distribute proceeds to the parent for subsequent debt repurchases and general corporate purposes. Kraft Foods Group, the issuing "SpinCo" now trading under the bond ticker KFGI, owns all the North American Grocery assets and is currently wholly owned by Kraft Foods Inc, the "ParentCo," which is to be subsequently renamed Mondelez. Kraft plans to distribute all of the shares of Kraft Foods Group to existing shareholders though a tax free spin-off by the end of 2012. The grocery business, with $18.7 billion of net revenues in 2011 and anchored by iconic brands include Kraft macaroni and cheese, Oscar Meyer meats, and Maxwell House coffee, will be the fourth largest consumer packaged food and beverage company in North America behind only Pepsico (NYSE:PEP) $36.4 billion 2011 net revenues, Nestle (OTCPK:NSRGY) $26.5bn, and Coca-Cola (NYSE:KO) $20.6bn, and ahead of General Mills (NYSE:GIS) $12.8bn, Conagra (NYSE:CAG) $10.9bn, Unilever (NYSE:UN) $9.3bn, and Kellogg's (NYSE:K) $8.9bn.
Out of the box, gross leverage will be roughly 3x and 3.8-4x when adjusting for the pension liabilities of the North American grocery business. While the pension-adjusted leverage is relatively high for the Baa2/BBB ratings, the $1.5-$2 billion free cash flow generation of the business should allow the company to successfully de-lever. The ratings agency and credit markets will give this company ample time to right-size their balance sheet after the successful execution of the 2010 Kraft-Cadbury combination. Below is a snapshot of the breadth and stability of the new standalone grocery business: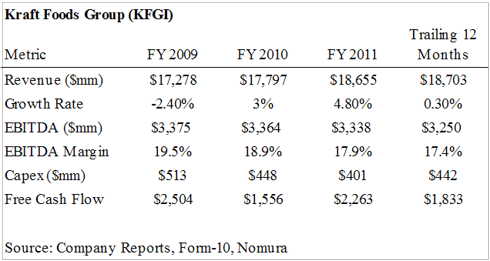 Despite the fact that the company is splitting into separate units, today's offering included the lowest coupons on record for Kraft, which previously issued 2.625% 3-yr paper in February 2010. At a weighted average coupon of 3.48%, Kraft Foods Group was able to finance its debt capitalization at a cost when adjusted for the tax deductibility of the debt ((1 - .35%) * 3.48% = 2.26%) and long-run inflation (2 - 3%) was potentially brought to market at a real after-tax cost of around zero.
Despite the fact that the deal looks overwhelmingly positive for the issuer over the long-term, over the short-run the bonds are relatively attractive when compared to other similarly positioned peer's outstanding bonds. The bonds broke higher in early trading late yesterday afternoon, and expect these bonds to continue to outperform over the near-term. Conagra's similarly rated 7% coupon bonds maturing 10/1/2028 (CUSIP 205887AR3) were offered yesterday at a spread of 195/30yr to yield 4.66%, a 26% premium to par. General Mills' Baa1/BBB+ 5.4% coupon bonds maturing 6/15/2040 (CUSIP 370334BJ2) are offered at a spread of 145 basis points to yield 4.16%, a 20% premium to par. While the 235 basis point new issue spread and par coupon dollar price makes the 30-yr bonds the easiest spot on the curve to identify relative value, the Kraft Foods Group issuance priced relatively cheap across the curve, and may provide fixed income investors near-term credit spread tightening that can help boost the total return of their portfolio.
Disclosure: I have no positions in any stocks mentioned, and no plans to initiate any positions within the next 72 hours.