Investing in companies that can help the United States turn its vast coal resources into clean burning fuels may be a great way to put a portion of the funds you have allocated for speculation to work. The ability to produce synfuel from coal has been proven successful and is a well established business in South Africa. Sasol (NYSE: SSL) is a company that has a track record of successful coal to liquid conversion and has the potential to expand the use of their technology in oil starved economies such as China.
Investing in Coal to liquid in the US requires the purchase of shares of companies with very little or no earnings, product demonstration units that may or may not pan out, and management with little track record of making coal to liquid profitable. Companies like Headwaters (NYSE: HW), Syntroleum Corp (NASDAQ: SYNM), and Rentech (AMEX: RTK) all fall into this category.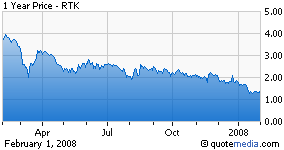 Even though the production of fuel from coal holds the most promise, investors should not overlook the other possibilities that come from coal to liquid technology. Rentech owns a nitrogen fertilizer plant in East Dubuque Illinois that currently uses natural gas, the industry standard and most common feedstock used to produce nitrogen fertilizer. Rentech is evaluating the economic and public policy factors determining the feasibility of converting the feedstock from natural gas to coal.
In the meantime they will continue to manufacture and sell nitrogen into a booming Midwest fertilizer market. The capacity of the East Dubuque plant is listed at 830 tons of anhydrous ammonia per day; currently ammonia is wholesaling in the Eastern Cornbelt for $650 per ton. Yearly production of 302,950 tons would calculate into $197 million dollars of gross sales potential. Rentech currently has a market capitalization of $222 million dollars, just 12% higher than the annual gross sales potential of their one fertilizer plant.
It looks like the market has totally forgotten about Rentech's opportunities in fertilizer. Alternative energy is a speculative play, but Rentech offers a great opportunity to buy a company that the market sees as a pure play on coal to liquid, while the existing fertilizer business provides you with downside risk protection.
Disclosure: Author has a long position in RTK