We read Berkshire Hathaway's (NYSE:BRK.A) recent 13-F filing that Berkshire had purchased 10M shares of General Motors (NYSE:GM). This represents about .3% of Berkshire's equity holdings as of Q1 2012. We were surprised that Berkshire would invest in "Government Motors" due to the capital intensive nature of the automotive business. If we invested in an automaker, we'd consider Ford (NYSE:F) instead. Here is our take on Berkshire's GM investment and Ford versus GM.
When reading "Buffettology: The Previously Unexplained Techniques That Have Made Warren Buffett the World's Most Famous Investor;" we remember specifically how Mary Buffett (Warren's former daughter-in-law) had specifically mentioned how capital-intensive GM's business was and how despite reinvesting $26.27 per share of retained earnings from 1983-1995, GM only increased EPS from $5.92 in 1983 to $7.28 in 1995. GM's stock was dead money during that period. Most of those results took place during the disastrous period when GM was mismanaged by Roger Smith. Here is a brief summary of the lowlights of that period: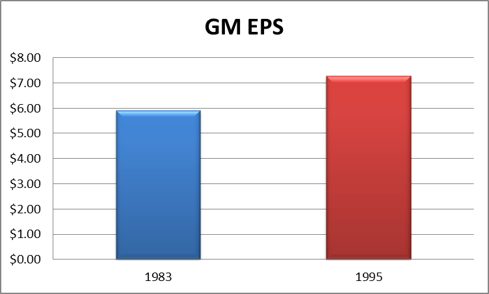 Source: Buffettology by Mary Buffett
1982-1983: GM receives wage and benefit contract concessions from the UAW only to turn around and announce a bigger compensation and bonus plan for its executives.
1981-1992: GMF Robotics-Joint venture with Fanuc to manufacture industrial robots and to use the robots to replace UAW workers.
GMF Robotics turned out to be a failure (pdf) when the robots were dropping windshields onto front seats and accidentally painted themselves. As one GM finance executive later noted, at the time the company could have bought both Toyota (NYSE:TM) and Nissan (OTCPK:NSANY) for the money invested in the failed robot technology.
GM acquired Electronic Data Services from Ross Perot for $2.55B in 1984, and spent $743M to buy out Perot's stock in GM-EDS in 1986. The merger produced culture classes instead of synergies and GM spun off EDS in 1996.
We're not surprised that GM went bankrupt and had to be rescued by the Canadian and United States governments. We believe that a complete discussion of how General Motors became "Government Motors" is worthy of its own multi-part article series. GM's bankruptcy forced GM to shed burdensome debt, close plants, discontinue unprofitable brands, close weaker dealerships and reduce UAW employees. GM split into two entities, "Motors Liquidation," which settled past liability claims of the General Motors Chapter 11 bankruptcy as well as assumed assets that would be discarded by the new General Motors Company LLC, which was primarily government owned. We believe that this gave GM a new lease on life.
We believe that the experience from the financial crisis has served to help GM and Ford going forward. Before the depths of the crisis, it was unthinkable for any of the Big Three automakers, let alone all three, to potentially go bankrupt. The crisis forced the companies to rationalize cost structures and to divest noncore assets. Ford got an early start in 2006 when Bill Ford stepped down as CEO and hired Alan Mulally. Mulally mortgaged the entire company, including its signature Blue Oval Logo, in order to borrow $23.5B to fund its turnaround plan and to rebound from $30B in losses from 2006-2008. Ford's loss in 2008 was half of what GM lost, Ford declined government funded loans and returned to profitability in 2009. Ford saw its pre-tax profits grow from $3B in 2009 to $8.6B in 2011. GM and Chrysler ended up declaring bankruptcy in 2009, despite government assistance and efforts to right-size each company's respective business. All three companies have come back to profitability. Maybe Berkshire is investing in GM to help lend its credibility to Barack Obama?
We believe that Ford Motor offers a better investment opportunity versus GM. Our thesis is backed up by the following factors.
Ford has restored its investment grade credit rating. GM is not yet an investment grade corporate credit though it is rated at the highest end of the high-yield sector.
Ford restored its quarterly dividend. At $.20 annualized, it represents an adequate 1.89% yield and only costs about $763M annually.
Ford has a higher pre-tax profit margin (6.28%) than GM (3.03%). This was due to the fact that Ford did not have to sell off its financing arm, unlike GM.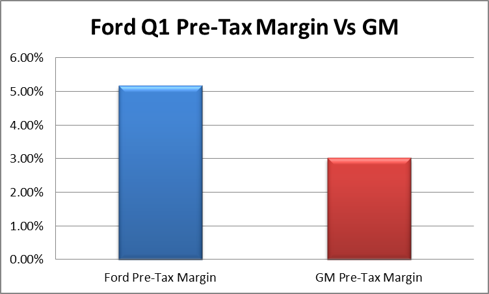 Sources: Q1 2012 10-Q Reports for Ford and GM
Ford's automotive sector (excluding the high margin finance sector) has a higher pre-tax margin (5.18%) than GM's combined finance and automotive sector (3.03%)
Because Ford has its own financing arm, it not only retains the profits from the auto financing loans, but also its financing arm isn't controlled by the government. GM's primary financing vendor is its former subsidiary Ally Financial (F/K/A GMAC), which is majority owned by the U.S. Government and failed the 2012 stress tests.
The Ford Focus Electric is not a disaster, unlike the Chevy Volt. It was rated the most fuel-efficient subcompact according to the EPA. Also, no Ford Focus Electrics have caught fire yet. Also Ford has less downside than competitors if EV demand drops.
General Motors has caved to the Chinese government with regards to sharing its automotive technologies.
As a condition for doing business in China, the Chinese government requires that GM share the company's made-in-America technologies with SAIC, which is both its Chinese JV partner and its competitor. SAIC has turned around and used GM's technology to produce cars for the Chinese market, outside its partnership with GM. In February, SAIC got GM's electric car technology. In April, SAIC got GM's Cadillac technology.
We like Ford's CEO Alan Mulally better than GM's CEO Dan Akerson. Mulally came from an industrial business background at Boeing (NYSE:BA) and education at Kansas and MIT. Akerson had a crony-capitalist background with

The

Carlyle

Group

and the London School of Economics. Oh, and XO Communication's bankruptcy happened on his watch.
We like the ownership distribution of Ford better than GM. We never liked the fact that the Ford Family controlled 40% of the vote through its Class B stock holdings. However we would rather see the Ford Family control 40% of the vote of Ford Motors Company than the GM situation, where 50% of the vote of GM, is controlled by the U.S. Treasury, the Canadian Government and the UAW VEBA Trust. Also Bill Ford and four other Ford executives and board members each owns more Ford common stock than all the GM stock owned by all GM's directors and executives combined.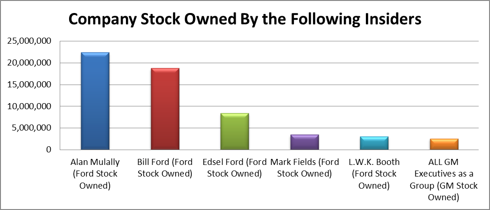 Sources: Ford and GM 2012 Proxy Reports.
Ford generates more operating cash flow and utilizes less CapEx, resulting in significantly higher free cash flow than "Government Motors."
Based on these 11 reasons, we believe that if investors want to follow Berkshire Hathaway into the automotive sector, we believe that investors will go further with Ford Motor instead of "Government Motors." We would rather be invested in a completely private, family influenced business than a product of government crony-capitalism. We are fascinated how despite shedding over $100 billion in liabilities due to its bankruptcy, General Motors generates lower profits and free cash flows than Ford. The only advantage GM has versus Ford is a greater Asian and Latin American presence and that is partially threatened by having to bequeath its automotive technology to SAIC Motor. Finally, we believe that Ford's corporate naming rights program with the Detroit Lions was more fruitful for Ford than GM's naming rights program with the Vancouver Canucks, as Ford Field has had more high profile events and a higher profile tenant than General Motors Place in Vancouver.
Disclosure: I am long BRK.B.
Additional disclosure: Saibus Research has not received compensation directly or indirectly for expressing the recommendation in this report. Under no circumstances must this report be considered an offer to buy, sell, subscribe for or trade securities or other instruments.