What a month it was - for the stocks I cover/own and even more so for Mr. Market. Due in large part to the difficulties with the mortgage industry, markets remain in a quandary, trying to assess the fallout. The uncertainty of confusing news is such that recently it has seemed to take Mr. Market a day or more to fully digest the latest developments. At the end of last week, he was trying to understand the resilience of a troubled bond insurer when surprise employment and consumer confidence data, both negative, were reported. Mr. Market was in a good mood at the end of the day, having brushed aside these key indicators.
The following articles discuss stocks mentioned in this post:
For the month of January, our benchmark, the S&P 500 index, was down 6.3%. It was a good month to take your time squeezing the tomatoes at the vegetable aisle.
I like machine shops--they remind me of my GE days. WSI Industries (NASDAQ:WSCI) was a pleasant surprise. They're very solid and are growing the right parts of their business nicely. So far, J.M. Smucker (NYSE:SJM) is proving to be a fine defensive play. The most positive surprise was Arkansas Best (ABFS). This well-run trucking company is poised to benefit from lower fuel costs, and the market is beginning to see their value.
As a foil to the favorites, and probably somewhat fortuitously, all three of the "unfavorables" turned negative after they appeared in the blog. I love their products, but Apple (NASDAQ:AAPL) is going to have a tough time reconciling expectations in today's challenging market conditions.
Below is a summary of the month's results: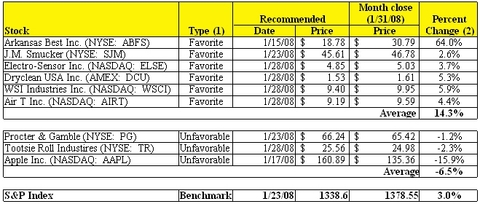 Notes:
(1) Favorites are stocks that are favorably portrayed; unfavorable stocks are not recommended and may be used for illustrative or comparison purposes when discussing a favorite
(2) Changes are from the date discussed in the blog entry
Back in my Air Force days, pilot friends would say it is better to be lucky than to be good. With that in mind, all six favorites were in the black at the end of the month—I'll leave it to our readers to opine which of the two applies. Given the short timeframe, the month's results are nearly inconsequential and come perilously close to quantifying the market's daily gyrations.
We will be in a better position next month to evaluate results. Yours truly will also continue to watch our favorites closely to ensure Mr. Market stays in check. Like an overripe fruit, the idea is to avoid his exuberance getting the best of him vis-à-vis the favorites, less their intrinsic value is forgotten and we become like the analyst who, with dame fortune, plays a duet on the speculative piano, allowing the fickle goddess to call all the tunes.
Disclosure: The author is long on PG, WSCI, and the Vanguard S&P 500 Index Fund