Is AT&T (NYSE:T) to be considered a utility stock like electrical and water company stocks? I want to argue that data is a utility more like electricity or water with each year that passes and AT&T sells us that data.
Utilities are important. Investors count on utility stocks for low volatility, income from dividends, and for a defensive stance in the market. Water has been a utility for a long time and I understand why. No explanation needed. Once upon a time nobody needed electricity; now it's a utility. Natural gas is much the same.
Clients are 'captive' for these utility companies in several ways and that captivity has helped morph the utility business and sector into the investment product it is today. A mix of big regulation, big scope and year upon year of income for investors.
That would mean that data flow is now close to essential. I don't think it is a good use of our time to focus on the level of penetration that 'data flow' has in our lives, it's everywhere. What is much more relevant to investors is the way consumers will react if this market comes under pressure. I believe that people will let the second car go before they will "unplug" and that the average American will be cutting soft drinks out of the diet before cutting the data stream.
When the consumer base values data flow at these levels then the companies offering the data have a customer in almost every person, right? A product acting like that starts to look just like water or electricity.
AT&T is not the only source of flowing data so let's take a look. It's just like finding a good water company. AT&T has paid 112 (and counting) quarterly payments since getting started in 1984. The dividend has been managed to an upward trajectory in payout, but not straight up. The dividend payout ratio is solid at 47% of owners earnings (nice work-up on that here from the Analytical Chemist). The cash flow and operations evaluations are always argued about for these companies. So let's just keep it simple. The next three charts are from Morningstar:
AT&T 10-year Financial Health Ratio Chart:

Debt/Equity ratio unchanged in 10 years for AT&T and sitting at 0.56 for 2011. S&P reports a 'A- Stable' credit rating for the last two years. Also, a company comparison (see below) gives you Verizon's (NYSE:VZ) Debt/Equity ratio at a stubbornly higher rate, increasing from 0.60 in 2006 up to 1.32 in 2011. Sprint's D/E ratio is rising even faster, starting at 0.40 in 2006 and sitting at 2.10 this year.
Verizon 10 year Health Chart:

Sprint 10-year Health Chart:

AT&T is well positioned for the future.
Mobile activations are most important for forward sales growth. Take a look at this chart showing the increase of cell only users (no land lines!).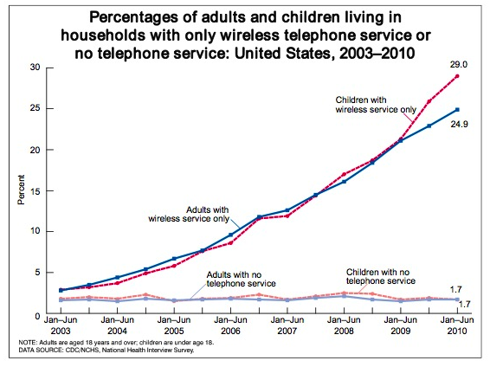 I like using cell activations for sales comparisons. It is a simple way to see what part of this growing trend the carriers are getting. The number of people buying the iPhone is very large for a single 'all-things-equal' product. That gives us the best base to compare activations. AT&T is the leader in iPhone activations in the U.S. See below: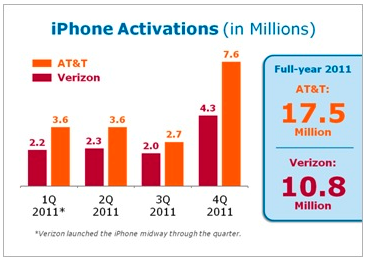 Source: razonrianfly.com
This iPhone sales surge caused an interesting cash flow impact when the iPhone4S hit in the Q4 of 2011. The phones are heavily subsidized by the carrier so that number of activations caused a swing in quarter-over-quarter performance reporting for AT&T. Also, Verizon is not moving up in percent here either, staying steady in the 35% range of the new iPhone activations. Sprint activated 1.8 mil in Q4 of 2011, or less than half of Verizon's activations. Further more, AT&T is well positioned with the new Nokia (NYSE:NOK) products being pushed out.
If we consider data to be the next flowing utility, then we have a leader here with AT&T. Yield is solid at 5.2% and the beta is something that keeps me sleeping soundly at 0.48. I keep about 30% of my clients' portfolios in utilities and I have made room for AT&T in that segment. So right next to American Water States (NYSE:AWR) and Con Edison (NYSE:ED) is my new essential flowing utility. I'm long AT&T and was adding shares at $29.25, I have moved up my accumulation point to $30.75 as of the price dip on April 9. Also, from a price point AT&T has seen much higher levels and has something like a long solid base put in, very little resistance to the upside from a technical perspective. To wrap up, let me say that I feel consumers' need for data has given AT&T some of the characteristics of a utility. It's worth thinking about.
Yes, we own AT&T and are long AT&T with no plans to sell until we feel that the capital can do better work somewhere else.