Drybulk shipping is going to experience some very hard hits this year. The sector may recover someday, but then again, the weakest companies will not recover. Last week I profiled Excel Maritime (NYSE:EXM) as a particularly weak equity, and this week I am examining Eagle Bulk Shipping (NASDAQ:EGLE).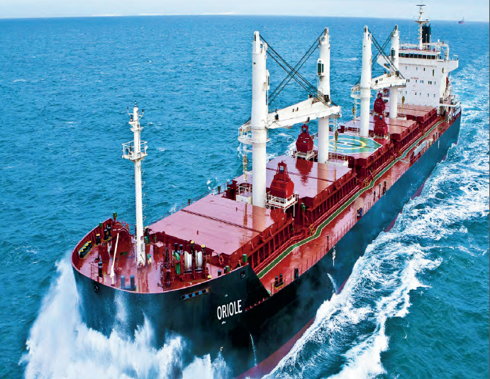 Just as is evident in Excel Maritime, Eagle Bulk Shipping is a company on the brink of bankruptcy. Last quarter, Eagle reported an operating loss of $7.5 million. For the full year of 2011, net income was negative, and this will continue for all of 2012. This is a major problem because it means the company doesn't have the cash flow it needs to continue operations unless it can obtain short-term credit over and over again.
On top of the most recent operating loss, Eagle Bulk has a very poor score in terms of being able to pay its short term debt off as scheduled. The current ratio is only 0.48 (slightly worse than Excel maritime's 0.49).
Just last week, Eagle Bulk Shipping enacted a 1-for-4 stock split. This was necessary to remain listed on the NASDAQ because stocks that stay below $1.00 for too long are not allowed to stay listed on the exchange. Even such, the stock has plunged over 10% since then, seemingly at an accelerating pace possibly due to more retail investors being allowed to short (most retail investors cannot short stocks that are too cheap).
From its most recent release, the company announced it has only $28.1 million in cash, yet $1.13 billion in debt, $121 million of that being current liabilities; $86 million is allocated specifically to this year's portion of long-term debt, which is due. Meaning, there is not enough cash to pay even the debt payments due this year on the long-term debt. The company diluted shares by 1/3 in 2009, but with the stock plunging like it has been, another dilution seems very unlikely to take place.
The only chance for survival would be some kind of extremely expensive debt or a mezzanine debt arrangement, which again seems very unlikely due to the amazing lack of equity in this shell of a company.
Equity stands on the books within striking distance of what it was listed at in 2006. This means there is a ton of hidden impairments fooling naive investors into buying the junk equity as it falls into bankruptcy.
Key points:
Company does not have enough cash to pay the interest payments due on long-term debt this year.
Company is losing money and has negative cash flow.
Company has gigantic impairments due on the majority of its assets, which are not reflected on the company's books due to the ships being so new and recorded as "held-to-maturity assets."
Company is in such distress that it had to enact a reverse stock split last week just to stay listed on the NASDAQ exchange.
This company's board of directors is composed of related parties, which is contrary to shareholder interests.
Conclusion
Eagle, like many drybulk companies, recently acquired a large number of new ships, and because of this the fleet has an average ship age of 4.8 years. The charter rates on these ships are not uncharacteristically higher than competitors. These days, most drybulk companies seem to try and fool investors into thinking owning shares in a company with the newest ships is the smartest way to go. To the contrary, because the newest ships were all such a rip-off, in reality the companies with the oldest ships are much more financially sound to invest in. Those companies might have a chance to ride out the storm and buy the new ships once they get foreclosed on and sold off to the highest bidders.
Disclosure: I am short EGLE.