Having known that the full-page ad from GATA (Gold Anti- Trust Action Committee) would appear in the Wall Street Journal, it was a pleasant surprise to also see the lead story on the front page of the world's most popular business daily on a similar topic (see Page A1 - Investors Rush to Gold($)).
[]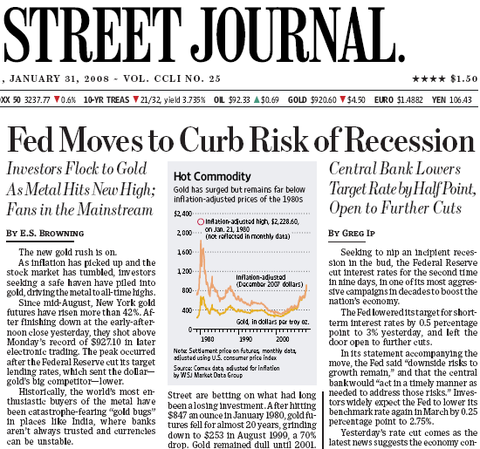 Not being a "newspaper man" (does anyone still use that term?) it's not entirely clear which of the two stories above is the lead story, but, being a left-to-right kind of reader, my eyes finished with "Fed Moves to Curb Risk of Deflation", did a carriage return, and promptly started reading a story about gold by E.S. Browning.
The report on the half-point interest rate cut by the Federal Reserve is on the right (haven't gotten to that one yet), but the graphic in the middle is about gold - maybe the editors at the WSJ are trying to subtly tell their readers something.
Here's an excerpt from what is a very favorable story on the yellow metal (note to the Personal Finance Section writers of How to Survive the New Gold Rush - get a clue!):

The precious metal has been a horrible hedge against inflation. To keep pace with inflation going back to 1980, gold futures would need to be above $2,228 today. Believers see that as a sign that gold has a lot of room to rise, and predict it will surpass the $1,000 mark this year.
...
One advantage of gold, says Marc Stern, chief investment officer of Bessemer Trust, a New York institution that oversees $52 billion for wealthy families, is that it isn't regulated by any central banker who might be tempted to print money and thus debase its value. "Gold doesn't have a policy, gold doesn't have a central banker, gold doesn't have a printing press," he says, adding, "It is a form of insurance."
While the main story is behind the subscription wall, the cool interactive graphic on the gold price is in the public area at the WSJ Online.
The GATA ad along with supporting documentation is worthy of a close look as well - these folks have worked tirelessly over many years to draw attention to the plight of the world's oldest money in a world full of paper money.
[]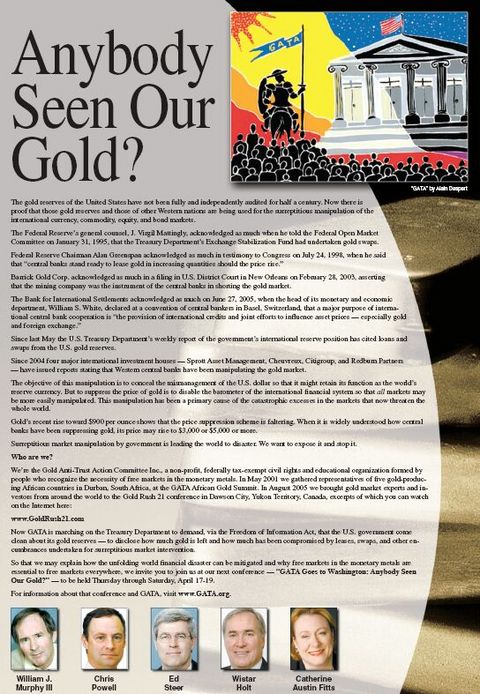 Recent events, not the least of which is the one-two punch in what is, by far, the world's best business news publication, may cause millions of eyebrows to be raised and thousands of investment advisors to see the yellow metal in a new light.
See the GATA website for more details on the ad.