In October, GM's Chevrolet launched a newly redesigned Malibu into the entry sedan segment, hoping that this could finally be the car that breaks the stranglehold that the imports have held in the segment since the Ford Taurus lost its footing back in early 2000.
Compete tracks monthly lower funnel shopping activity on 3rd party automotive web sites, and since its media launch in October the Chevy Malibu has increased its shoppers by over 300% to take the lead in the import vehicle dominated segment.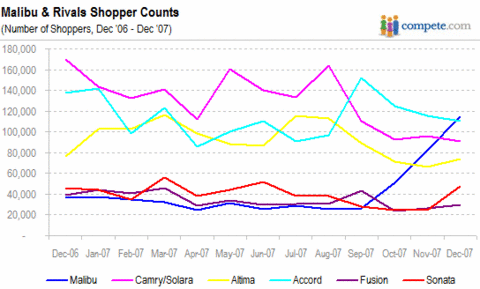 To be successful in this segment, Chevrolet knows it needs to get on the list of Honda Accord and Toyota Camry shoppers which had eluded previous versions of the Malibu. In December, Honda Accord shoppers cross shopped the Malibu 12% of the time, up from only 2.3% in September. Likewise, Toyota Camry shoppers considered the Malibu 10.5% of the time – up from 3.2% in September.
Chevrolet's "car that can't be ignored" has also driven Chevrolet.com traffic to a period high, putting it ahead of Toyota.com for the first time since October 2006 when the redesigned Chevy Silverado launched.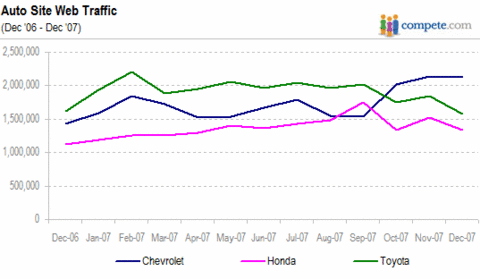 Chevrolet has good reason to believe it may be re-establishing a domestic automotive company as contender in the entry sedan segment.