Mortgage REITs invest in residential mortgage backed securities. While agency mREITs only invest in RMBSs with the backing of a federal agency, non-agency or hybrid mREITs also hold portfolios of RMBSs without any such agency insurance. Non-agency paper generally offers a substantially higher yield compared to agency-backed RMBSs, but also carries with it the risk of borrower default. Generally, most non-agency RMBSs are presently rated as junk. Alternatively, agency-backed RMBS paper is deemed to have virtually no default risk, because of the implied federal guarantee, but provides a low yield that is comparable to similar maturity U.S. treasuries.
In 2007 and 2008, a large chunk of subprime mortgages imploded and the shock-waves took down real estate values, the financial sector and the greater economy.
Non-agency mortgages are typically divided into four main categories: (1) Prime; (2) Alternative-A (Alt-A); (3) Option Adjustable Rate Mortgages (Option ARMs); and (4) and Subprime. These categories are sometimes subdivided, and certain mortgages even jump from one type to another after a set number of years.
Most non-agency/hybrid mREITs now hold large and growing positions in agency RMBSs. This agency paper was generally acquired over the last two years in order to reduce income-stream and portfolio value volatility, and out of necessity, since few non-agency residential mortgages have been issued since 2008. Most quarters, agency paper makes up well over 90 percent of all underwritten mortgages. The ensuing lack of non-agency paper has forced many ones solely non-agency mREITs to branch out and accumulate portfolios of agency paper.
Below are the recent performance rates and current annual dividend rates for five mortgage REITs that are largely invested in non-agency RMBS paper: Chimera Investment (NYSE:CIM), Invesco Mortgage Capital (NYSE:IVR), MFA Financial (NYSE:MFA), Redwood Trust (NYSE:RWT) and Two Harbors Investment (NYSE:TWO).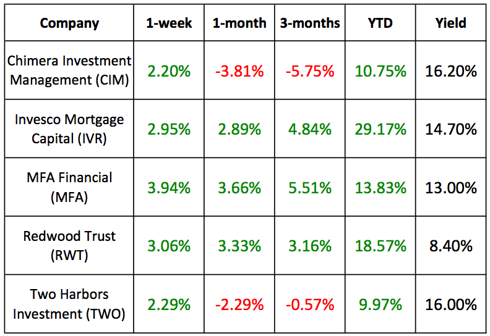 Non-agency RMBS paper valuations declined significantly during 2011, bringing down most of these hybrid mREITs by between one-tenth and one-third of their 2011 starting price. So far in 2012, these mREITs have averaged 16.46 percent equity appreciation, while the S&P 500 has appreciated a mere 4.96 percent. The group has mixed results over the last month, but all have outperformed the S&P 500. See a 1-month performance comparison chart for these mREITs and the S&P 500:

Many analysts expected a wave of defaults to hit the Alt-A and Option ARM non-agency mortgage categories when interest rates begin to rise, which was expected to occur right about now. Because of both Federal Reserve interest rate policy extensions and recent growing concerns over a European sovereign fiscal crisis, this second wave has either been postponed or mitigated through a protracted period of exceptionally low interest rates, providing borrowers with the opportunity to refinance.
Mortgage REITs continue to be one of the highest-yielding options available to income-oriented investors. Nonetheless, due to their significant risk profile exposure to non-agency RBMS should be limited to a reasonable percentage of a high-risk portfolio, based on an investor's total risk profile, time horizon, income requirements, and total portfolio of investments.
Disclosure: I am long CIM.
Disclaimer: This article is intended to be informative and should not be construed as personalized advice as it does not take into account your specific situation or objectives.