While I am generally bullish because the markets have made no gains for more than a decade while global consumerism continues to grow as emerging nations evolve from farmers to shoppers, I am concerned that corporate America might just blow it for everyone. There is reason to be bullish according to E & Y:
Between now and 2050, the world's population is expected to grow by 2.3 billion people, eventually reaching 9.1 billion. The combined purchasing power of the global middle classes is estimated to more than double by 2030 to US$56 trillion. Over 80% of this demand will come from Asia.
Wall Street tried to destroy the global economy in the first decade of the new century only to be bailed out by the same taxpayers whose 401Ks it destroyed only to turn around and shamelessly start bonusing themselves almost immediately thereafter. After being saved from themselves, for reasons unknown, you might have expected governments to impose some strict guidelines for uses of capital provided for stabilizing the industry. This clearly did not happen, or at least was not interpreted that way by those collecting:
"It's not the government's money directly, but in the case of Morgan Stanley and Goldman Sachs, they were facing a severe crunch," says analyst Brad Hintz, who covers financial firms at Sanford Bernstein and is a former chief financial officer of Lehman Brothers. "Had it not been for the government's help in refinancing their debt, they may not have had the cash to pay bonuses." When asked, the Treasury would not comment directly on Wall Street's bonus plans, though spokeswoman Brookly McLaughlin did reiterate the bailout's intent. "There is broad agreement that the Treasury's capital purchase program was intended to strengthen the financial system and increase lending," she said.
Hapless and complicit credit rating agencies prolonged the shenanigans by providing a "AAA" stamp of approval on credit product that was clearly not worthy and somehow these organization are still allowed to police the global issuance of debt, recently having the audacity to downgrade the credit rating of the U.S., adding even more instability to the situation. Why we haven't shuttered those organizations after witnessing their complete incompetence during the financial crisis, allowing them instead to influence market sentiment, defies explanation. According to private equity company Blackstone Group LP CEO Stephen Schwarzman, up to 45% of the world's wealth was destroyed by the global credit crisis.
"Between 40% and 45% of the world's wealth has been destroyed in little less than a year and a half," Schwarzman told an audience at the Japan Society. "This is absolutely unprecedented in our lifetime." "What's pretty clear is that, if you were looking for one culprit out of the many, many, many culprits, you have to point your finger at the rating agencies," he said.

Rating companies have been the focus of intense criticism for their role in granting top "AAA" ratings for complex bonds that later plummeted in value, resulting in subsequent rating cuts, in many cases to junk status.

"Once you bought into ... the Triple A paper and it turned out to be paper that was in many situations going to end up defaulting, then you really had the makings of a global problem," he said.
Now, after the Federal Reserve has resigned itself to unprecedentedly low interest rates to maintain stability for as long as possible, corporate America is biting off its nose to spite its face by attempting to raise retail prices whenever possible. If they keep this up, the Fed may be forced to take inflation on and drive one more stake into the heart of the gasping economy.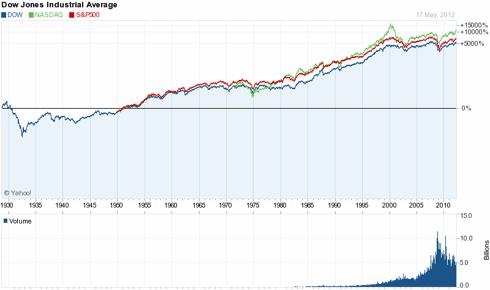 Source: Yahoo Finance
Wall Street Passes The Torch
I am shocked by the prices I am paying for things lately. I am reading about how inflation remains benign but I don't buy it and neither does St. Louis Fed President James Bullard:
A top Federal Reserve official said faster global growth may be keeping inflation higher than expected in the United States.

"Typical estimates suggest inflation should have remained low or even moved lower during 2011," St. Louis Fed President James Bullard said in a speech in Beijing.
The April CPI index was restrained by a 2.6% fall in gasoline prices. Natural gas prices dropped 1.8%. Prices also fell for fuel oil. Still, overall, consumer prices rose 2.3% year-on-year and in the 12 months to March, core CPI increased 2.3%. Michael Sivy from Time is also concerned about the inflation trends:
But now inflation appears to be coming back. Ignore the monthly numbers - they're too volatile to be reliable. But Friday's inflation report showed that consumer prices have risen 2.9% over the 12 months through the end of January. Moreover, there's an even more worrying pattern if you look at the same measure at half-year intervals since the start of 2009. The series goes: minus 0.6%, minus 0.1%, 2.1%, 1.2%, 2.8%, 3.5%
I know that I paid $5.03 for a latte for my wife at Starbucks (NASDAQ:SBUX) on mother's day, making me question my sanity. SBUX announced price hikes at the start of the year. This is the same company that announced the same thing in 2011 and 2010 and 2009, blaming higher commodity prices:
Starbucks, along with other restaurants, has grappled with higher raw ingredient costs during the past year. In November, Seattle-based Starbucks raised prices at cafes in the Pacific Northwest, Midwest and Southern California to help recoup higher commodity and rent costs.
This is very similar to big oil's claims of difficult cost environments as they hiked prices at the pump for years while simultaneously reporting record results and watching shares in industry players rocket to all-time highs. Obviously the increases experienced at the pump by the consumer are far more severe than the impact of rising commodities on oil companies. Does this sound like, or look like hardship?
With U.S. motorists paying the most for gasoline since prices reached a record $4.11 a gallon in the summer of 2008, Exxon said today that its first-quarter net income jumped 69% to $10.7 billion. The Irving, Texas,-based company is sitting on a cash pile of $13.2 billion, even after distributing more than $7 billion to shareholders in buybacks and dividends.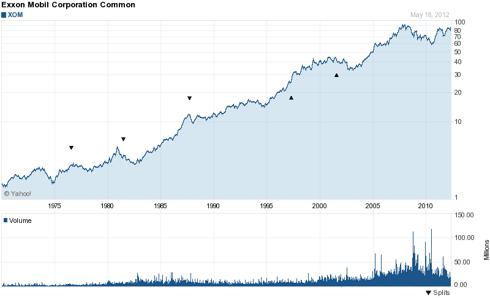 Source: Yahoo Finance
Then I head to Foot Locker (NYSE:FL) to pay $85 for a pair of Nike shoes for my son. Almost nothing in the store is on sale, there are no lower priced options, just three supposedly competing brands all at roughly the same $80 price point. Reebok, Under Armour (NYSE:UA) and Nike (NYSE:NKE) side by side in different colors all $80-85, this reeks of collusion. I asked the sales person when kids' shoes got so expensive. I was told that there have been three price hikes in the past two years. Curiously, Nike has also made announcements it was raising prices to offset rising costs. Does this look like a company suffering?
Source: Yahoo Finance
It is true that commodity prices are rising but not as much as the increases in prices the companies impose on consumers. Otherwise, they would not be posting record profits and have their shares printing at all time highs. It just doesn't make sense, and we aren't very smart for accepting it. These companies should consider themselves lucky to have consumers at all so soon after the financial crisis, and strive to keep prices stable for a longer period of time until the economy is solidly back on track. At this point in time, given where we have come from, to be taking every opportunity to raise prices is short term gain for potentially extremely long term pain. Why try to force the Fed's hand?
Wall Street Itself Presents a Societal Conflict of Interest
We as investors are a big part of the problem. We celebrate higher profits at companies even if it is the result of business practices that are detrimental to our day to day quality of life or cost of living. I have been considering the ridiculously high valuation of Facebook (NASDAQ:FB) lately in the context of other types of businesses that gouge customers like Starbucks or Exxon (NYSE:XOM) and maybe we need to re-evaluate how we ascribe valuation to businesses. Perhaps a technology like Facebook that almost everyone on earth uses everyday for purposes that they feel enhances their lives and relationships is worth more than $100 billion. We know that a stock is worth exactly what someone else is willing to pay for it, but maybe a company that is a societal negative like XOM or Philip Morris should not be valued by cash flows or PEs but by the detriment to society and have a public market valuation of zero. We as investors can start to recognize this massive conflict of interest and punish these companies by not buying their products where possible and certainly not buying the shares and enhancing management's wealth, to our detriment.
The System Has Failed
The recent behavior of Wall Street and Corporate America makes it quite clear that self-regulation does not work. Management at these companies will destroy everything in their path including their own customers if they think it will make more money in the short term. This may sound harsh but I don't really think anyone can argue this point after the financial crisis. Wall Street and banks across the country developed and sold financial products that they knew were dangerous to their customers and worthless to investors until they almost destroyed their own industry and the global economy. John Thain, one of the central figures in the financial crisis had this to say in hindsight:
"To model correctly one tranche of one CDO took about three hours on one of the fastest computers in the United States. There is no chance that pretty much anybody understood what they were doing with these securities. Creating things that you don't understand is really not a good idea no matter who owns it."
This means anyone pushing for less government regulation is ignoring indisputable and very recent evidence that like children these people cannot control themselves if the opportunity arises to make money regardless of the outcome, even if the outcome is their own demise. Anyone promoting even greater "free markets" and self-regulation is simply ignoring the facts that these individuals and institutions cannot be trusted to make decisions that won't destroy our livelihoods and threaten our individual rights and freedoms.
Conclusions
It is time for us to wake up and stop endorsing corporate behavior that is societally negative. It is at the point where it is obvious that no government or self-regulatory body is capable of establishing and implementing effective policies for economic stability. The world needs a period of stable growth now more than ever. If the Fed is forced to change its stance on inflation and begin to raise interest rates we could be headed for another crisis that could provide the knockout blow to debt burdened consumers. Sooner than later, we need to recognize there is a massive conflict of interest when buying shares in companies that profit from business practices that threaten the health of the overall economy.
Nobody on earth should be willing to buy shares in banks after the financial crisis. These institutions and the people that run them wish to be obscenely compensated for negatively impacting the majority of society's standard of living. Now we are at point where because conditions allow it, management at retailers appear to be to be inclined to raise prices. If retailers are the next threat to economic stability by taunting the Fed with continual and overt price increases, the only mechanism to combat potentially dire consequences is an unaccepting consumer and investor response. Evidence firmly suggests there is no help coming from anywhere else.
Disclosure: I have no positions in any stocks mentioned, and no plans to initiate any positions within the next 72 hours.