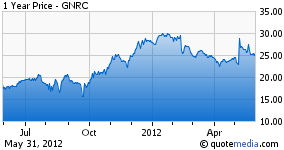 Generac Holdings Inc. (NYSE:GNRC), a designer and manufacturer of a range of generators and other engine powered products for the residential, light commercial, industrial and construction markets, could be a great play on growing demand for back-up power and a strong addition to any stock portfolio given its strong fundamentals.
Back-up Power Demand on the Rise
Generac's unique focus on residential, light commercial, industrial and construction markets have made it a market leader in a niche market. Demand in these segments is driven by increasing power outages from an aging U.S. power grid that leads to increased awareness of its products among consumers, as well as new commercial applications.
In fact, a 2010 report from CNN suggested that non-disaster power outages around the U.S. have risen 124% since the early 90s. Moreover, the article suggests that U.S. electricity reliability is low compared to some nations and that only new "smart grids" would provide a durable solution. But until (and even) then, back-up power solutions are a growing necessity.
The company also has a lot of blue-sky potential, according to its most recent 10-Q filing with the SEC. Management estimates that penetration rates for residential products (its largest division) stands at just 2.5% of U.S. single family detached, owner-occupied households with a home value of over $100,000.
Strong Financial Results to Date
Last quarter, Generac reported revenues that increased 137.6% to $294.6 million, driven by increased demand from all of its business segments. The strong demand across the board suggests durable growth in the firm's end markets, rather than just a one-off jump in revenues due to a certain event or new product introduction.
In particular, the increases came from:
Residential products increased 153.1% due to increased demand for home stand-by products resulting from major outage events that occurred during the second half of 2011, as well as an expanded distribution network.
Industrial and commercial product sales increased 137% due to the addition of its Magnum Products and increased shipments to telecom, healthcare and data center markets, as well as a supply gap from overseas components.
The company's net income also increased from $4,844,000, or $0.07 per diluted share, to over $30 million, or $0.44 per diluted share, year over year. And on a cash flow basis, the company generated $38.6 million in operating cash flow, which was up from $12.7 million during the year ago period (although debt repayments led to a temporary negative free cash flow).
Potentially Undervalued Player
Generac's strong end markets and financial results could suggest that it's undervalued. With a price-earnings ratio of just 4.85x, the company's PEG ratio stands at just 0.70, according to data from Yahoo Finance. Typically, a ratio of under 1.0x suggests that a company is undervalued relative to its future growth prospects.
And unlike many undervalued stocks, the company's management ratios and growth prospects remain durable over the long-term. Management's return on equity stands at a very healthy 56%, while its $1,571,717,000 in total assets reported last quarter more than cover its $770,944,000 in total liabilities (although its debt-to-equity ratio is somewhat high).
Finally, management has significant "skin in the game" with 62.11% of its shares held by insiders and 41.5% being held by institutions.
Comments and Potential Risks
Would-be investors looking for exposure to Generac may want to consider a few things before pulling the trigger. These include some risks that investors may want to consider before taking a position, as well as some other comments on the company more generally.
These considerations include:
The current undervaluation may be the result of higher sales that may prove unsustainable (at least in triple-digit growth form) due to the unpredictability of power outages that drive demand. As a result, the stock may prove only fairly valued down the road.
The stock may have a beta coefficient of roughly 1.0x, suggesting it's on par with the S&P 500, but recent volatility may be worth considering. Those looking for stability may therefore want to consider averaging in over time or hedging their bets by selling covered calls.
Over the past three months, insiders have sold some $1.61 million in stock with a lot of that selling occurring over the past couple months. Most of these transactions may be related to the stock's recent run-up or simply may be a part of the executives' financial strategy.
Disclosure: I have no positions in any stocks mentioned, and no plans to initiate any positions within the next 72 hours.