Blue-chip stocks are great investment decisions for a number of reasons. One of the most important reasons is that blue-chip companies are supposed to be strong enough to withstand economic turmoil. A second reason to invest in blue chips is the history of paying a dividend. In theory blue chips are strong enough to continually pay and increase their dividend regardless of the economic environment.
But, there does come a time when blue chips are no longer at the top of the food chain. Ways for companies to stay at the top are to innovate or acquire their way to success. However, with that said, any acquisition must be a wise decision; unlike the recent OMGPOP purchase by Zynga (NASDAQ:ZNGA), which appears to be stalling. In order to decipher which blue chip technology stocks are worth your time, I will discuss nine of them.
Before moving on to the exciting stuff, there are a few parameters to keep in mind. First off, I will be using six of the Dow 30 components because the Dow 30 is composed of "America's blue-chip" companies. I will also take a look at a few other non-Dow 30 stocks that are blue chips. One key to remember is that this is not an exhaustive list and other great blue-chip technology stocks exist, however these nine are some of the best.
The first Dow blue chip is Cisco (NASDAQ:CSCO). I have been bearish toward Cisco's stock in the past and that will not change here. To put it in perspective, Cisco's share price is only slightly above the 2009 lows despite a strong systematic rally. The main culprit for this is several disappointing earnings reports and the possibility of Cisco's products and services becoming outmatched by competitors.
To put this in perspective, Cisco's income statement has improved during the past three years. The key to note is that Cisco's margins have worsened over time. Not to mention Cisco's guidance has more often than not been lower than analyst expectations; thus the share price corrects itself. And during a rally, the stock tends to climb well above a sustainable level and eventually implodes upon itself.
Despite the recent share price drop, Cisco is not worth a new stake. The company is currently more of a gamble than a steady blue chip. As I stated before, Cisco's share price will likely remain range bound between $15-$23. Previously I stated Cisco's range will be $15-$25, but I believe that $25 is a bit too high for Cisco at this point. Therefore as the price approaches $15, a short-term trade opportunity opens up. With that said, an important note to make is that Cisco's share price will only rally during a strong systematic rally. Therefore if we do not get a strong rally then we will not see Cisco move higher.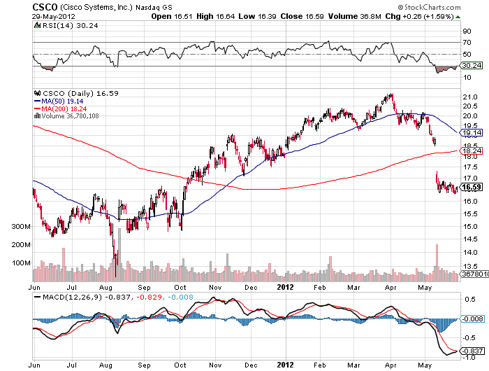 (Source: StockCharts.com)
Another Dow blue chip that has suffered over the past year is Hewlett-Packard (NYSE:HPQ). HP's stock price is off nearly 60% over the past two years. During that time we have seen radical changes and proposals. The most radical plan came from ex-CEO Leo Apotheker who thought spinning off HP's home PC business was a good idea. Fortunately Meg Whitman took over in September 2011, and decided to take a less radical approach such as job cuts and combining the PC and printer businesses.
The question, however, is whether these savings will lead to a stock worthy of your portfolio. HP is similar to Cisco in that the share price is in the trenches. There are signs of life though. The restructuring plan is supposed to save over $3 billion and other consolidation efforts will free up more cash. This may not bring in more revenue, but it will help to increase income as expenses decrease.
At this point I expect HP's share price to be at a low point. Things are not perfect and there are still storm clouds on the horizon, but as with any big company that goes through a difficult CEO change we should expect issues like this. Therefore I believe HP's share price can regain its form and move higher. Especially now that investors and traders saw a positive earnings report last week. With that said, unless you are a risky investor then it may be best to wait on HP before adding it to your portfolio in order to determine which direction the company and share price will go.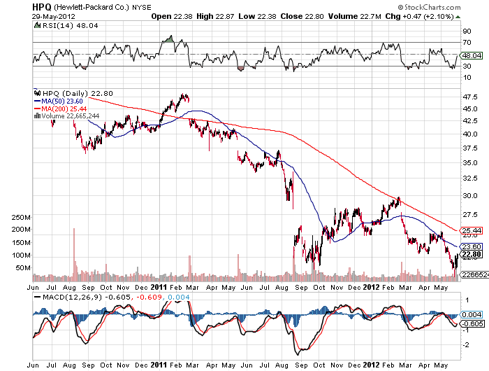 (Source: StockCharts.com)
Intel (NASDAQ:INTC) carries a 3.3% dividend and unlike the first two blue chips, Intel's stock has a steady growth rate. Up until the May stagnation in the markets, Intel's stock soared 50% since September 2011. We have since seen the share price pull back with no news coming from Intel's corner. We have seen a slew of earnings reports from companies that use Intel's chips that have been both positive and negative.
One of the most positive notes from Intel is a dividend increase that will take place in the third quarter. Thus, unless the share price moves higher the current yield will increase. I believe Intel's pullback is a great buying opportunity. It appears the stock may have already touched off on its low for this cycle.
If Intel's chart is not a good enough reason to look into the stock, then the prospects of late 2012 and early 2013 tablet glut is a better reason. Intel is already the top chip producer, according to Gartner's research, and once Microsoft (NASDAQ:MSFT) releases Windows 8 for tablets and Apple (NASDAQ:AAPL) produces whatever is being concocted in the woodshed later in 2012, we will see a strong need for chips. And Intel sits primed and ready to provide these chips at will. Keep in mind that there are no guarantees that Windows 8 tablet producers and/or Apple will use Intel's chips, but the probability is high. Therefore Intel's stock has a fairly high possibility of moving well above $30 by the end of the year.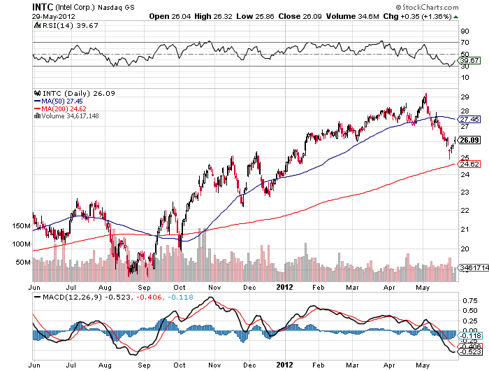 (Source: StockCharts.com)
IBM Corp. (NYSE:IBM) is another Dow blue chip that has been performing very well lately. The stock has performed similarly to Intel. However IBM has some critical points to make. The first important point to note is that IBM's growth is, to be nice, slow. This however should be expected for a company at the mature stage in its life cycle. Fortunately for investors IBM has countered this problem by taking steps to improve margins and keep earnings per share (EPS) at a high level.
The easiest way to increase EPS is to repurchase shares and retire those particular shares. IBM is currently and will continue to repurchase shares. This means that EPS will remain strong and there will not be a problem so long as IBM finances the purchase of shares with earned cash.
This scenario puts me in a dilemma. While I like to see companies improving through higher revenue and income, the truth is IBM's revenue is not weakening and margins are improving. I like the fact that IBM is tidying up the business to increase margins even further. However the problem is that I do not agree with repurchasing shares in order to create higher EPS. Now, is IBM purposely doing this? That is not known, but it is definitely a possibility.
In the end it appears IBM will continue to be an information technology and services leader, but investors should not expect to see IBM's segment growth grow to impressive levels. What should be expected is lower costs of capital and improved margins along with a slightly higher share price along the way. I would personally prefer to invest elsewhere, but if IBM's share price grows at the same rate as we have seen since 2009 then IBM will be a great investment.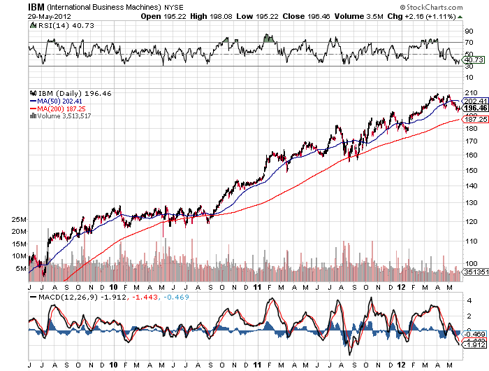 (Source: StockCharts.com)
Microsoft, the epitome of a range-bound stock, is also a blue-chip bellwether that has thrived and survived during great booms and greater busts. As I mentioned previously, Microsoft's shorter-term future will be dependent upon how well consumers take to Windows 8. And how consumers take to Windows 8 will likely depend on what Apple is doing and how well Windows 8 stacks up against iOS. I believe that one key aspect to how well Windows 8 fares will be if consumers are willing to try something new.
Currently I do not see any problems with iOS and quite frankly this has not stopped consumers in the past from simply trying something new just because it is new. This is the same premise that is behind the idea of rooting for the underdog just because you do not want the usual champion to win. In other words, psychology may play a big part in how well Windows 8 is taken by consumers.
It will take an impressive Windows 8 coming out party to break Microsoft's perpetual range-bounding cycle. Just when I was thinking Microsoft may break the spell, the stock turned lower; albeit not very much, but a noticeable retracement. I have written about Microsoft several times in the past and I will maintain my bullish stance. The important caveat to note is that I do not expect Microsoft's share price to rocket higher.
However Microsoft is a terrific stability stock with a decent 2.8% dividend. You may lose out to inflation 9 times out of 10, but at least your money will be behind a strong blue-chip company with the potential to break substantially higher. If, for instance, Windows 8 turns out to be a huge breakthrough then Microsoft's share price will easily break higher toward $40; which is a level that has not been reached in over a decade.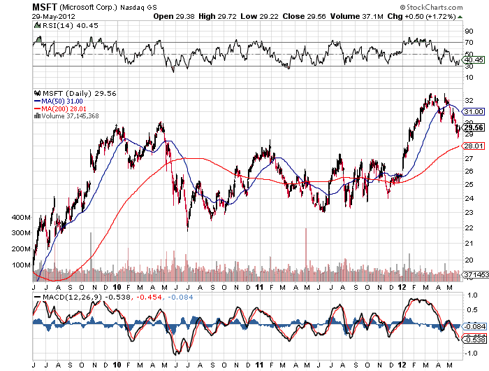 (Source: StockCharts.com)
One of the Dow's best performing stocks is Verizon (NYSE:VZ). Verizon is positioned very well in a market that will only continue to improve. In fact as tablet production ramps up and tablets become more popular, Verizon will profit from 3G and 4G data packages for tablets.
Verizon's chart indicates that investors and traders are also optimistic. Verizon is one of the few stocks that has been eclipsing new 52-week highs on a consistent basis. Despite this trend, I do not propose taking a stake in Verizon until some sort of pullback occurs. While we may see the share price move slightly higher in the very short term, it will be much more profitable to simply wait for a pullback.
If it is not obvious by now, Verizon is a great stock for a portfolio. In a very long-term portfolio the entry price is not as important, but I suggest waiting for a pullback of any kind before boarding the train. I believe the future for Verizon is very strong and the stock has been a momentum monster that will continue to move higher. The only thorn to watch out for is any type of weakness because Verizon trades at a high forward multiple; which means that any weakness on Verizon's part will sink the stock.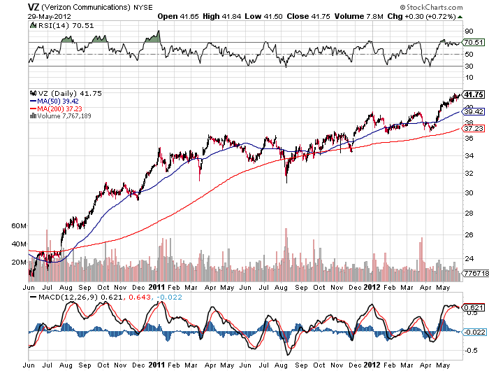 (Source: StockCharts.com)
The first non-Dow component that is arguably a blue-chip stock is Apple. While Apple discontinued its dividend in 1995 it was reinstated in 2012. Therefore we can state that Apple is a blue-chip company and stock. One positive is that Apple has survived economic busts as well as internal problems and it is safe to assume that Apple has a bright future and will continue paying a dividend during economic contractions. Not to mention some think Apple should be added to the Dow; despite the fact that Apple's share price would cause havoc on the Dow's weighting system.
Nevertheless, Apple has been outlined hundreds if not thousands of times in recent months. And nothing has changed from these other discussions. Apple is still producing some of the world's coolest and most well known gadgets and Apple is still creating now products to increase revenue. Apple still has more cash than almost every Seeking Alpha member combined (assuming SA does not have the top 25 most wealthy people in the world).
Therefore at least as far as the eye can see, Apple's stock is a terrific buy for a portfolio. The problem is at what level is it a terrific buy? With some price targets of $1000 it is understandable that any level is a good entry point. But in reality Apple's share price has years if not half a decade before sustaining that level. In a more reasonable environment $525 is a good buy point. On the way up $525 was a point of resistance, and on the way down $525 was the floor that caused the stock to bounce back up. Therefore the closer you can buy Apple's stock to $525 the better.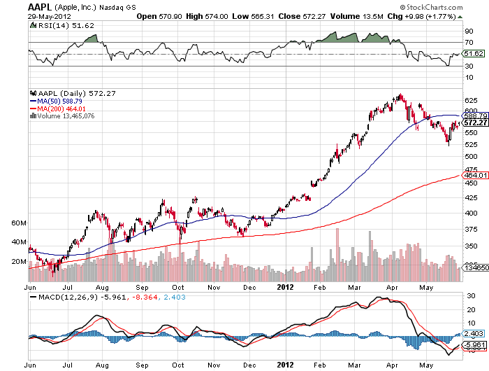 (Source: StockCharts.com)
Qualcomm (NASDAQ:QCOM) is another Nasdaq blue chip. Qualcomm has continually offered a dividend since 2003 and was able to increase the dividend during the economic collapse in 2008 and 2009. This indicates that Qualcomm's business is strong enough to continue improving during weak economic periods.
More recently, Qualcomm's share price has performed similarly to Intel. Qualcomm's May weakness is due to rumors that Qualcomm's chip supplying capabilities are problematic. The exact cause of these issues are not known, but it is clear that Qualcomm's customers are seeing a shortage of supplies from Qualcomm.
However this may be a blessing in disguise for potential Qualcomm investors. As the share price dwindles, investors are able to get a great deal on a stock that has a history of dividend increases (currently a current yield of 1.7%) and stable growth to ensure long-term capital gains. From a more shorter-term time frame, it appears Qualcomm's stock has bounced off a low and will now head higher.
On the one hand, from a more risk-averse side it may be best to wait and see. If supply issues are indeed a problem then it will be best to buy at a lower level. Any kind of weakness such as supply issues will result in a sell-off of some sort. The severity is not known, but it is a possibility. On the other hand, if these rumors are simply rumors than Qualcomm's share price has plenty of upside.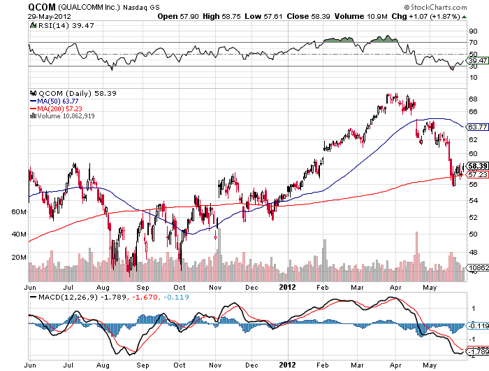 (Source: StockCharts.com)
The epitome of a blue-chip company is Texas Instruments (NYSE:TXN). TI has been sending investors a dividend since at least 1982. TI's dividend survived the dot com collapse as well as the subprime mortgage disaster. Currently the dividend yields 2.3% to investors and similar to Microsoft the stock has remained range-bound for several years now.
It appears TI's stock price is unable to sustain the $35 level. Fortunately the stock bounces off $25. Therefore the range bound level we will likely see in the future is between $25-$35. This may be a large window, but it indicates that TI is a strong investment near $25 and a sell as the stock approaches $35.
The current problem with TI is strong competition. Two of TI's strongest competitors are Qualcomm and Intel. More specifically, TI is one of the leading suppliers for Amazon's (NASDAQ:AMZN) Kindle. Therefore as sales of the Kindle diminish we will likely see TI struggle. The truth is that the chip industry is very competitive right now. With consumers turning to more faster, powerful and efficient mobile devices the need for chips that continue to improve is very high.
And in the end TI is not the best option for this category. The better choice is Intel, Nvidia (NASDAQ:NVDA), or Qualcomm. With that said, as TI's share price slips lower the stock will begin to have the possibility of high returns. For instance, if the stock drops to $25 and bounces as it will, while simultaneously TI increases chip shipments then we will see the share price soar. Unfortunately this is speculation, therefore the safer choice is Intel.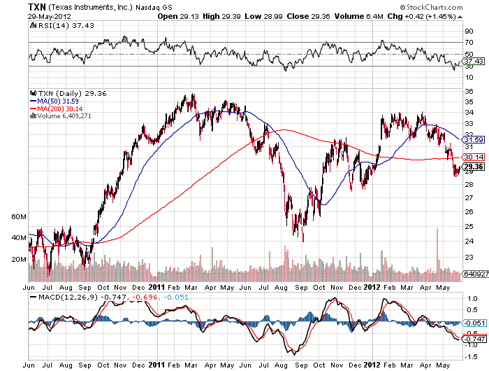 (Source: StockCharts.com)
Before coming to a close, it is important to make a few notes. First off, I chose to discuss Verizon and not AT&T (NYSE:T) despite AT&T and Verizon being involved in the same business. AT&T is definitely a blue-chip company that has continually paid a dividend since at least 1984. In a vague sense AT&T and Verizon are nearly identical. Both sell the same products and compete amongst each other as to which is the better service.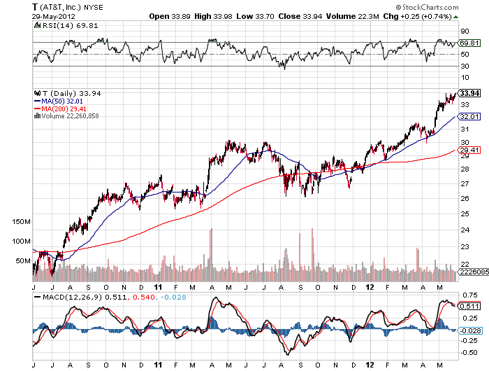 (Source: StockCharts.com)
As you can see not all blue chips are worth their weight in gold. For instance, some have eclipsed their growth phase and will now remain in a range-bounded environment. There are also other blue-chip technology stocks that did not get mentioned. But of the nine mentioned, only three and possibly four are worth a long-term portfolio. Lastly it is important to note that these thoughts are for the present. Investing in a blue chip-stock should be viewed as a liquid decision that can and should change with time as the economy and technology industry changes.
Disclosure: I have no positions in any stocks mentioned, and no plans to initiate any positions within the next 72 hours.